Running a super cool online magazine such as La Vida Liverpool demands down time! A pre summer mini break in the sun beckoned, so my darling Amanda and I turned to LVL's resident travel writer and travel agent, Ian Hughes, for a few interesting options. We opted for Ian's suggestion of 5 nights at the 5 star Pomegranate Wellness Spa in Nea Moudania, Halkidiki, Greece — for £1075 for the two of us. This included return flights, transfers, free use of the spa facilities and breakfast each day. We looked forward to our much needed break, but creatives can only sit still for so long and I soon began documenting the experience….
We arrived at the ultra modern hotel, voted 'Best Spa Hotel In Greece', on the afternoon of Friday 4th May. We were greeted with champagne and given a guided tour by the lovely Selina. We were shown the gardens, various pools and pool bars, the on site restaurants, shops and private beach, before being given a guided tour of the luxurious spa — featuring a variety of saunas, steam rooms, pools and Jacuzzis, with an abundance of treatments on offer.
After settling into our room that had a patio leading onto a beautiful fountain square with palm trees around it, we dined at the Poseidon seafood restaurant and enjoyed the live music by the pool below us whilst admiring the view over the Aegean Sea. Our sharing starter of olives and bread (obviously) was followed by our mains of swordfish and bream respectively and our waiter, Yanis, provided us with complimentary desserts!
After speaking with Yanis and by using our own observations, we realised that it was early season so it was fairly quiet and we were the only Brits staying there. We learnt that the plush hotel opened in 2013, was owned by Russians and was occupied mostly by Russian guests. We prayed for Theresa May to not antagonise Vladimir Putin any further for the following 5 days.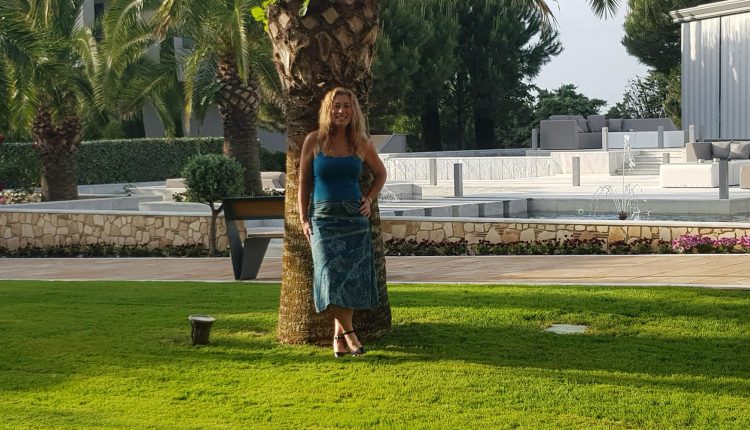 On our second day we took advantage of the lavish breakfast included — a huge buffet offering every breakfast option known to mankind, and more.  We spent the afternoon in Afrodita, sampling the abundance of facilities the award winning spa had to offer, and as the hotel had just opened for the season we had it mostly to ourselves. I had a deeply soothing aromatherapy massage (approx. £60 for 30 mins) and Amanda had an Indian massage (approx. £50 for 30 mins).
There are so many treatments on offer at Pomegranate spa, from body wraps to facials, but be prepared to bring a full wallet as this is a 5 star hotel! We soon came to realise that Pomegranate is indeed top notch and the prices are aligned to this accordingly, including in its shops, boutiques and salon — I guess affluence comes at a cost.
On our second evening we took an expensive cab ride to the neighbouring harbour town of Nea Moudania and our driver, Hristos, explained that most things in Greece are more expensive due to 24% tax following the financial crisis. We explored the seaside town — the real Greece — and dined at Ta Katsarolakia. Our starters of red pepper stuffed with feta and fish soup, our octopus and swordfish and our three drinks each came to around  £45 — good value and great quality cuisine.
We made a new friend in Aris who served us and we once again received complimentary desserts — I'm not sure if this is a Greek custom or whether we were just liked, but the hospitality was amazing! Following our desserts, Zeus spoke and brought an almighty downpour with thunder and flash lightning over Mount Athos.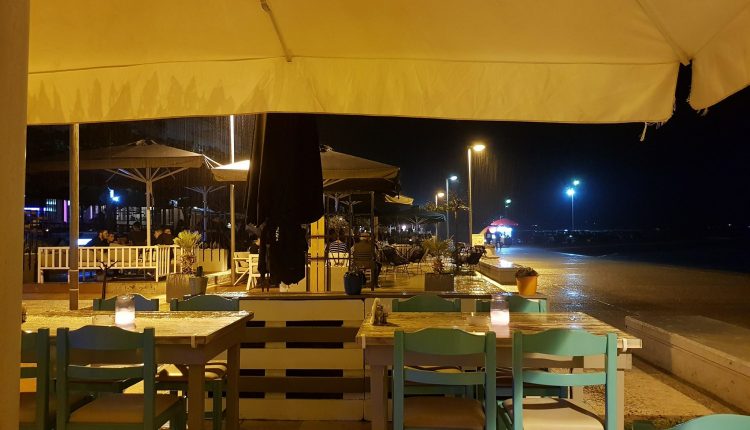 The thunder, lightning and rain lasted all night but when it finally ceased the following day, we hired bikes after another lavish breakfast. We cycled to the other nearby seaside village, Nea Potidea, however took the wrong country road and soon became lost. We discovered a steep set of perilous metal steps leading up to a main road bridge that would enable us to cross a river and head into the village. Carrying our heavy hire bikes up the treacherous steps at the time seemed terrifying, although our next task of crossing  the narrow bridge with cars speeding past and a huge drop to the river below wasn't much more enjoyable.
As more rain, thunder and lightning came, we sought refuge at an award winning seafood restaurant we stumbled across — Marina Seafood. We sampled Greek Salad, mussels and squid filled with feta cheese whilst enjoying the sea view, before cycling back to the hotel.
On Sunday evening we witnessed the hotel's grand fountain display and following that we had our first proper interaction with a fellow hotel guest. Dr. Dimitrov was a larger than life figure and had us engrossed in enlightening conversation all evening. Owner of Sofia Smile, a highly successful chain of dental clinics in the Bulgarian capital, he kept us entertained with his colourful charisma and interesting life stories.
It transpired that Amanda had contacted one of his clinics for potential treatment when we visited Bulgaria last year, and in fact he treats many Brits due to dental work being so much cheaper out there. Dr. Dimitrov told us that the hotel is owned by Roman Abramovich's brother and we talked for hours about many things.
Monday was brighter, so after breakfast we headed straight for the private beach. The sun disappeared again in the afternoon so we drank and talked at length again with Dr. Dimitrov and this time with his beautiful wife, Una. When the sun re-appeared late afternoon, we spent time in the new pool and pool bar overlooking the Aegean Sea before returning to the award winning seafood restaurant, Marina, with Dr. Dimitrov and Una.
Visiting with Dr. Dimitrov and Una in the evening, rather than on our bikes lost in the afternoon, saw us treated like royalty and we dined in style with multiple staff waiting on us. The bill was eye watering, however the gourmet seafood and quality wine from Santorini was well worth it, as were the views over the bay. Dr. Dimitrov introduced us to Mastiha — a spirit considered a delicacy in Greece — and kindly bought me a bottle to take home.
The final day was the best weather wise and we enjoyed a late morning and full afternoon basking in the sun on the private beach before relaxing by the pool. We said our goodbyes to Dr. Dimitrov and Una before heading to the spa for a couple more massage treatments. On our final evening, fully relaxed after a chilled 5 days, we decided to head to the famous award winning Marina Seafood restaurant one last time.
We enjoyed mussels, prawns, scallops, a Greek salad and a bottle of the fine Santorini white wine that we'd been introduced to the previous night. After another fine dining experience (although done cheaper this time) we walked to the end of the restaurant's boardwalk and gazed out over the Aegean Sea as we waited for our taxi. It was late, the restaurant was closing and we were the last customers there. As Amanda and I looked out to sea in wonder, I turned to her and after uttering a few words I cannot recall, I asked her to marry me. She said yes. And so, that brings you to the happy ending of our 5 days in Halkidiki….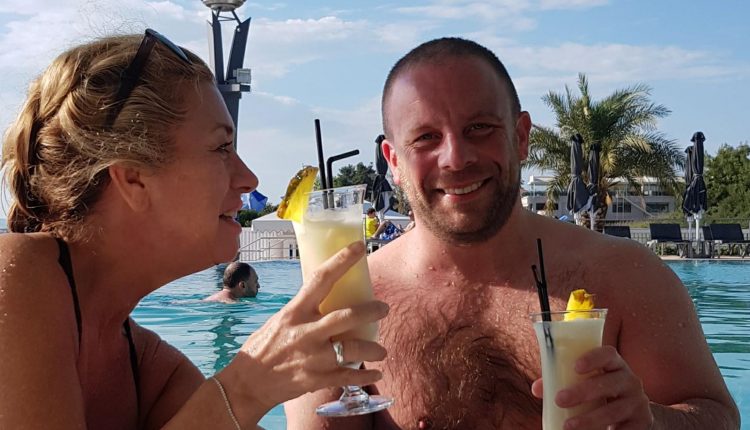 For more info on Pomegranate Spa Hotel CLICK HERE
For a holiday consultation with Ian Hughes CLICK HERE
For more on Smile Dental Services CLICK HERE (Ask for Dr. Dimitrov and quote La Vida Liverpool)
Images courtesy of Pomegranate Spa Hotel and Amanda Toovey