Supporting Tranmere is at times an unrequited labour of love. We've had more ups and downs than a bride's nightie and this season's trip to Wembley didn't fail to live up to expectations. We, at Tranmere Rovers Football Club (TRFC), had been members of the football league for 94 years consecutively but that all ended in 2015, when we lost our league status and became consigned to the 'non league' and all the trappings that go with such a bête noire.
Following some close attempts to regain our proud record and get back to where 'we belong' (no-one ever belongs back in the league, you're consigned for a whole host of reasons and deserve to be there) we got another crack at promotion in the May of this year. The play offs, the cruelest of all ways to decide who goes to the promised land, was our route this season. Last year saw us lose out in the final, soundly beaten by Forest Green ("Who are they?") and this year we overcame a plucky Ebbsfleet to get to the self proclaimed home of football, Wembley, for a second year running. In our way this time round was Borehamwood. Home of Elstree studios, who brought us Star Wars, Indiana Jones and some cockney soap with a life expectancy of about 37.
We shot down to 'the smoke' on the Friday. Seven of us together on the train, from Lime Street, building up a 'head of steam' shall we say, in the hour previous in the concourse. Booked into a hotel in King's Cross, we made our way to a designated pub to meet the Southern Super White Army (the SWA is what the fans like to call ourselves collectively) and chat with ex players, the owners, and superfans.
We met a group from Iceland, a few antipodean ex pats, even a brilliant bunch from Eindhoven FC, who had all made a rather more expensive journey to the capital than our Virgin supersaver. What really made the evening was the refreshing humility and honesty shared by our owners, Nicola and Mark Palios. They chatted to hundreds, hosted a thousand selfies, and tried to answer a million questions. They are our saviours, make no mistake about that. The Palios story can be kept on hold for another day.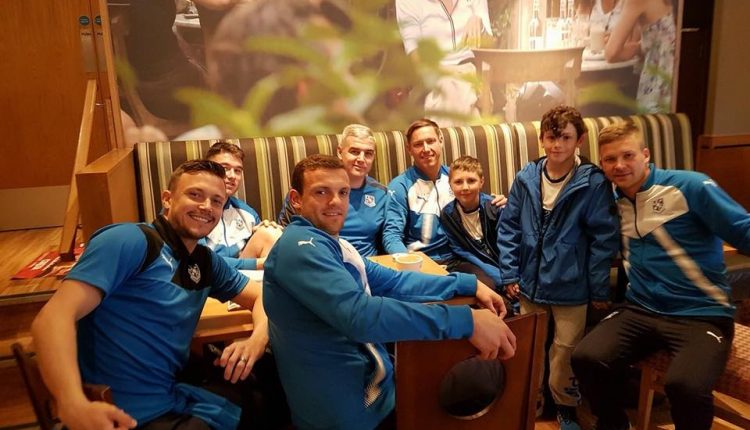 Saturday saw no hot water, full refunds, sore heads, the best Irish breakfast ever (thank you O'Neils in King's Cross) and a trip to Wembley Park. A few sherbets later we made our way up Wembley way, eulogising about previous Wembley trips with the lesser spotted Borehamwood fans. We are the best supported team in non league, fan numbers wise. In our division, Borehamwood are statistically the worst. Lesson 1: fans don't win you games — the debacle against Forest Green the previous year proved that. And so to the game….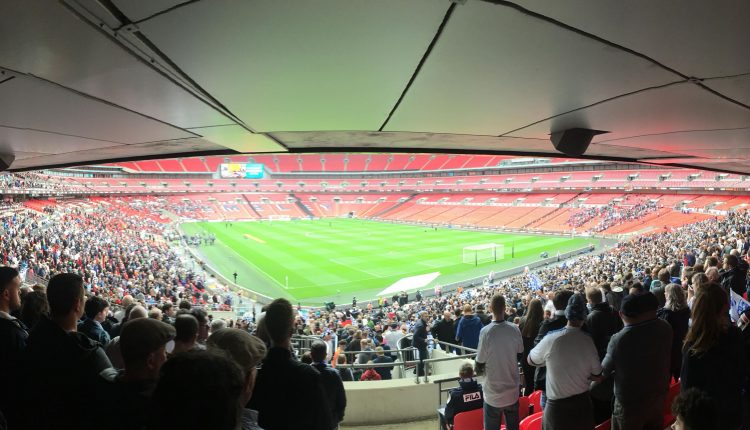 Occasions of this magnitude usually go by in a flash. Not this one. Oh no. A fastest ever red card (48 seconds into the game) to be brandished at Wembley was given to Liam Ridelalgh of TRFC, for a rash 2 footed lunge. Now we weren't the bookies' favourites. Now we had to dig in and redouble our effort on a pitch the size of a small province. The crowd were stunned into silence. This unexpected body blow was counteracted just 5 minutes later. A long ball out wide, a wonderful cross from our talisman James Norwood, and an equally brilliant near post header by our, and the leagues leading marksmen, Andy Cook, sent our 14,000 or so supporters into rapture.
Mayhem ensued. One of our players got a bottle to the head. Another pulled up injured. The sending off left us unbalanced anyway. So, the unfortunate players left the field one by one, leaving us bereft of substitutes, and it wasn't even half time. We prayed en masse we could hold out for the whistle for the break so we could regroup and catch our breath. Unfortunately they grabbed an equaliser at the latest of opportunities. I mean late. As in, the 9th minute of 6 minutes of injury time.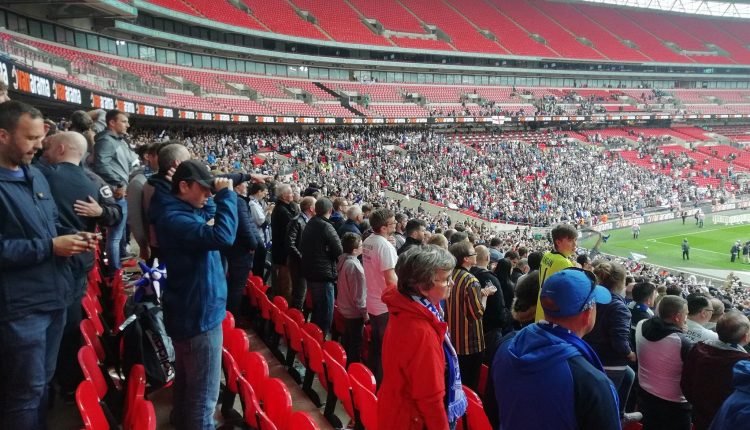 On to the 2nd half. The sick feeling in the pit of my stomach, nothing to do with dodgy white pudding or one too many ciders, was nagging. We were under pressure, but to be fair the team battled magnificently. Whatever Borehamwood tried to throw at us we coped with, at ease, and we actually started to become the more offensive team. This is where I hark back to an earlier comment that stated clearly that fans don't win you games. Ignore that. The old saying that Liverpool used to suck the ball into the net at the Kop end applied in those last, tense 20 mins. Our crowd was magnificent. Every man, woman, football kit clad child. The noise was deafening.
Then, out of the blue, we scored again. Connor Jennings, a young man who  7 days previously spent nearly a week in hospital with a very worrying illness, had come off the sick bed, and ultimately our subs bench, to send over a perfect cross to Norwood, who nodded in right in front of our fans. Wow! This led to mayhem! Grown men, crying. Fans falling down steps in joyous hugs. Voices being lost for the foreseeable future. 10 long minutes of scrambling the ball clear and we'd done it! We won! We'd become David, but somehow slayed Goliath!
The celebrations lasted all night. The train journey home was a blur, but the noise of 500 plus fans on arrival back at Lime Street singing our hearts out will live with me forever. It's not easy being a Tranmere fan but I wouldn't change it for the world. Bye bye Fylde, hello Coventry, see ya Maidstone, bring on the Oldham. Where there is faith, there is light and strength. Look out League 2 — The whites are going up!
Images courtesy of Tranmere Rovers Supporters Association