A very special night is coming to The Capstone Theatre on Thursday 19th May at 7.30pm, as guitar maestro Nick Harper is bringing his Phantastes show to the Liverpool venue for one night only! Revered by many, such as The Times, BBC 6 Music, Mojo, Robert Plant and others, Nick Harper is one of the greatest guitarists of our time.
For tickets (£15) CLICK HERE!
On the night, Nick will be performing tracks from his highly acclaimed Phantastes album. Phantastes inhabits an ethereal realm and explores the parallels of the seminal 19th Century fantasy novel of the same name by George MacDonald and the beginnings of Nick's own love story from 1982.
For tickets (£15) CLICK HERE!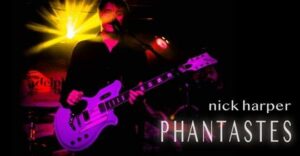 The album was recorded, and is performed live on solo electric guitar, simultaneously triggering percussive electronic soundscapes. This is the dream-like backdrop to a coming-of-age story set on the edge of an ancient magical forest and a year-long journey that culminates in a kiss.
For tickets (£15) CLICK HERE!
Between albums Nick is known for touring with a vengeance — he's now appeared at Glastonbury Festival several times — but also for his charity work devoting energy to fundraising projects as the founder of Avebury Rocks in Wiltshire, raising substantial funds for a hospice near his home.
For tickets (£15) CLICK HERE!
The Capstone Theatre is a perfect venue for Nick's latest live performance — with a top sound and lighting set up. For fans of mesmerising virtuoso guitar showcases this is a must, as it is for anyone who has been to the incredible Capstone Theatre! Tickets are just £15 via Ticket Quarter and it's advisable to book earlier rather than later.
Nick Harper Phantastes / The Capstone Theatre, Liverpool / Thurs 19th May 2022 from 7.30pm
For tickets (£15) CLICK HERE!
For more at The Capstone Theatre CLICK HERE!