Following an incredible festival this June which saw thousands descend on Sefton Park, Africa Oyé are keeping the summer party going in style with a special concert in association with LIMF at the Philharmonic Hall on Sunday 31st July. Havana Meets Kingston brings an exceptional showcase of Jamaican and Cuban superstars to the iconic venue from 7.30pm for a night not to be missed!
FOR TICKETS (FROM £25) CLICK HERE!
Havana Meets Kingston is a flagship event of Oyé's year-round 30th anniversary celebrations. This unique and captivating collaboration brings together a dream line-up from Jamaica and Cuba, exploring the musical output of these two Caribbean islands, and has been highly praised by MOJO Magazine.
Featuring on the night are Jamaican stars such as Clinton Fearon, Randy Valentine, Prince Alla and Micah Shemaiah, as well as Cuben talents Barbarito Torres, Changuito, Brenda Navarette, Cimafunk, Solis, Beatriz Marquez and many more!
FOR TICKETS (FROM £25) CLICK HERE!
The project – returning to the UK after a stunning performance at the BBC Proms – honours both islands' incredible musical foundations and legacies, melding Jamaican soundsystem and bass culture with Cuba's electrifying and virtuosic Afro-Cuban and jazz traditions to create something entirely new.
FOR TICKETS (FROM £25) CLICK HERE!
Africa Oyé's Artistic Director, Paul Duhaney, said: "We're still coming down from what was a truly special anniversary festival and we've got no plans on letting up. Havana Meets Kingston is the perfect event to celebrate 30 years of Oyé being in Liverpool and we're delighted to be teaming up with LIMF and the Philharmonic Hall to make it happen".
FOR TICKETS (FROM £25) CLICK HERE!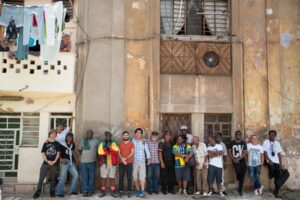 Produced by leading reggae and dancehall producer and accomplished pianist, DJ Mista Savona – the 'supergroup' includes some of Cuba and Jamaica's most influential musicians. Havana Meets Kingston sees this incredible team of musicians come together to bend and twist genres effortlessly.
Havana Meets Kingston / The Philharmonic Hall, Liverpool / Sun 31st July 2021 from 7.30pm
FOR TICKETS (FROM £25) CLICK HERE!