Prescot based Imaginarium Theatre are about to embark on their annual tour of parks and community gardens across Liverpool City Region with a reprise, after 10 years, of their acclaimed production of The Yarn by Rob Brannen, supported by Arts Council England and Knowsley Borough of Culture.
For dates, parks and tickets CLICK HERE!
Audiences are invited to bring a picnic, step beyond golden haystacks into a rural northern village in the 1800's, and feast upon a fantastical patchwork of tales, rituals, and bizarre superstitions, as Imaginarium Theatre spins a magical village tale from days of yore.
From The Women Who Died 5 Times, The Cow, A Poor Family and the Inn of Dreams, and Nathanial's Corpse Ran Away, the stories are as relevant and poignant as they are fantastical; exploring themes of inequality, poverty and hunger as the villagers fight for survival against the coming of enclosures and the industrial age.
For dates, parks and tickets CLICK HERE!
Artistic Director Gaynor La Rocca says: "In 2012 we toured The Yarn across the North-West, and up to the Edinburgh Fringe. Audiences and press raved about the production, and it sparked an exciting long-term creative relationship with playwright Rob Brannen."
She continued: "I am so excited to reprise The Yarn this summer with several of the original cast, but this time directed for the great outdoors and touring to many of my favourite green spaces across the region, and to the Sir Ken Dodd Garden Theatre of the new Shakespeare North Playhouse."
For dates, parks and tickets CLICK HERE!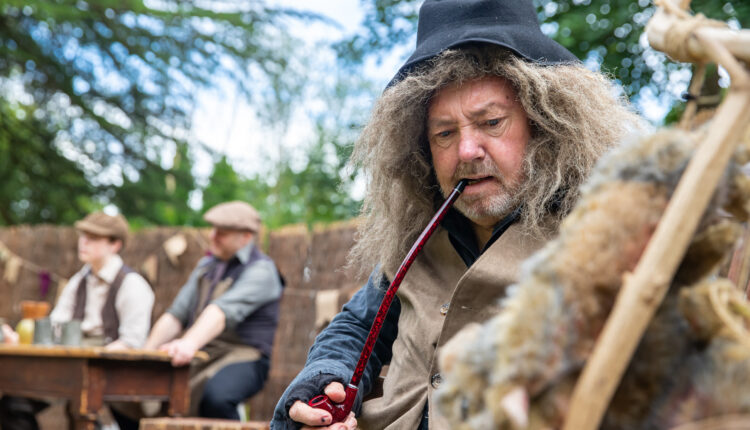 The ensemble of 20 community performers with ages ranging from 6 – 76 years is led by a team of creative professionals, including West End and Broadway Choreographer Beverley Norris-Edmonds, Francisco Carresco from LUMA Creations, and husband and wife team Musical Directors and Composers Aimee and Taran Harris.
With an original score, costumes and set by Jane Allen and James Symonds, with a dedicated team of community volunteer sewers and makers, and a talented local cast, this production promises an abundance of joy and storytelling fun for all the family.
For dates, parks and tickets CLICK HERE!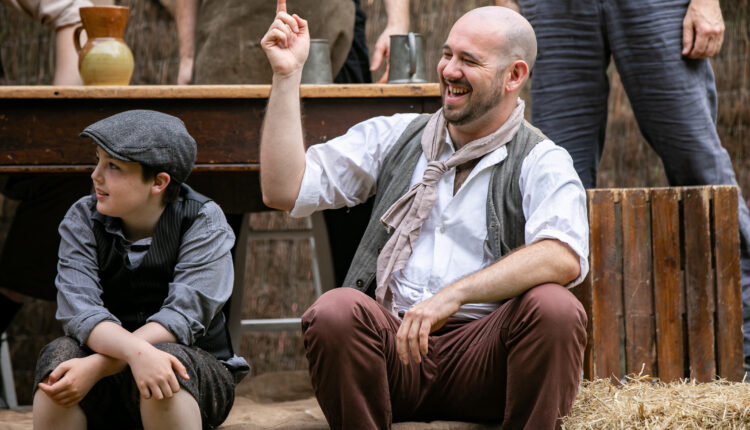 Playwright Rob Brannen has also penned Strange Tale for Imaginarium Theatre's debut on the Cockpit in Court main stage at the new Shakespeare North Playhouse this November, spinning a new tongue-in-cheek mythology of Shakespeare's time-travelling links to Prescot. Both productions are funded by Arts Council England, with kind support from the Shakespeare North Playhouse and Knowsley Council.
The Yarn heads to Crosby Hall on Saturday 9th July before taking in dates at Reynolds Park in Woolton, Sudley House Gardens, Taylor Park in St Helens, the Shakespeare North Playhouse,  and then finally Court Hey Park in Huyton.
You can catch The Yarn at the following locations:
Saturday 9th July at 6pm – Crosby Hall Educational Trust, L23 4UA 
Sunday 10th July at 2pm – Reynolds Park, Woolton, L25 6DF 
Saturday 30th July at 2pm – Sudley House Gardens, L18 8BX 
Sunday 31st July at 2pm – Taylor Park, St Helens, WA10 3HX 
Saturday 13th August at 2pm & 7pm – Shakespeare North Playhouse, L34 3AB 
Sunday 14th August at 2pm – Court Hey Park, Huyton , L16 3NA
For dates, parks and tickets CLICK HERE!