Moving on with Life and Learning (MOWLL)'s striking, new art exhibition 'The Woman Behind the Face' launched at ARTS Hub 47 on Monday night.  In a unique celebration of womanhood, the thought-provoking works explore themes of self-identity, self-confidence, and inspiration.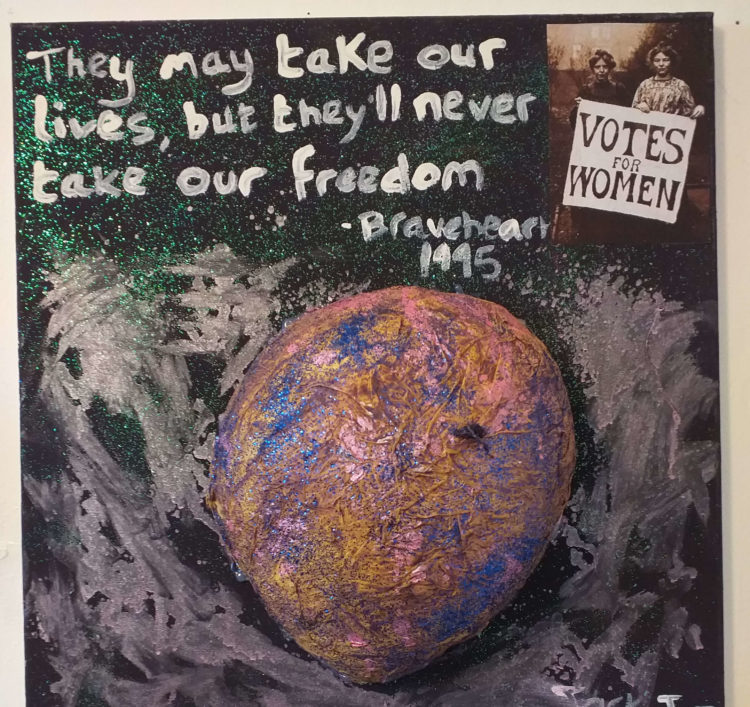 MOWLL is a Liverpool-based charity working with people with learning disabilities or mental health concerns. The exhibition, which was created by its Wednesday Women's Group, took around 11 weeks to complete. During this time, the women were encouraged to examine the importance of self-confidence and self-defining in a society which constantly seeks to label.
Faye Alexandra, 19, MOWLL's Apprentice Support Worker, who organised the project, said: "There's still a lot of stigma surrounding learning disability and we wanted to show people the individuality behind that label."  It has been 100 years since the vote for women was granted, but the continuing struggle for female empowerment features strongly in the pieces.
Jacqui H, a contributing artist, explained: "I was inspired by the Suffragettes, the fight for women's rights, Lady Gaga, and Kate Winslet's Titanic character, because she's a survivor."
Emphasising the importance of having the opportunity to get involved with artistic projects, she added: "Even if you can't express yourself verbally, there are other ways of expressing yourself, whether through art or music, dance, or something else. I feel proud when people want to come and see the work."
Alex Corina, the Liverpool-based artist behind the famous 'Mona Lennon', said: "It's a stunning exhibition…it's a great example of how to develop artists who otherwise wouldn't get the opportunity."
The exhibition is free entry and open between 11am and 5pm until Saturday 17th February.
MOWLL promotes social inclusion and confidence by offering an extensive range of day opportunities and one-to-one support for self-advocates. Find out more information, ONLINE.
ARTS Hub 47 is found at 47 Lark Lane, Liverpool, L17 8UW. Find out more ONLINE.
Images Courtesy of MOWLL, Arts Hub 47 and Marisa Taylor