Gin has been a hugely popular spirit amongst Brits for centuries, but in recent times it's become even more of a hit — with all sorts of varieties and flavours available on the market! Whether you prefer yours straight, with a mixer or in a cocktail, there are enough variations and combinations to please any modern day connoisseur.
There are a few gin bars to choose from in Liverpool, but there's a very special hidden gem on the Wirral and we decided to check them out and sample one of their gin tasting experiences….
What's Blind Pig about?
A quirky 1920s speakeasy style gin bar situated on Telegraph Road in Heswall, Blind Pig has been doing great things since opening in April 2018 and one thing for sure is there's no place quite like it around!
The first thing you'll notice is the dashing decor and various vintage furnishings such as the gramophone, piano, old typewriter and retro cigarette machine — Blind Pig is certainly very different and has plenty of character and charm.
Blind Pig is open 12pm until 1am 7 days a week and is a perfect option for those looking for a classy escape. It also has a secluded sun trap at the rear — a hidden garden with comfy furniture.
It's a popular venue for private parties and 1920s speakeasy fancy dress events. Matt, Hannah and the team are gin and spirit aficionados so you can be sure of top class treatment from people in the know.
What's on and what's on the menu?
Blind Pig boasts no less than 103 varieties of gin, from their house orange blossom honey gin to rare £200 bottles — whatever type of gin you're looking for, Blind Pig has something for everyone. They have unique and classic gin cocktails, various other spirits, prosecco and American beer and Guinness on draught.
They also have cheese and meats if you're feeling peckish. If you're after offers, they have half price prosecco before 8pm whenever it's raining (yes, whenever it's raining) and 2-4-1 cocktails from 4pm until 8pm every day.
For those who fall in love with their favourite gin or the beautiful glasses, Blind Pig have an online shop. They love live music and on Thursday evenings they have talented pianist Nigel Davies playing jazz piano to add to the bar's allure.
On Sundays they have Ty Freeman and Joe Smith jamming and playing quality rock favourites. Gin tasting is a popular event where for £15 you can sample 3 types of gin and receive an expert talk through each one.
Our visit….
It would be criminal to run a feature on a quirky speakeasy gin bar without experiencing some of their finest gin for ourselves. We visited on a Monday at 5pm of all times (well, after all gin o'clock is whenever you make it) and our affable host, Matt, gave us a few options.
We first sampled their house signature, Blind Pig — a honey gin made with orange blossom courtesy of West Kirby's Tapper's Gin. Matt talked us through the concept as we sampled it with ginger ale and elder flower tonic respectively — the honey coming through more powerfully with the elder flower. This special honey gin is available to buy via their online shop.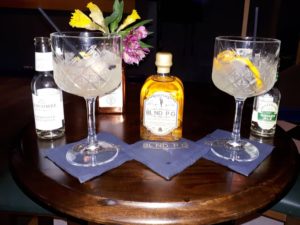 Secondly, we tasted the hugely impressive showpiece — The Illusionist. This Dutch gin changes colour — from a blue/purple to a pink/rose colour due to a chemical reaction when mixing with the citric acid in the tonic. We tried this with a standard tonic with blueberries in the stylish Blind Pig glasses.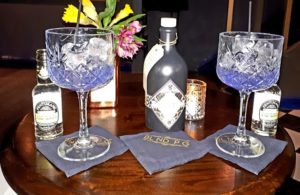 To finish, we sampled the delightful Stanley's Strawberry & Cream gin. Either with hibiscus or BTW tonic (a natural quinine variation), this went down a treat and far too easily with the sweet strawberry and cream flavour shining through. Needless to say, we felt shamefully tipsy on a Monday evening following our fantastic gin tasting experience!
Why we love Blind Pig….
We love Blind Pig because it's quirky, classy and there's no place like it around! We love the decor and 1920s speakeasy style and the fact that you can escape the stressful modern day life and take a journey back in time.
We love the hidden garden at the back. We love the superb range of gin and other drinks available — served by hospitable and knowledgeable hosts. We love the amazing 2-4-1 cocktail offer and the half price prosecco offer.
We love the live music and of course the gin tasting sessions. If you love gin (even if you don't, we guarantee they'll convert you) and all things quirky, then we strongly recommend a visit to Blind Pig!
Blind Pig / 168 Telegraph Road, Heswall, CH60 0AH / 0151 792 6335
Check out Blind Pig's WEBSITE
Check out Blind Pig's ONLINE SHOP
Check out Blind Pig on FACEBOOK