A couple of years ago we took the all you can eat chicken challenge and giant hog burger challenge at Bold Street's amazing American restaurant, Red Dog Saloon. When they invited us down for their latest 'Davey Jones Locker Challenge', we couldn't say no! You've heard of Man v. Food, well here we bring you La Vida Liverpool v. Naga Viper Chicken Wings….
Check out Red Dog Saloon's WEBSITE!
It was great to return to this awesome restaurant for another challenge! Red Dog Saloon is without doubt one of the coolest places in town, with the sickest blues music and a mouth watering menu — featuring burgers, chicken, barbecue food and more. If you fancy checking them out, they have great offers such as a burger, fries and a soft drink for £12.50 (12-4pm, Mon-Fri) and 2 cocktails for £10 (12-7pm).
Check out Red Dog Saloon on FACEBOOK!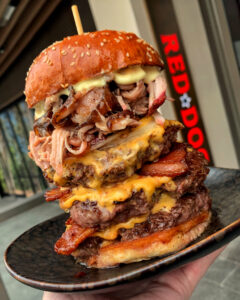 When we arrived on the Monday evening I was starving and itching for one of their gorgeous burgers, but this night was all about the Davey Jones Locker Challenge! The challenge involves eating 6 naga viper chicken wings in 10 minutes, then not leaving the table or having a drink for 5 minutes afterwards.
The challenge costs £12.50 to take part but is well worth it for the prizes on offer. The person who does it the quickest (currently 30 seconds) receives a gold coin (25% off for life) and anyone who completes it within the 10 minutes receives a silver coin (10% off for life). Still feeling rough from the weekend, I decided to think about the prize rather than the impending fire I was about to receive.
Check out Red Dog Saloon on FACEBOOK!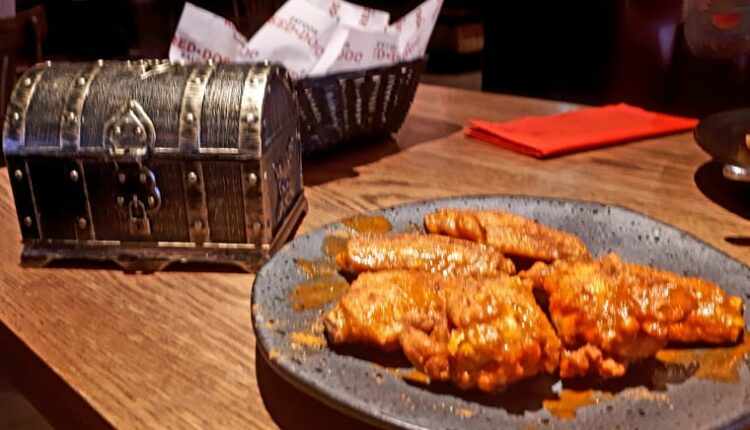 The guys at Red Dog Saloon are brilliant and made quite a fuss about us when we arrived. Alan, who accompanied me on the challenge, enjoyed a juicy burger and fries at his leisure as I looked on with envy. Whilst he enjoyed his meal, I was briefed by the GM, Bat, signed a disclaimer and put disposable gloves on. You know sh*t is serious when you have to sign a disclaimer and wear gloves.
Check out Red Dog Saloon's WEBSITE!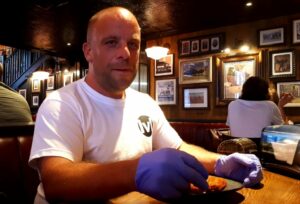 In 2011, the Naga Viper Chilli was recorded as the "World's Hottest Chili" by the Guinness World Records with a rating of 1,382,118 Scoville Heat Units (SHU). Although chilies are found in many dishes throughout the world, the main ingredient, capsaicin, is actually a neurotoxin and in large enough concentrations can cause seizures, heart attacks, and even death.
Check out Red Dog Saloon on FACEBOOK!
I began the challenge and after three wings I was sweating profusely — before disaster struck! Three wings in and we realised the video wasn't recording! I was determined to do this properly and I don't do things by halves, so I had a pint of milk, tried to cool my mouth down and prepared to start again — with another 6 wings.
Attempt No.2 and the video recorded properly this time — phew! The second plate of wings was particularly hot and I was informed that there was even more chilli on! Three wings in and I was really struggling — it literally felt like my mouth, lips and stomach were on fire! By the 5th wing I was sweating, burning and desperate to give up but ploughed on through to mostly finish all 6 wings (9 in total).
Check out Red Dog Saloon on FACEBOOK!
The 5 minutes burn time that followed was sheer hell — with my lips, mouth and stomach tingling in agony. This challenge is NOT for those with a weak pain threshold or a weak stomach and anyone considering this must do so with caution. How on earth someone has completed it in 30 seconds is beyond me — they must be a serious professional!
Check out Red Dog Saloon's WEBSITE!
After drinking lots of milk and going home to bed with a hangover and incinerated insides, I woke up that night around 11pm with the most agonising burning inside my stomach. Throughout the night I woke up a few times with extreme burning inside me and was sick a couple of times — burning my throat in the process. As I write this, I haven't been to the toilet yet — although I am absolutely dreading it — and whenever I think of the wings I salivate and sweat.
Check out Red Dog Saloon on FACEBOOK!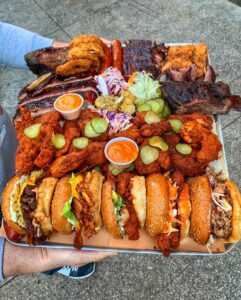 Red Dog Saloon is one of the coolest places in the city for American comfort food, but if it's extreme discomfort food you're after then check out their Davey Jones Locker Challenge — not for the faint hearted but well worth the discount for life if you complete the challenge! If you have one of those mates who thinks they're billy big balls in the Indian restaurant then get them down to Red Dog Saloon and see what they're truly made of!
Red Dog Saloon / 66 Bold Street, Liverpool, L1 4HR / 0151 363 6792
Check out Red Dog Saloon's WEBSITE!
Check out Red Dog Saloon on FACEBOOK!