Having an office in the heart of New Brighton's exciting Victoria Quarter regeneration project has given us the chance to check out some of the great places to drink. New Brighton has some cracking venues and in this feature we take you on a pub crawl one Sunday around some of the gems in the area….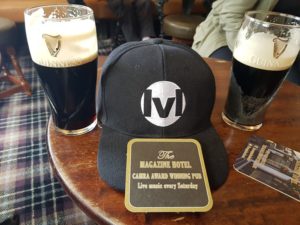 Pub 1: The Magazine Hotel
Affectionately called 'The Mags' by locals, this liconic pub located on the banks of the Mersey is steeped in history and character. Built in 1759, it was a storage place for ammo during the Napoleonic war and it's known for being a 'proper pub' with quality drink, loads of original features and a boss beer garden!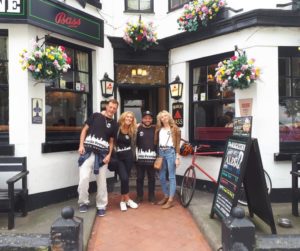 We started our pub crawl here — with the two guys having pints of Guinness and the two girls having bottles of beer. We sat in one of the snugs with views over the Mersey and chatted to a few people who were intrigued by our LVL shirts. They wished us luck as we explained that we were about to hit no less than 8 local pubs!
Check out The Magazine Hotel on FACEBOOK!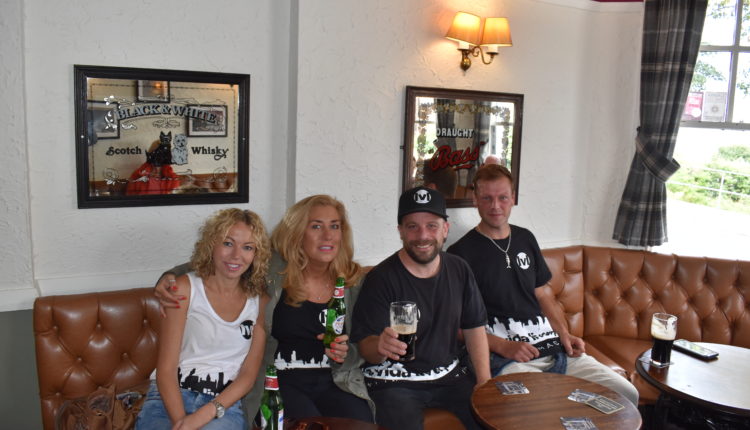 Pub 2: The Ship
After a brisk stroll down the promenade, our next stop was The Ship. Situated on Victoria Parade just off the promenade, this is the place to go for live sport! With 15 high quality big screens, 6 darts boards, a pool table and cheap beer,  landlord Mark has transformed it into a sports lover's paradise!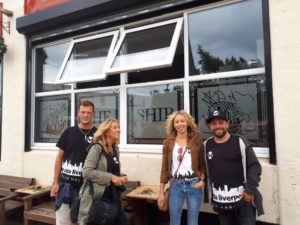 Always full of friendly faces, we chatted to the many people we knew there and enjoyed pints with the locals. As expected, there was a great atmosphere at the bar with the live football and we could've quite easily stayed all afternoon. Landlord Mark wasn't around that day, so I was spared his usual banter and piss taking!
Check out The Ship on FACEBOOK!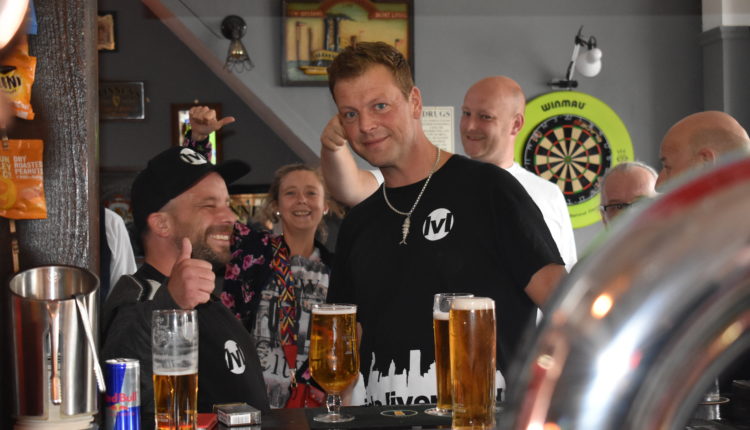 Pub 3: The New Brighton Hotel Bar & Lounge
This venue, located in the Victoria Quarter on Victoria Road, consists of a plush bar and terrace and a hotel upstairs. With regular live music and live sport, it's a stylish and relaxing venue. It's perfect for venue hire, as they offer free venue hire, a personal party planner and they even pay for your DJ or music act if it's on a Friday or Saturday!
A few drinks in, we got chatting to Manageress Sarah, who was in with her family. Her Grandad, Stanley, is a walking Wikipedia of the Wirral and he gave us a fascinating history lesson about the local area. It's amazing who you meet and the things you learn on a New Brighton pub crawl!
Check out The New Brighton Hotel Bar & Lounge on FACEBOOK!
Pub 4: The Bow Legged Beagle
A hop over the road and we were at our next venue. The Bow Legged Beagle has been a huge hit since opening in Victoria Road a couple of years ago. This quirky little micro pub serves a variety of ever changing beers and craft ales — with an abundance of different flavours and types to sample.
We enjoyed pints of Tonkoko — a tonka bean, vanilla, coconut and cacao bean stout and chatted with more great friends there. It was there we met local legend 'Charlie Haggis' and discussed his amazing charity work for disabled people with The Calvert Trust. With plenty of alcohol consumed by this point, it was emotional yet uplifting.
Check out The Bow Legged Beagle on FACEBOOK!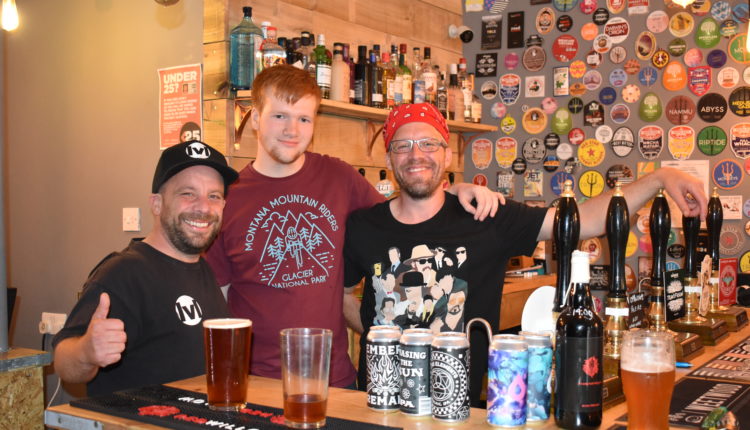 Pub 5: The James Atherton
The new kid on the block, The James Atherton is the stylish new British tavern courtesy of the Victoria Quarter developers, Rockpoint Leisure. It's home to fantastic open mic and jam nights and is proving very popular as a cool place to drink. During our visit it was the Pirate Festival, so the place was packed to the rafters with pirates!
We enjoyed pints here courtesy of Rockpoint Leisure's Daniel Davies and he told us about the latest street art and development plans. The future sounds very bright for New Brighton and the Victoria Quarter. Well on our way, we got rather trigger happy with the camera and got heavily involved with the pirates!
Check out The James Atherton on FACEBOOK!
Pub 6: The Harbour
We love The Harbour! Dubbed 'the most colourful pub in Wirral' with all the artwork on the building, this place is fun and friendly. Full of character and characters, you certainly know when you've had a drink in The Harbour and you'll always leave having met new friends. As ever, it was buzzing with a feel good atmosphere.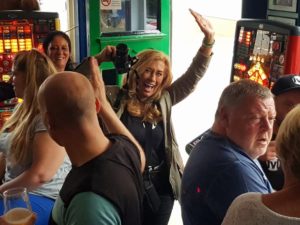 We drank more and in all honesty we were getting rather drunk by this point. We posed for photos with landlord Tony and the regulars and danced to some of the absolute belters blasting out of the juke box. With drinks going down too easily, we wanted to stay for the bingo and karaoke however we had two more venues to visit!
Check out The Harbour on FACEBOOK!
Pub 7: The Phoenix
After a drunken amble uphill to Rake Lane, we arrived at The Phoenix. With 13 high quality screens capturing the live sport and three top quality pool tables (and only 50p a game), The Phoenix is a real gem and is open until 12.30am Sun, Tues, Weds and Thurs and until 1.30am Fri and Sat. Located above shops, you'd be forgiven for not knowing it was there, but once inside you'll love the place!
The Phoenix is a members club but well worth the £10 annual fee for the quality pool, darts, live sport, live music, food, drink and atmosphere. We were all in high spirits by this point, so games of pool beckoned and it didn't take long for us to challenge the highly accomplished regulars. Conversations and drinks were in full flow but we had one more venue to visit!
Check out The Phoenix on FACEBOOK!
Pub 8: Stanley's Cask
Well into Sunday night, our final stop was Stanley's Cask. If you're looking for live music in the New Brighton and Wallasey area, this really is the place to be! Landlady Avril always puts top quality acts on and gets the place rocking! Sunday night was no exception and when we got there the place was booming!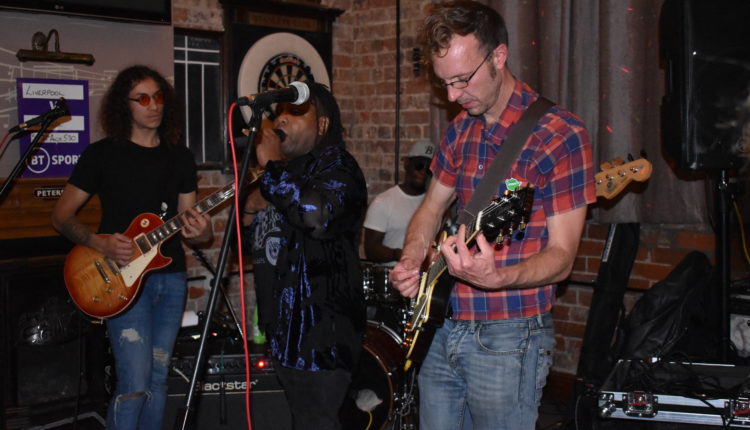 The band on that night was Scene Stealers — an energetic Manchester based Ska and Reggae band that had everyone in the venue in a state of bliss! There was more drink, lots of dancing, many conversations and new friends made — but in all honesty, not much remembered and a blurry taxi ride home!
Check out Stanley's Cask on FACEBOOK!
So, there we have it. That was our La Vida Liverpool pub crawl around New Brighton — our silly Sunday! It was such a boss day and it was great to sample some of the fantastic places to drink in the area, whilst meeting some amazing people along the way. Which is your favourite pub in New Brighton and where would you start and finish?
See you out for a drink soon! 🙂