During the last 12 months we've been documenting the exciting developments of the new Victoria Quarter in New Brighton and how street art has transformed the area. Supremely talented local, national and international street artists have created their unique own masterpieces on the walls in and around Victoria Road and it's been a pleasure to witness.
CHECK OUT THE NEW BRIGHTON STREET ART WEBSITE!
The area has come alive with colour during this past year and our beautiful seaside town has been put back on the map courtesy of Dan Davies and the Rockpoint Leisure team. In this feature, we meet some of the street artists they commissioned to create the murals via a series of videos….
DOWNLOAD A COPY OF THE STREET ART MAP HERE!
Adam Bresnen
Adam Bresnen is a versatile experimental artist from New Brighton who has been creating some of the art works for Victoria Quarter street art project including the murals covering The Harbour pub and the one legged 'Peggy Gadsby' diver piece on side of The New Brighton Hotel.
CHECK OUT THE NEW BRIGHTON STREET ART WEBSITE!
Ben Eine
Born in London, Ben Eine is one of the most successful letterform artists in the world and is regarded as a pioneer in the exploration of contemporary typography art. Originally a graffiti writer, Eine started his career over 30 years ago, leaving his first tag all over London before developing his distinct typographic style. Eine now operates from the belief that street art is distinct from graffiti:
DOWNLOAD A COPY OF THE STREET ART MAP HERE!
Dotmasters
The Dotmaster, a UK artist, started painting on the streets of Brighton in the early '90s. He takes a sideways look at a populist media with a typically English sense of humour. His work is impeccably detailed – his half-tone work, stark black and white street pieces and unique, photo-real colour stencils all create street-based illusions that fool the eye.
CHECK OUT THE NEW BRIGHTON STREET ART WEBSITE!
Fanakapan
Fanakapan is a self taught London based street/ graffiti artist -since the early 2000's. Fanakapan's 3D creations of helium balloon-based subjects will stop you in your tracks, they allow him maximum opportunity to demonstrate his superb free hand skills, use of shadow & reflective highlights to make his works just pop off the surface!
DOWNLOAD A COPY OF THE STREET ART MAP HERE!
Matt Dosa
Dosa's paintings are always partly, if not entirely, unplanned. He create spontaneous landscapes of pattern and form, masking one part of the landscape while he create another "not knowing how the whole will appear until the mask is peeled away".  He sometimes thinks of his work as a sequence of experiments or iterations. Each painting take's elements from the previous one, and building them into new environments. He works with texture and mixed media, with acrylic and spraypaint at the heart of his toolkit.
CHECK OUT THE NEW BRIGHTON STREET ART WEBSITE!
Mr Cenz
Mr Cenz has been scribbling on surfaces since 1988 when he first discovered hip – hop culture and graffiti art. He soon became obsessed with this new and exciting art form and after a few brushes with the law he decided to find ways of developing his skills legally. Since his first commissioned mural at 11years old he has continued progressing and experimenting with his art through college and University. This has led to a career as a professional graffiti artist with several solo shows and high profile commissions internationally.
DOWNLOAD A COPY OF THE STREET ART MAP HERE!
Mr Penfold
Penfold hails from Cambridge, England, and currently living in Bristol. He works as an artist and designer showing his work all over the world. After leaving school he started working in a professional collaborative printmaking studio making work for and with artists of international repute. Over the last 8 years he has developed a very distinctive way of working and a range of imagery that is unmistakable. He has been formed by a number of influences ranging from skateboard graphics to classical and formal abstraction.
CHECK OUT THE NEW BRIGHTON STREET ART WEBSITE!
Nomad Clan
Nomad Clan is the collective of Cbloxx and AYLO, an internationally-acclaimed, street art muralist duo based in Manchester UK. The power and pathos in their muralism and fine art showcase both the craft and social awareness of cultural flux for which they are known. Although primarily recognised for their iconic monumental street murals around the world they are no stranger to installations and studio based works.
DOWNLOAD A COPY OF THE STREET ART MAP HERE!
Snik
For over a decade Snik have been working across the globe, perfecting their skills to become one of the most progressive artists of their kind. As stencil artists, SNIK are traditionalists. Where others have moved on to the digital techniques, using laser cutting and computers to support their work, SNIK have remained true to the origins of their craft. They still painstakingly hand cut their complex multi-layered stencils.
CHECK OUT THE NEW BRIGHTON STREET ART WEBSITE!
Tom Blackford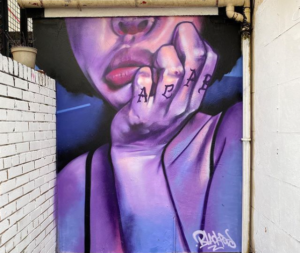 Tom Blackford works as an illustrator, comic artist, muralist, and art director in London. His subject matter is often dark although executed using a vivid and distinct colour palette. As an illustrator, Tom continues to work on self published personal stories and has been invited to exhibit at industry powerhouses such as Pixar Studios and Blue Sky studios.
DOWNLOAD A COPY OF THE STREET ART MAP HERE!
Having an office in the heart of the vibrant Victoria Quarter regeneration project has been a privilege during this past year and it's been really inspiring to see these fabulous works of art emerge around us. Here's to Daniel Davies and Rockpoint Leisure and to the fantastic artists who have given us the gift of art to be enjoyed for years to come.
CHECK OUT THE NEW BRIGHTON STREET ART WEBSITE!