After much anticipation, Hoylake's iconic community pub, The Ship Inn, has launched its new food offering — and trust us, it's been worth waiting for! Legendary owners Loz and Vic have teamed up with multi-award winning local chef, Adam Bowers, to bring Hoylake something a bit special this festive season and going forward….
For more info check out The Ship Inn on FACEBOOK!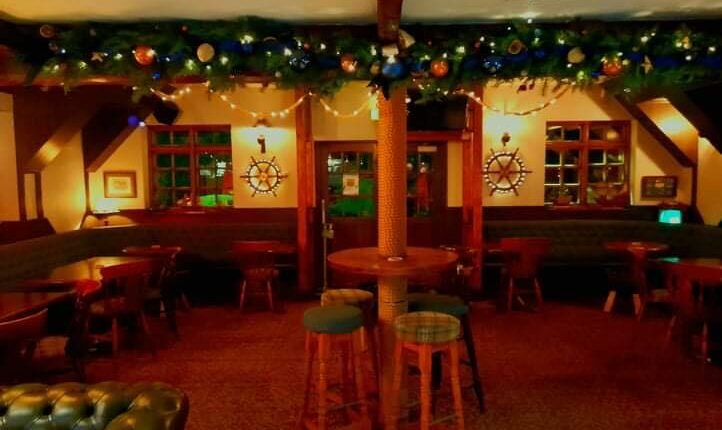 What's the new menu about?
Ever since launching late November, The Ship's new food offering has gone down an absolute storm and they're already getting fully booked at weekends! Multi-award winning local chef, Adam Bowers, has brought to the table a mouth watering Festive Menu and also Adam's Sunday Social — both of which have been thoroughly popular — and an exciting new menu will start in the new year.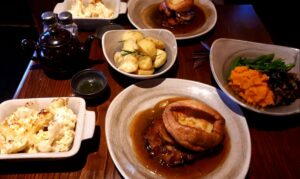 The Festive Menu is incredible value — 2 courses for £12.95 and 3 courses for £14.95 — and is available Thurs to Sat from 12pm until 8pm. You can expect starters such as stuffed mushroom with goats cheese, mains such as fillet steak medallions and desserts such as salted caramel brownie, with family sharing platters available too!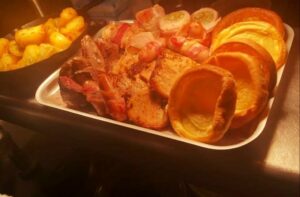 Adam's Sunday Social brings you the best quality and best value Sunday roast around! From £11.95 enjoy mains such as lamb shoulder and roast beef brisket accompanied by a whole host of veg and homemade sausage stuffing wrapped in pancetta. As with the Festive Menu, the desserts are heavenly!
For more info check out The Ship Inn on FACEBOOK!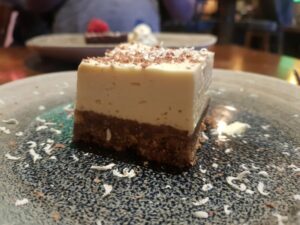 Our visit….
We visited on the first Sunday service of the Ship's new food menu and WOW what an experience! We enjoyed lamb shoulder and pork loin for our mains — with all the trimmings including added cauliflower cheese — and cheese cake and triple chocolate brownie for dessert. If you still have room after the incredible mains then desserts at just £2.95 are unreal value! If you're thinking about where to go for food on a Sunday look no further!
For more info check out The Ship Inn on FACEBOOK!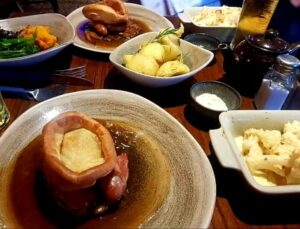 More about The Ship & What's On….
The Ship Inn is a true community pub and during lockdowns the team did a lot of outreach work to help the local residents. During this time they cooked and delivered countless meals to vulnerable residents, put together care packs to key workers and raised over £8,000 for the local food bank.
Ever since opening back up, they introduced their incredible outdoor ShipYard space — featuring live sport on a huge screen and amazing live music acts such as Ben Ottewell from Gomez, Mark Burgess from The Chameleons and John Bramwell from I Am Kloot. They've also been hosting events for local groups and sports teams.
In addition to the exciting new menu The Ship Inn has lots of fantastic things going on! There's live sport, Irish Jam Sessions every other Tuesday, the Whacky Quiz every Wednesday and live music every weekend from the likes of Hello Felix, Crossfire Hurricane, The Tone Junkies and Neville Skelly & Paul Molloy of The Coral!
For more info check out The Ship Inn on FACEBOOK!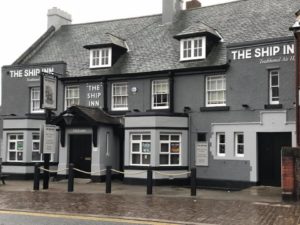 Why we love The Ship….
Here at La Vida Liverpool we love local independents such as The Ship and you won't find much better landlords than Loz and Vic. The Ship Inn is a true community hub and one of the best pubs in Wirral and with Adam Bowers now on board it's plain sailing from now on at this iconic Hoylake pub!
New Menu from Adam Bowers & The Ship Inn / Available Now!
The Ship Inn / 80 Market Street, Hoylake, CH47 2DW
For more info check out The Ship Inn on FACEBOOK!