Manchester Collective are preparing to visit Future Yard in Birkenhead to present a boundary-pushing concert with South African cellist, composer and singer Abel Selaocoe on Thursday 31 March 2022.
In association with Africa Oye, It will see the long time friends and collaborators come together to present The Oracle, a brand new show that promises to lift the spirits and take audiences of all ages on a spellbinding musical ride through time and space.
FOR TICKETS (FROM £5) & MORE INFO CLICK HERE!
A figure who stands alone as an utterly unique and mesmerising musical voice, Abel Selaocoe is raising the bar for what classical music can be – a uniquely unifying force who fuses African and Western traditions whilst blending his instrumental virtuosity with vocal and compositional dexterity. For The Oracle, Selaocoe will be joined Manchester Collective as they embark on a musical journey together spanning continents and generations, past and future.
FOR TICKETS (FROM £5) & MORE INFO CLICK HERE!
Featuring stories and original compositions by Selaocoe (commissioned by Manchester Collective and the Southbank Centre, in partnership with the Royal Philharmonic Society) alongside masterpieces by Jean-Philippe Rameau, Igor Stravinsky, Mica Levi and Oliver Leith, the show is about connection and music at its most joyful and life-affirming. From Baroque to Mbaqanga music from South Africa, it promises to transcend the boundaries of genre, reimagining classical instruments' sound worlds, and inviting audiences to jump into different worlds of expression.
FOR TICKETS (FROM £5) & MORE INFO CLICK HERE!
The title of the show is inspired by the concept of oracles – characters from different communities who impart wise and insightful counsel – transcending space and time to bring a message that is important for everybody's wellbeing. Selaocoe has written four new works which will explore this theme, the threads between the worlds of African rhythm and classical music, as well as Afrofuturism and Selaocoe's interest in Black art within the space of technology, the future and the cosmos.
FOR TICKETS (FROM £5) & MORE INFO CLICK HERE!
As long-time artistic collaborators, Selaocoe and Manchester Collective have worked together for a number of years, having met whilst at the Royal Northern College of Music. The Oracle is an evolution of their hugely popular Sirocco project which began in 2018. A show celebrating the warmth and diversity of folk traditions across the globe, Sirocco continues to tour to festivals and concert halls nationally and internationally, including an upcoming US tour in October 2022. A clip from the show also went viral, reaching millions of people across the globe.
FOR TICKETS (FROM £5) & MORE INFO CLICK HERE!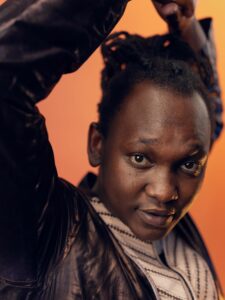 Abel Selaocoe said: "My journey with Manchester Collective started quite some time ago and our relationship has now matured into something extremely beautiful. The Collective has served as one of my homes to create without any inhibitions – something special always seems to come out of this environment they've created. Our latest collaboration will see us explore the sound worlds between classical music and African music, and beyond.
Audiences can expect to be thrown into a world of both the familiar and unfamiliar. They will be taken on a journey that explores the types of sounds an instrument can make outside of itself, just like an oracle – somebody who can transcend their community and tell a story so that people can understand their purpose.
Another theme that will bind everything together is Afrofuturism. This has been a very personal journey for me, exploring a topic that speaks to me as a black person and my idea of where my journey goes in the future – the use of technology, the idea of space, and of transcending what was before to look further ahead. For me, The Oracle is all about finding a universal idea of spirit that can take us to another world."
FOR TICKETS (FROM £5) & MORE INFO CLICK HERE!
From large-scale venues to intimate spaces, The Oracle launches in Birkenhead and will then tour to eight cities from 31 March to 24 April, concluding with a free online broadcast on 1 May 2022. The Future Yard event starts at 8pm and tickets (£12 Full Price / £5 Birkenhead Residents) can be bought from Manchester Collective.
Abel Salaocoe & Manchester Collective present The Oracle / Future Yard, Birkenhead / Thurs 31st March 2022
FOR TICKETS (FROM £5) & MORE INFO CLICK HERE!