If you've not yet visited the multi award winning Mere Brook House in the beautiful village of Thornton Hough you're missing out! The Edwardian house in the South Wirral countryside is a 5 star gold bed and breakfast, although it is far more than just a luxurious place to stay.
Here we check out 5 fantastic reasons for visiting this gem this winter….
Check out the Mere Brook House WEBSITE!
Dining events….
Mere Brook House offers lavish seasonal dining events, serving the best locally sourced produce in their elegant dining room, and there are two fantastic Christmas dining events. On 4th and 20th December respectively, guests can enjoy a 4 course festive feast with tea and coffee in the most quaint of settings for just £28 per person.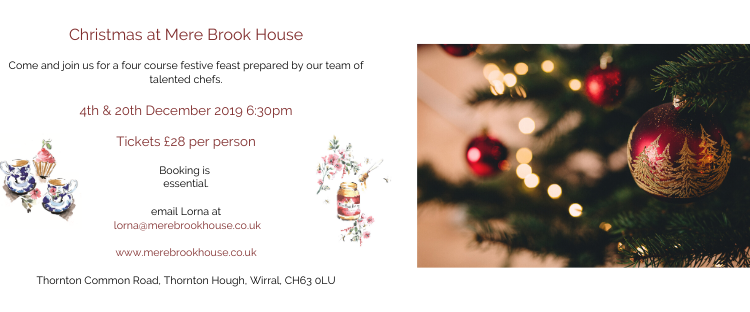 These special dining events are very popular and unique so it's advisable to book well in advance to avoid disappointment. The Christmas events are already getting booked up and there are already plans for events in the new year, so get in touch soon for a dining experience like no other!
For more on dining events CLICK HERE!
Christmas parties….
Mere Brook House is a wonderful option for private events and weddings are booked up years in advance. If you're looking for a very special Christmas party, it's ideal for large groups/families, schools, doctors, solicitors firms and other businesses to celebrate the festive season and end of the year.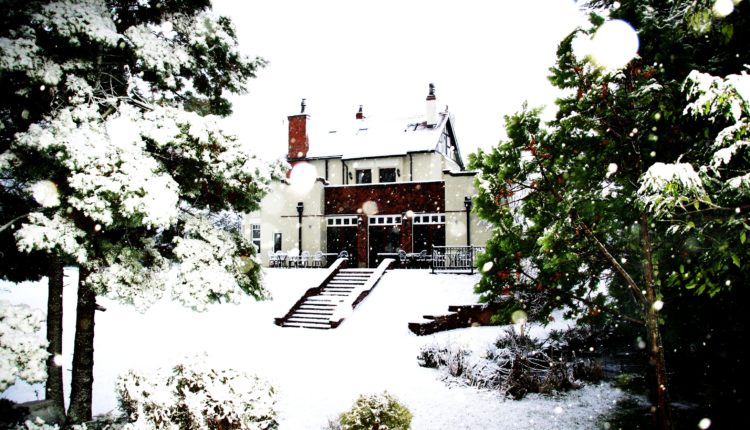 A set Christmas 4 course menu with tea and coffee can be enjoyed in their elegant dining room for £28 per person, with a minimum 30 person cover for exclusivity (20 minimum with another party). If you're looking for somewhere beautiful and grand in the countryside to enjoy a Christmas party, Mere Brook House offers luxury close to home that doesn't cost the earth.
Contact Mere Brook House for more info HERE!
Christmas hampers….
Mere Brook House is known for producing their own honey and using quality local produce. If you're looking to source a beautiful and thoughtful gift for someone, then check out their bespoke Christmas hampers where you can choose from several options at a range of prices!
The hampers include a selection of honey produced on site by their bees, apple juice and cider made with their apples and their gorgeous home made cakes! A delightful and very special gift for someone, a Christmas hamper is a great reason to visit and see what they offer.
Contact Mere Brook House for more info HERE!
The setting….
Mere Brook House is a truly magical place to visit any time of year, but possibly even more so in winter — especially if it snows! Although it's on our doorstep, you could be anywhere in the country at Mere Brook House — it's like stepping into a time capsule and being transported to a quaint Edwardian house in the countryside.
For more about the house CLICK HERE!
Stay….
The beauty of Mere Brook House is that it's close enough to visit in no time and within easy reach of Chester and Liverpool, yet when there you feel as if you're somewhere completely different miles away from home. A luxurious country retreat with 8 individual bedrooms, it's the perfect place to escape to and perhaps enjoy a short romantic break.
Being a 5 star gold bed and breakfast, you'd be surprised by the fantastic value they offer. From between £99 and £139 per night including a hearty home cooked breakfast, it's very reasonably priced given the quality and setting. Surrounded by nature and wildlife and with plenty of nice walks to be had, it's one of the most beautiful places to stay around.
For bookings and availability CLICK HERE!
Why we love Mere Brook House….
If you've not yet been to Mere Brook House, a visit is highly recommended. One of the real gems of our region run by a small yet highly talented team, it's clear to see why they're so highly rated and have won awards. Whether you visit for a dining event, a Christmas party, their local produce, the setting or to stay, you'll love everything about this magical country retreat.
Mere Brook House / Thornton Common Road, Thornton Hough, CH63 0LU / 07713189949
Check out the Mere Brook House WEBSITE!
Check out Mere Brook House on FACEBOOK!