There's watching a movie at the cinema and there's watching a movie at home….then there's watching a movie in an idyllic setting on West Kirby promenade with unrivalled views over the estuary, dinner and fine wine! Last month we brought you gypsy jazz and tapas at Tanskey's bistro bar in West Kirby — an event that sold out in 3 days — and now we bring you their unique 'Movie Nights'! As Autumn begins and nights get darker earlier, it's time to get cosy at the picturesque West Kirby venue and their movie nights offer a different kind of experience in the seaside town.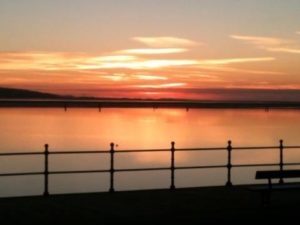 There are 7 of these fantastic evenings from September to December and tickets for each one are limited. For £25 each guest receives a main meal from the ever changing menu (chicken, beef or veggie options), a bottle of red, white or rose wine (upgrade to prosecco for £5), free popcorn, a movie showing on the state of the art HD surround sound projector and exclusive use of the best located venue in West Kirby. Tickets are available by calling 0151 625 3882 or by messaging their Facebook page. The first 2 nights have screened The Greatest Showman and The Post and in this feature we bring you the next 5 events:
Saturday 27th October: Murder On The Orient Express
The 2017 movie adaption of the famous Agatha Christie novel sees an all star cast of Kenneth Branagh, Penelope Cruz, Wiem Dafoe, Johnny Depp, Tom Bateman, Judi Dench and Michelle Pfeiffer all come together to portray the magnificent murder mystery story set on board a trans-European train. Watch the plot unfold as Hercule Poirot attempts to solve a gruesome and horrific murder on the train….
Friday 9th November: Castles In The Sky
This British fact based drama depicts the sterling work of Robert Watson-Watt and other British scientists as they struggle to invent radar for World War II and subsequently help save us from defeat. This historical masterpiece sees Eddie Izzard play the lead role but also has some local significance as West Kirby based Celyn Jones, a fascinating character, plays Taffy Bowen in the movie….
Saturday 24th November: Book Club
In this 2018 romantic comedy, Diane Keaton, Jane Fonda, Candice Bergen and Mary Steenburgen star as four friends who read Fifty Shades Of Grey as part of their monthly book club. Watch how their attitudes towards personal relationships change in this hilarious and saucy comedy and watch as the plot unfolds. A brilliant comedy and at times quite moving, perfect for a pre-Christmas with the girls….
Friday 7th December: Mama Mia! Here We Go Again
The sequel to the 2008 romantic comedy, Mama Mia, this 2018 follow up movie released in July is another fun adventure with twists, drama, comedy and romance. Starring the likes of Lily James, Amanda Seyfried, Christine Baranski, Julie Walters, Pierce Brosnan, Andy Garcia, Colin Firth, Cher and Meryl Streep, it's been a box office smash hit so for those who haven't yet seen it this is your perfect chance! Another great option for a Christmas night out with the girls….
Friday 21st December: It's A Wonderful Life
To finish off movie season in 2018 at Tanskey's we have the big Christmas showing of It's A Wonderful Life. The 1946 American Christmas fantasy comedy drama is a classic starring James Stewart, Donna Reed and a host of other top movie stars and is one of the most critically acclaimed movies of all time — nominated for 5 Academy Awards and placing 11th in the American Film Institute's 100 Best American Films Of All Time. A magical movie and a great way to start your Christmas season….
Movie Nights at Tanskey's offers something a bit different and a great choice for a night out in the Wirral. Tanskey's have been doing great things with their food menu following their recruitment of a top local chef, so expect a fine dining experience, exquisite wine from their refined selection (or prosecco should you wish) and a movie experience like no other! Doors open at 6pm and movies start at 8pm — these events are expected to sell out so it's recommended to book your tickets in advance!
Call Tanskey's on 0151 625 3882 or message them on FACEBOOK!