After immersing ourselves in the magic of the fantastic Festival No.6, we decided to return to the quaint Welsh coastal village of Portmeirion to see what it's like without the madness of a large scale festival. Only a week after we had been partying frivolously there, we journeyed from the Wirral for two hours through North Wales to the west coast of Wales to see Portmeirion from a different perspective. Following our post festival visit, we've come up with 5 reasons to visit Portmeirion….
1. The Setting & Nature
We knew this already, but Portmeirion is as serene and picturesque as villages come. Located on the west coast of Wales and nestled in between the estuary, woods and mountains, it's the perfect place to escape to and unwind. Close enough to get to from Merseyside but far enough away to feel like a proper getaway, it's an ideal destination for a short break.
Visiting post festival and on a Monday, we were able to appreciate its true beauty without as much hustle and bustle and hordes of people. We embarked on one of the recommended coastal walks, where we walked around the coast, discovered secret coves and beaches and enjoyed breathtaking views before trekking through the woods back to the village. If you're a lover of fresh air and exploring nature, Portmeirion is definitely for you!
2. The Architecture & History
The wonder and charm of Portmeirion, its history and its buildings is something to behold and there's no place quite like it in the UK. Built between 1925 and 1976 by Clough Williams-Ellis, the quirky village has so many unique colourful buildings within it and has been described as "where the Italian Riviera meets rural Wales".
It's easy to spend hours admiring each individual masterpiece and get lost whilst exploring the grounds and it becomes even more magical when lit up at night. There's the castle too with beautiful gardens and views of the mountains. The cult T.V series, The Prisoner, was filmed at Portmeirion as well as many films and it's still used for filming and photo shoots today. Following this visit, we were able to fully appreciate why Portmeirion is such an iconic destination for many reasons.
3. The Hotels & Accommodation
There are a few great options for staying at Portmeirion village. Hotel Portmeirion is a Grade II listed building oozing with character and original features, overlooking the estuary. A luxury 4 star hotel, it offers 14 stylish bedrooms, a fine dining restaurant, a bar and terrace and several relaxing lounges with warm features such as log fires. Alternatively, there's Castell Deudraeth — another luxury 4 star offering with 11 spacious rooms and suites and a modern interior with fine art, as well as a brasserie overlooking its gardens.
During our visit we stayed at one of the 32 Village Suites — one of the many colourful village buildings — called The Royal Dolphin. With views over the estuary and two balconies to enjoy it, it was a great choice with modern decor inside and everything we needed. It came with our own designated parking space and was located in the heart of the village — an ideal space for exploring everything. There are also 13 self-catering cottages.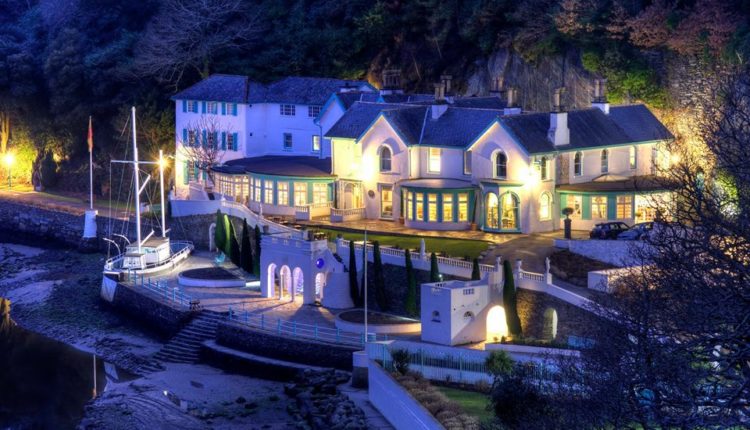 4. The Food
With a choice of award winning restaurants and cafes, there are some great dining options in Portmeirion village. Hotel Portmeirion is home to an art deco restaurant that has a great reputation for its ambitious and innovative fare. A 2 AA rosette hotel restaurant with a top head chef and stunning views over the estuary, it's definitely the connoisseur's choice. There's also the bar and terrace there — popular for lunch or afternoon tea.
Alternatively, there's the brasserie at Castell Deudraeth with views of the castle gardens and the mountains. We dined there during our stay and although more informal it was still a top dining experience — with a rosette for its quality. We opted for the mid-week menu, with a starter, dessert and main for £25 — the food was exceptional, particularly our mains of 'Trio Of Fish' and 'Welsh Lamb'. In addition to the two main dining options, there are a number of cafes and ice cream parlours in the village and also food and drink served at The Town Hall.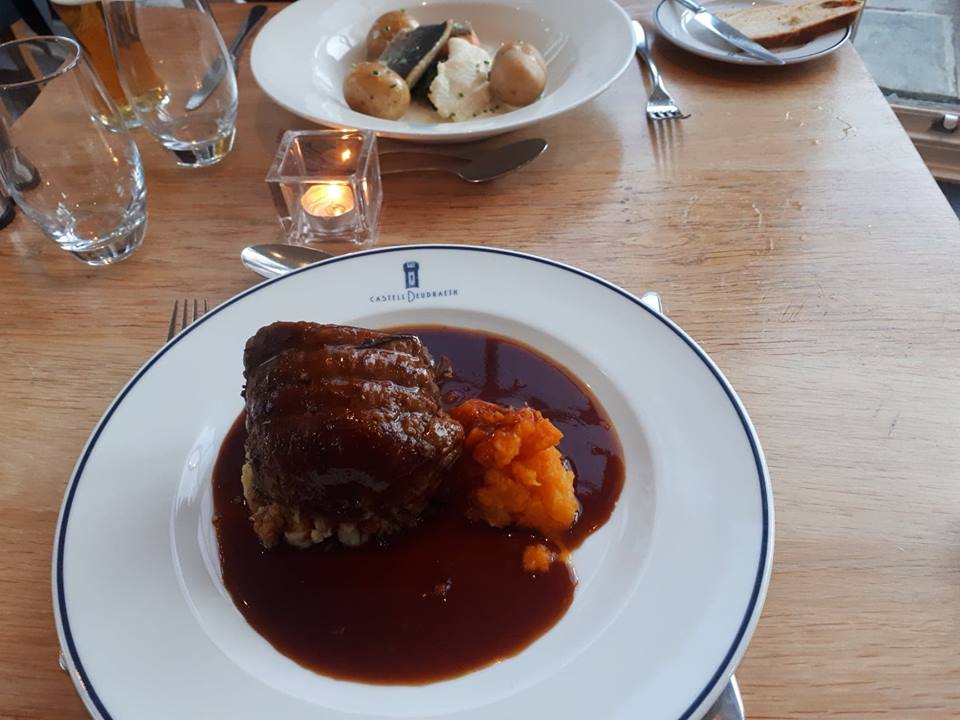 5. Things to do
There are many things to do in Portmeirion. As we discovered, there are some great walks to be had and it's a nature lover's paradise — it's also ideal for photographers to take some great shots. There are various shops selling arts and crafts and there are regular events, such a Festival No.6, craft fairs and various other events throughout the year. Cult fans of The Prisoner, the T.V series filmed there, arrange annual conventions at Portmeirion.
There are different tours available for those who want to learn more about the village and its history and water sports for the more adventurous. Those seeking a relaxing escape will be pleased to know there's a spa with a range of treatments and it has a popular afternoon tea offering. It's an alternative option for corporate events and unsurprisingly, it's a popular choice for weddings due it's magical and fairytale-like setting.
Whatever you're looking for, Portmeirion is a unique destination, oozing with quirk, charisma and charm, and highly recommended as a sanctuary to escape to — whether that be for a few hours or a few days. Here at La Vida Liverpool we love to explore and one thing we can say with conviction is 'there's no place quite like Portmeirion'.
For more info on Portmeirion CLICK HERE
For special offers CLICK HERE
For afternoon tea CLICK HERE
Check out Portmeirion on FACEBOOK