On Sunday 31st March a very special comedy tour arrives at the O2 Academy in Liverpool! The Anglo-American duo of Amer & Khan are bringing their 'Persons Of Interest' tour to the city and it's set to be a rip-roaring laugh a minute extravaganza from two of the hottest names in comedy!
US comedian Mo Amer and British actor and comedian Guz Khan are embarking upon a 12 stop UK stand up comedy tour, with the third event being held in Liverpool, and given the recent success of both comedians it's likely to be a sell-out!
For tickets and more info CLICK HERE!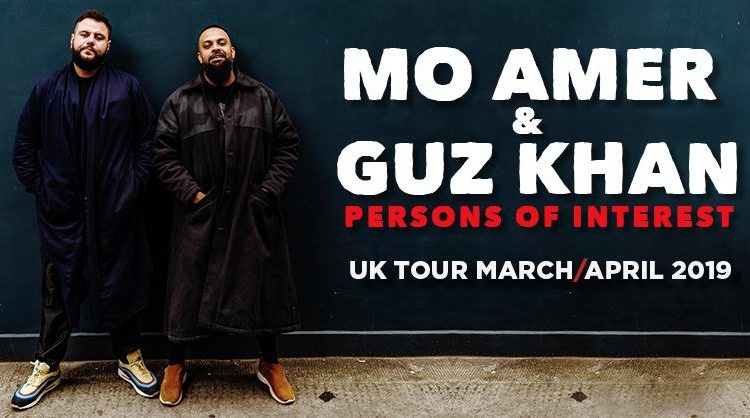 Mo Amer is an Arab American stand up comedian and writer of Palestinian descent who recently debuted his first stand up special for Netflix, The Vagabond. His sold out shows worldwide include performances at the Royal Albert Hall and Hammersmith Apollo (London), Acer Arena (Sydney), Nelson Mandela Theatre (Johannesburg), and Shrine Auditorium (Los Angeles).
He has toured extensively with Chappelle, performing over 600 shows with the stand-up legend, and shared the stage with the likes of Jon Stewart, Chance The Rapper, Ms. Lauryn Hill, Childish Gambino (Donald Glover), Trevor Noah, Hannibal Buress and Ali Wong. His rise to fame has recently seen him make his late night debut on CBS's Late Night with Stephen Colbert.
For tickets and more info CLICK HERE!
Guz Khan is a British writer, actor and stand up comedian and is the creator, co-writer and star of Man Like Mobeen — one of the BBC's most successful new comedy series. Man Like Mobeen scooped three RTS Midlands Awards in November and was nominated for a Broadcast Digital Award.
As an actor, Guz is set to star in the re-make of Four Wedding And A Funeral and will soon star alongside Idris Elba in Turn Up Charlie for Netflix and as a regular in Sky drama Curfew, all of which will release in 2019. As a comedian, he has been a huge hit at events such as BBC's Live At The Apollo and has a cult online following due to his viral youtube videos.
For tickets and more info CLICK HERE!
With so much great comedy in Liverpool these days we're truly spoilt, but this hilarious double bill featuring two of the most talked about names in the business at the moment is one you won't want to miss! Be prepared for a no holds barred extravaganza and expect laughter and tears, as Amer & Khan deliver their unique takes on life and society.
For tickets to the Liverpool event and more info CLICK HERE!
For more on at the O2 Academy Liverpool CLICK HERE!