During this time of crisis, we're all looking for ways to stay positive as we dream of a better world. This strange situation we're in can be tough and isolation can affect us in many different ways, but live artist Clare Brumby is offering meaningful conversation, dance and yoga as a way to come together and reimagine a brighter future — with a call out for participants to get involved!
As part of her ground-breaking project, Salt Act, Clare travelled to India to walk in Mahatma Gandhi's footsteps. In March this year, Clare re-enacted the famous Civil Rights Leader's 24 day 'Salt March' as part of an artistic cultural project that aims to educate and inspire change in the world.
To get involved with the open dialogues and online dance sessions CLICK HERE!
The original 'Salt March' began on 12th March 1930, when Gandhi left his Ashram in Ahmedabad to begin a 240 mile walk in an act of defiance against the British Salt Act – a rule that forced Indians to buy salt from the British and pay 'Salt Tax'. He was joined along the route by 80 other marchers and walked 10 miles a day to Dandi, where he sourced and produced his own salt.
On 12th March 2020, 90 years later to the day, along with over 100 other people, Clare Brumby began following in Gandhi's footsteps as part of her Arts Council England funded project. Following a commemorative ceremony at Gandhi's Ashram in Ahmedabad, Clare embarked upon the pilgrimage with a core group of around 20 people from India, the U.S and Netherlands. Heading the walk was none other than Tushar Gandhi – the great grandson of the iconic figure.
To get involved with the open dialogues and online dance sessions CLICK HERE!
Clare talked to people along the route about how Gandhi created positive change in the world, interviewing local people in the villages and towns she passed through. Through these dialogues, she captured the changes they want to see in the world, including things such as better sanitation, India fulfilling its potential as a nation and world peace.
Unfortunately, after just 10 days the march was brought to an abrupt halt due to the coronavirus pandemic, leaving Clare in quarantine until she could finally return home. Having now returned safely home to a very different Liverpool, Clare has decided to use the inspiration of Gandhi's non-violent protest to initiate a number of open dialogues online with local people.
To get involved with the open dialogues and online dance sessions CLICK HERE!
Using various listening techniques to capture what changes people would like to see in the world, the dialogues are open for anyone to participate. The data from these dialogues will be used to produce a large collaborative dance performance using symbolism from yoga. This final performance will take place online in June this year, featuring a group of 80 participants.
Here's where you can get involved! Participants are invited to join in a week-long programme of free drop-in dialogue sessions starting on 11th May 2020, where people can come together to discuss and reimagine a new world after lockdown. Clare is offering online dialogue sessions and also generating discussion by taking participants on virtual walking tours. Each day will feature a new topic and participants are welcome to attend as many sessions as they wish.
To get involved with the open dialogues and online dance sessions CLICK HERE!
In addition to this, Clare is inviting 80 people to engage in a series of free weekly online dance yoga sessions — starting on 18th May 2020. The dance yoga participants will learn a new piece of choreographed work, created in collaboration with local choreographer Donna Unwin, to be performed in an online mass mobilisation event on Sunday 21st June 2020 — International Yoga Day. Clare is looking to include participants of all ages and abilities in the free sessions and final performance, with no previous yoga or dance experience necessary.
This unique commemoration of Gandhi's non-violent protest aims to bring cultures and communities together and explore how art and artists can bring about positive social change. With a focus on individuals uniting in solidarity, 'Salt Act' is an experiment in the power of modern mass mobilisation and 'holding onto truth', first explored in Gandhi's original march.
To get involved with the open dialogues and online dance sessions CLICK HERE!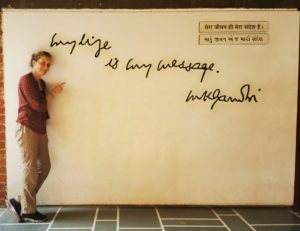 Clare told us: "The project's main focus has always been how people create positive social change through human connection. With the current pandemic, that change already seems to be happening, so what it's providing us with is a once-in-a-lifetime opportunity to reimagine our world, post-lockdown. I want to capture this significant point in history by giving people a space to connect and also re-emerge dancing from this crisis in a show of unity, strength and resilience."
Thanks to Metal for their support as part of their Time and Space residency programme
Photography by Clare Brumby, Jazamin Sinclair, Heka Ahir, Tahir Malek and Vishal Mishra
To get involved with the open dialogues and online dance sessions CLICK HERE!
Check out Clare Brumby's artist website at www.clarebrumby.com!
Check out Clare Brumby on FACEBOOK!
Check out the project on INSTAGRAM!