Exciting news at The Ship Inn! Hoylake's legendary pub have teamed up with the award winning Cowfish Smokehouse to bring you an incredible new kitchen offering launching Friday 22nd October! In this feature we check out what the mouthwatering new menu will be and what's on at the iconic Wirral venue….
For more info check out The Ship Inn on FACEBOOK!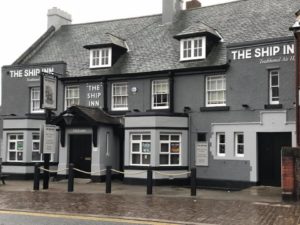 About Cowfish Smokehouse….
Led by Sean Vinten, Cowfish Smokehouse is a pop up American bbq concept that has been receiving rave reviews at festivals and events since 2017. Popular in places such as Marine Street Social and Woodside Ferry Village, it offers premium quality smokehouse food that's oozing with flavour!
For more info check out The Ship Inn on FACEBOOK!
What's on the menu at The Ship?
Cowfish Smokehouse has created a bespoke menu for The Ship and you seriously need to check it out! Initially open Weds-Fri 5-9pm, Sat 12-9pm and Sun 12-7pm, the new kitchen will feature the finest burgers, Southern Fried Chicken and wings, fish and chips, mac and cheese, nachos, desserts and their special Cowfish Sunday Roasts!
For more info check out The Ship Inn on FACEBOOK!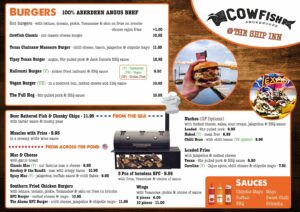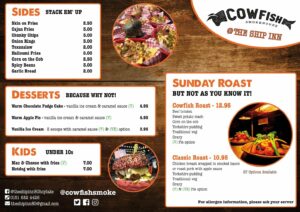 What's else is going on at The Ship?
The Ship Inn is a true community pub and during lockdowns the team did a lot of outreach work to help the local residents. During this time they cooked and delivered countless meals to vulnerable residents, put together care packs to key workers and raised over £8,000 for the local food bank.
Ever since opening back up, they introduced their incredible outdoor ShipYard space — featuring live sport on a huge screen and amazing live music acts such as Ben Ottewell from Gomez, Mark Burgess from The Chameleons and John Bramwell from I Am Kloot. They've also been hosting events for local groups and sports teams.
In addition to the exciting new kitchen collaboration with Cowfish Smokehouse, The Ship Inn has lots of fantastic things going on! There's live sport, Irish Jam Sessions every other Tuesday, the Whacky Quiz every Wednesday and live music every weekend from the likes of Hello Felix, Crossfire Hurricane, The Tone Junkies and Neville Skelly & Paul Molloy of The Coral!
For more info check out The Ship Inn on FACEBOOK!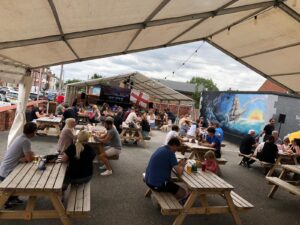 Why we love this….
Here at La Vida Liverpool we love supporting local independents and even more so when two come together for a beautiful collaboration. The Ship Inn is a true community hub and one of the best pubs in Wirral, whereas Cowfish Smokehouse is an award winning independent that offers mouthwatering food, so it's a match made in heaven! Get yourselves down there now!
Cowfish Smokehouse @ The Ship Inn / Launching Fri 22nd Oct 2021
The Ship Inn / 80 Market Street, Hoylake, CH47 2DW
For more info check out The Ship Inn on FACEBOOK!