Liverpool's legendary events promoters, EVOL, return with their epic FestEvol and their comeback event is set to be a must see extravaganza! On Saturday 3rd July 2021, a diverse line up of new and emerging artists from the region will be showcased at the exciting new Future Yard venue on Argyle Street in Birkenhead!
For tickets to the event CLICK HERE!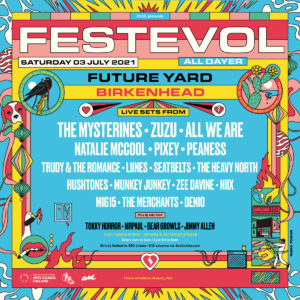 The all day event starts at 1pm and runs through until 2am, using the new venue's indoor and outdoor stages. Merseyside artists The Mysterines, ZUZU and All We Are will headline the event, with a whole host of other top notch acts throughout the day including DJ sets from the likes of Tokky Horror, MrPaul, Bear Growls and Jimmy Allen.
For tickets to the event CLICK HERE!
One of the most eagerly awaited local music events of the year, FestEvol brings you the region's best live music acts, hosted by a fantastic new venue. Brought to you by the Liverpool promoters responsible for booking the likes of Jarvis Cocker, Caribou, Gary Numan and The XX, this spectacular event is the first of three FestEvol shows this summer.
For tickets to the event CLICK HERE!
Promoter Revo said: "After such a prolonged absence from live music which we've all missed being a part of and enjoying, it feels like a great panacea to be announcing a micro-festival event such as #FestEvol2021, involving a brand new independent venue in Future Yard and making our debut in Birkenhead after nearly 18 years of promoting in Liverpool."
He continued: "It's beautiful to be working with groups again and being able to offer them their first show back. We are all buzzing and can't wait to get stuck in once more and see some bands play to an active audience. It's been a tough year or so but now we're back with a bang and people are in for a treat with this line up."
For tickets to the event CLICK HERE!
With the capacity strictly limited to 350, tickets are on sale at 9am on Friday 14th May and are expected to fly out — therefore purchasing early is highly recommended. Adhering to the new Covid regulations, attendees will be required to show proof of a negative Covid test result received within 48hrs of the event to gain entry.
For tickets to the event CLICK HERE!
The return of live music, events and festivals has been long overdue and this summer is going to be epic! As ever, at the centre of it all in our region is EVOL — the legendary promoters who have been booking top acts and nurturing local talent for years. For the very best of what the North West has to offer and for a fiesta like no other, head down to FestEvol at Future Yard on 3rd July!
FestEvol / Future Yard / Saturday 3rd July 2021
For tickets to the event CLICK HERE!