The White Owl in Thurstaston keeps going from strength to strength — constantly evolving and offering guests an ever changing offering. We've recently loved the new menu (particularly the burgers and wings) and some of the amazing live music (particularly the Friday night blues). Here we bring you the great food and music available in December….
Check out The White Owl on FACEBOOK!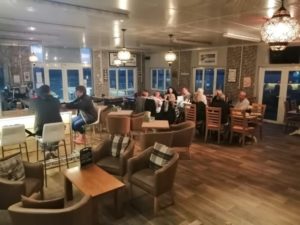 What's The White Owl about?
If you've been following our articles, you'll be aware of how special this place is. A quality eatery and live music venue in the heart of the Wirral countryside (on Station Road in Thurstaston), it's open 7 days a week and enjoys panoramic views of the countryside and over to Wales. A fantastic place in an idyllic setting!
Check out The White Owl on FACEBOOK!
What's the Festive Menu about?
Available from 2nd December, the Festive Menu offers quality food at a great price! You can enjoy 2 courses for £19.95 or 3 courses for £23.95, with a refined selection of dishes to suit most tastes. With few better places around to enjoy a Christmas meal — you can dine whilst admiring the stunning views outside.
Please note: Booking essential as there aren't many tables left, Festive Menu will run alongside regular menu.
Check out The White Owl on FACEBOOK!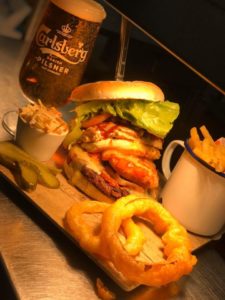 What live music is there?
Every Friday night up until Christmas there'll be the popular new Blues Nights! We've seen some spectacular acts so far such as Intercity Blues Band, The Head Hunters and The Ian Boyle Blues Band. Coming up there'll be The Terry Burgin Blues Band (29th Nov), The Jupiter Blues (6th Dec) and Intercity Blues Band (20th Dec).
Don't forget — The White Owl is already famous for its Sunday afternoon music sessions every Sunday from 4pm. Coming up we have the likes of The Usual Star Bellied Sneetches (1st Dec), Broken Strings (8th Dec), Shakey Jake (15th Dec) and Tennessee Waltz (22nd Dec) — perfect to enjoy with a Sunday roast!
Check out The White Owl on FACEBOOK!
Why we love The White Owl….
We've said it before and we'll say it again — this place is a real gem and a must visit! With quality food and amazing live entertainment in a beautiful setting, we're huge fans of The White Owl! December's Festive Menu (alongside the existing menu) and the great live acts booked make this a top destination to visit this festive season.
The White Owl / Station Road, Thurstaston, Wirral, CH61 0HL / 0151 648 0800
Check out The White Owl on FACEBOOK!