Liverpool's legendary promoters, EVOL, have smashed it in 2021 — with big bookings and sell out shows in Liverpool and Birkenhead. It's looking like they're planning a big 2022 too, with announcements flying in, and one very special gig is happening in New Brighton's Victoria Quarter on Saturday 29th January!
For tickets and more info CLICK HERE!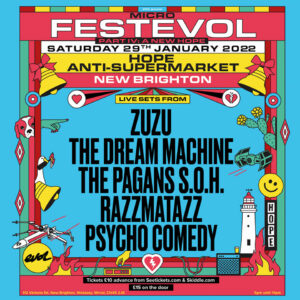 For the first time ever, EVOL's famous FESTEVOL live music extravaganza is coming to the incredible street art hotspot — at the Victoria Quarter's Hope Anti-Supermarket! The new 499 capacity venue, a reclaimed Co-Op supermarket, has already hosted some top events including the recent Space gig and this one promises to be epic!
For tickets and more info CLICK HERE!
The line up for FESTEVOL's Victoria Quarter debut is tasty to say the least! Zuzu, Liverpool's grungy guitar-pop singer songwriter with attitude, will inevitably bring her punk rockin ass kickin energy to the old supermarket and undoubtedly will blow the roof off it! A top booking if ever there was one!
For tickets and more info CLICK HERE!
Also on the line up is The Dream Machine — along with their big hitting anthem 'Jesus Babe' — who can't wait to smash it back on home turf. The Pagans S.O.H will be there — the incredible hip-hop, funk, punk, ska, metal, jazz and reggae entertainers who have been doing great things. Joining the line up is Psycho Comedy — the experimental, droney, arty, gritty, dreamy progressive, punk outfit from Liverpool.
For tickets and more info CLICK HERE!
And last — but by no means least — is New Brighton's very own 'Fab Four', Razzmatazz! If you've not yet had the pleasure of feeling the pure energy that these lads emit, this is your perfect opportunity. Having recently supported Space, local lads Will, Ben, Jamie and Milo have been making huge waves in Merseyside and it's only a matter of time before we see them go on to emulate a certain Liverpool four who achieved greatness.
For tickets and more info CLICK HERE!
EVOL Head Honcho and New Brighton resident, Revo Ziganda, said: "It feels amazing to be putting on a FESTEVOL event in my hometown. The sense of community here is fantastic and there's a great vibe going on in The Victoria Quarter so it promises to be a very special event! The line up is oozing with talent and tickets are only £10 so it's a must for anyone wanting a quality live music experience in the new year."
For tickets and more info CLICK HERE!
It's been incredible to witness the development of New Brighton over the past couple of years — spearheaded by Dan Davies and the Victoria Quarter regeneration project. The new Hope Anti-Supermarket is a hub and a platform for local independents and musicians, so what better venue to host a wonderful showcase such as FESTEVOL — who have themselves been supporting local grassroots music for over 20 years. VIVE LA NEW BRIGHTON!
FESTEVOL / Sat 29th Jan 2022 from 5pm / The Hope Anti-Supermarket, The Victoria Quarter, Victoria Road, New Brighton
For tickets and more info CLICK HERE!
For more about EVOL CLICK HERE!
Images courtesy of EVOL