ATTENTION BEER ENTHUSIASTS! The Pen Factory of Hope Street is hosting a very special event indeed! On Friday 8th November from 5pm, The Pen Factory is throwing another free to attend Tap Takeover event! Taste Of Two Cities pits two breweries against each other where YOU, the beer connoisseurs, choose the winner….
For more on this free event CLICK HERE!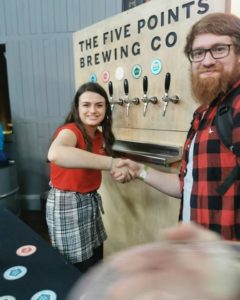 Following the success of their first two cities event, The Pen Factory thought they would do it all again with two new breweries. This time they have gone for Kirkstall Brewery from Leeds and Five Points Brewing from East London.
The Pen Factory team are committed to giving their customers the very best the British beer industry has to offer and these two breweries are producing some of the best and most exciting cask and keg beers currently on the market.
For more on this free event CLICK HERE!
Bar Manager Conor told us: "It's beers of this Calibre that remind us why we do what we do. For anyone who missed it first time around, the purpose of A Taste of Two Cities is really to encourage people to drink new styles of beer and venture outside their usual drinking habits."
He continued: "All you are shown on the pump clip is the ABV% and nothing more. You'll receive a voting card, on which you can rate each beer based on a number of criteria. It's essentially a drinking game for craft beer lovers where you will automatically be entered into a prize draw just for taking part."
The prize? More beer, obviously! 
For more on this free event CLICK HERE!
So why not go down and see what it's all about? Of course, if you'd rather just have a casual drink they'll tell you what you're drinking, but why not take a punt and have go? You never know, you could discover a whole new style you had no idea you would like!
With quality beer, a new small plates menu available, live music from the beautiful Jodie Knight and a great atmosphere in one of the coolest venues in the city, this promises to be a top event! Here at La Vida Liverpool, we love The Pen Factory and if you intend to visit then there's no better excuse than this!
For more on this free event CLICK HERE!
The Pen Factory, situated next to The Everyman Theatre on Hope Street, has developed a reputation for being one of the coolest places to eat and drink in the city. With its relaxed atmosphere and industrial open plan style, it's a real gem and highly respected for small plates, quality drink and great entertainment such as live jazz.
This latest Tap Takeover event from The Pen Factory is set to be another Friday night extravaganza and for beer enthusiasts it's a must! We can't wait for this boss event they're hosting — see you there!
A Taste Of Two Cities (Tap Takeover) / Fri 8th November 2019 / The Pen Factory
The Pen Factory / 13 Hope Street, Liverpool, L1 9BQ / 0151 709 7887
For more on this free event CLICK HERE!
Check out The Pen Factory WEBSITE!
Check out The Pen Factory on FACEBOOK!