West Kirby's gorgeous Indian restaurant, Karma, has opened its doors following lockdown and returns with a mouth watering menu! A refined menu with a perfect balance of starters (ideal for tapas dining), vegetable, chicken, lamb, seafood, biryani and classic dishes, there's something for everyone — oh, and they now have gin balloons too!
Check out the new menu on Karma's WEBSITE!
What's Karma about?
Situated on Grange Road in the heart of West Kirby, Karma is one of the region's most loved Indian restaurants. Fusing traditional family recipes and 65 years of experience serving the people of Wirral with a modern and stylish dining environment, Karma blends family history and heritage with contemporary dining.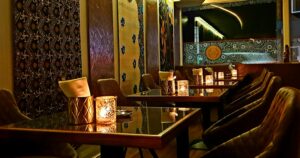 The Karma story dates back 65 years when Grandpa Miah left Bangladesh to open an Indian restaurant in Wirral and his wife, Grandma Miah, became the Wirral's first Bengali female restaurant chef in the early 1970s. The family business grew in reputation and they eventually opened Karma in West Kirby in 2002 — quickly becoming one of the best Indian restaurants in the region.
Check out the new menu on Karma's WEBSITE!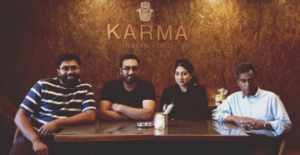 The new menu….
After months of only offering a takeaway and delivery service due to lockdown, Karma has come back even bigger and better with an incredible new menu! If you're after a bit of everything, their starters are ideal for tapas style dining, and in terms of the range of main dishes, you'll find a diverse yet refined selection of dishes with a unique Karma twist.
Head Chef Hussein has spent a lot of time during lockdown playing around with different flavours and styles and has created a menu for everyone — with some intriguing new dishes that are already creating a storm locally. With plenty of vegan and gluten free options, they've also introduced vegan naan bread, and gin fanatics with LOVE their gin balloons!
Check out the new menu on Karma's WEBSITE!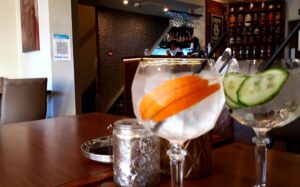 Our visit….
We visited to sample a range of new dishes on the new menu, including a couple of their fantastic Aloe & Cucumber and Blood Orange gin balloons! To start we enjoyed Kathi Rolls (chicken tikka wrapped in a flakey paratha with mint and corriander), Garam Chicken (chicken cooked in garam masala and chickpea flour with red onion and mint) and Paneer Tikka (chunks of paneer, peppers and onion coated in yoghurt and chaat masala).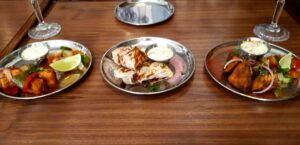 For our mains we enjoyed Lamb Kadhai (tender lamb in a deliciously fragrant onion and tomato curry sauce, flavoured with freshly ground spices, garlic and ginger), Malabar (tiger prawns cooked in a rich tandoori masala with fried onions and a rich curry sauce), Rezalla (chicken cooked in rich butter ghee and yoghurt, topped with cashews, fried onion and coconut). These were accompanied by Masala Fries and Vegan Garlic Chili Naan.
Check out the new menu on Karma's WEBSITE!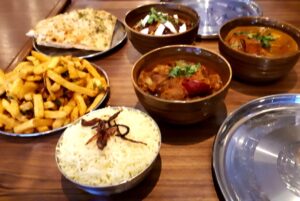 Why we love Karma….
Here at La Vida Liverpool, we love Karma and the Miah family who have been doing great things for three generations. We've got to know Karma very well over the last few years and the new menu is the latest evolution of the Karma story. With years of family tradition and heritage fused with a stylish and contemporary dining environment, we love Karma — one of the finest Indian restaurants in the region.
Karma / 9 Grange Road, West Kirby, Wirral CH48 4DY / 0151 625 5999
Check out the new menu on Karma's WEBSITE!
Check out Karma on FACEBOOK!