Merseyside is revered for its music and in recent years we've seen a real surge in quality bands coming through. La Vida Liverpool Bands is a series that brings you the best local bands — from ones you may know to up and coming ones to watch out for. If you're looking to discover a new band and find out about more about them such as their biography, music videos and gig details, then check out La Vida Liverpool Bands as we introduce you to the best bands Merseyside has to offer. In this piece, we focus on Joe Symes And The Loving Kind.
Joe Symes And The Loving Kind have been receiving rave reviews both locally and internationally and were described by the late Beatles manager and Merseybeat promoter, Sam Leach, as being one of the most exciting bands to come out of Liverpool. The trio have headlined Noel Gallagher's High Flying Birds' Afterparty at the Liverpool O2 Academy twice, supporting the likes of The Blockeads, Dodgy and Starsailor, and had two of their tracks included on the Charity Compilation Shoulder to Shoulder alongside tracks by the likes of Paul Weller, Ocean Colour Scene and Noel Gallagher.
Formed and based in Liverpool, the band (consisting of Joe Symes, Colin White and Andy Cleary) released a debut album with a self named title via their own record label, Truly Independent Records, that received global acclaim. This was followed by the energetic rock orientated double A side single Things Get Better/I'm Gonna Find Out Someday and the single was not only played during half time at Liverpool Football Club's ground on several occasions, but was a three-week feature on BBC Introducing.
We catch up with the band following the release of their second album, Phase II — a ten track rock classic that took place in several locations such as Peter Gabriel's Solid State Logic Studios, Oxfordshire, the Motor Museum, Liverpool and Parr Street Studios. The new album is already receiving rave reviews and the band has plans for this to be a big hitter internationally. Here's our exclusive interview following the album's release:
LVL: So what have you guys been up to in 2018?
Joe: We have been touring, we have a new album out called 'Phase II.' We have been doing media interviews, radio sessions, festivals, justs been really busy as always.
Colin: The whole year's been a big build up to the release of the new album.
Andy: All sorts. Touring, recording, and finishing the album.
LVL: What's the new album all about?
Colin: To me, it's a great collection of catchy, uptempo songs that leaves the listener wanting more.
Andy: Breaking away from the mellow side, and showing we can also rock.
Joe: For me, the new album is about the next chapter of the band, also for anyone who knows the band and our songs I think it can relate to anyone who has had major changes in their lives if you listen to the songs.
LVL: What's your favourite track from the new album, and why?
Andy: Summer's Almost Coming, and Hopeful Hearts. They give me a buzz to play, and to listen to.
Joe: I love them all, I couldn't pick a favourite song if I'm honest.
Colin: Tough one. It could change all the time. I don't think I can just pic one. I love them all.
LVL: How would you describe yourself as a band?
Joe: Very honest because the songs are real, and have meaning.
Colin: A well organised power trio that – according to someone who saw us once – has the force of nine people on stage.
Andy: Three equals who don't conform to the norm.
LVL: Who are your favourite Scouse band since The Beatles?
Andy: Space are cool guys. Gigged with them a while back, and they are really cool guys. But there are a lot of up and coming bands flying the scouse flag up and down the country.
Colin: I do like Echo and the Bunnymen. They has this great dark psychedelic sound. I think there is a little of their influence in us.
Joe: Echo and the Bunnymen.
LVL: You guys have done a lot of touring…..where's your favourite place to have played?
Colin: I can't really pick one. I enjoy the whole travelling process, and everywhere we play.
Joe: All the date we have played including festivals have been great, the feedback has been awesome. Really can't complain.
Andy: I enjoy playing anywhere as long as the vibe is good.
LVL: When can we see you in Liverpool next?
Joe: It will be in the new year. We will be announcing dates in January for 2019.
Andy: It'll be next year now. Got loads out of town .
Colin: Yeah, the next local gig will be announced as soon as it's confirmed.
LVL: What are your plans for 2019?
Andy: Promos, gigs, gigs, gigs, couple of new releases. Rock 'n' Roll!
Joe: We are looking at rehearsing some stand alone singles. Hopefully start work on our third album, playing festivals, making some videos to go with the new album, but still lots to do in the new year.
Colin: Yeah, just continuing the album promotion until about the Autumn. What have we got planned next? You'll have to wait and see.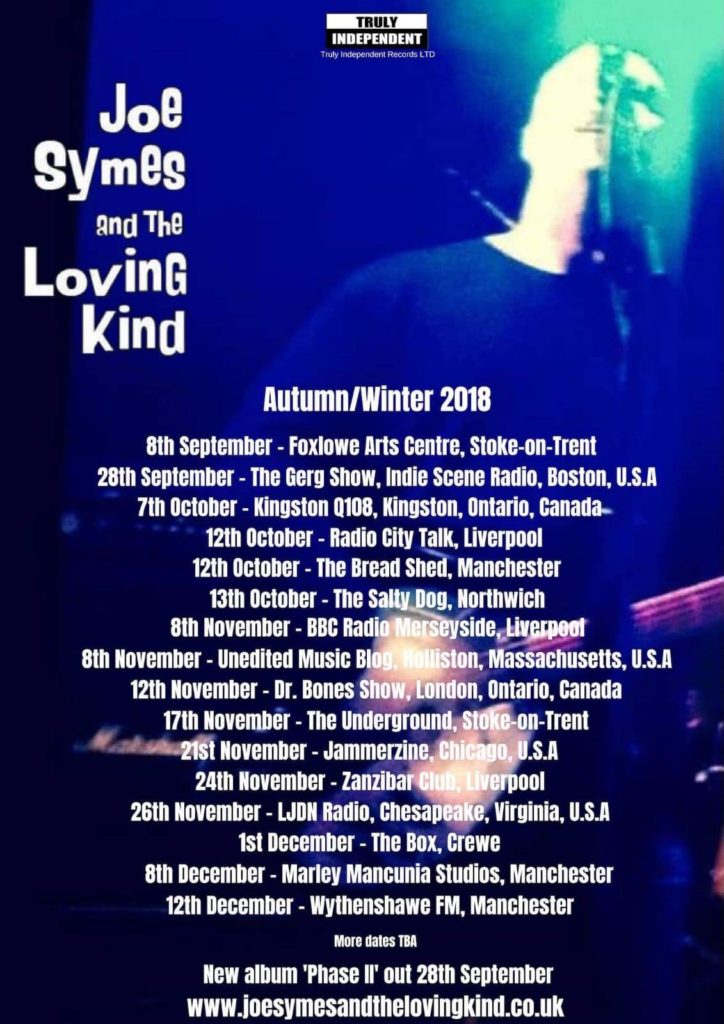 Check out Joe Symes And The Loving Kind WEBSITE
Check out Joe Symes And The Loving Kind on FACEBOOK
Check out Joe Symes And The Loving Kind on SOUNDCLOUD