Liverpool, as a city and region, is steeped in history and has a formidable reputation, however times are changing in this complicated and political modern world. As we enter 2018, there is so much to consider for the city and region — with lots of development, progress and opportunities but also some issues to address. In this exclusive interview, La Vida Liverpool talks to Metro Mayor, Steve Rotherham, about his role and thoughts on the future of the Liverpool city and region.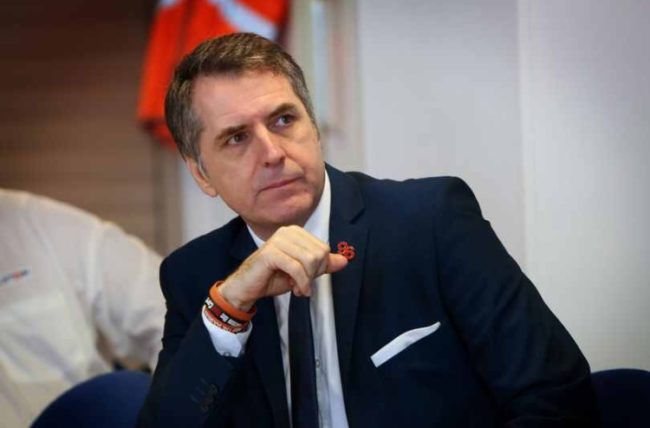 LVL: How did you come to be Metro Mayor?
Steve: I suppose luck played a hand in me becoming Metro Mayor. I was born and brought up in Kirkby and was always passionate about Liverpool, the wider city region and politics.
I took an unconventional route into the political arena, starting my working life as a brickie, before becoming a local councillor in Fazakerly, then serving as Lord Mayor during Liverpool's year in the spotlight as the European Capital of Culture.  In 2010 I was elected to represent Walton as an MP.
When the opportunity came to stand for election as the region's first Metro Mayor, I jumped at the chance to leave behind the glacial pace of change in Westminster to work to transform the area I come from, for the better.
LVL: What is a Metro Mayor and what's the difference between that and The Mayor?
Steve: Over recent years, central government has signed a number of devolution agreements with different parts of the country, granting powers and additional resource in important areas such as transport, skills and economic development. The Liverpool City Region is one of those areas, and I was elected last May as the first Metro Mayor for the Liverpool City Region.
The key difference between my role and that of the City Mayor is that the Metro Mayor is responsible for strategic planning for all six districts in the city region, rather than service delivery in any single area. The Combined Authority brings together local authorities in Halton, Knowsley, Liverpool, Sefton, St Helens and Wirral, to work on issues that affect the whole of our city region, such as creating jobs, through boosting the economy, making sure our young people have the right skills, through gold standard apprenticeships, and making travel easier for everyone by improving our transport infrastructure.
LVL: What does the role consist of?
Steve: The key role of the Metro Mayor is helping to bring about transformational change for the city region, enabling us to make the most of our area's enormous potential. By taking a lead, and enabling all of our local authorities to work together, I think that we are on the verge of enormously positive changes.
We will bring those changes about by building on our strengths in sectors such as; low-carbon energy, advanced engineering, and the digital and creative sector, and by improving connectivity across the city region, through better transport links, digital infrastructure improvements and by improving people's skills to create more highly-skilled, highly-paid jobs.
LVL: What is a typical day like for a Metro Mayor?
Steve: One of the best things about my job is that it is so varied that there isn't really a typical day.  Aside from the day-to-day meetings and official business of the Combined Authority, a big part of my job is having the opportunity to travel around the six boroughs visiting businesses, schools, colleges, community groups and so on, and hearing about the ambitions local people have for our City Region.  I also have the honour of representing Liverpool City Region and singing our praises to a world stage.  I am always amazed at just how well received our brand is by a global audience.

LVL: What do you think are the biggest problems Liverpool faces as a city and region?
Steve: For a city region with a world-renowned reputation we have not done enough to trade on our global profile and market ourselves nationally and internationally at a level consistent with our ambition. I was elected making a promise to create "One Front Door", to streamline and integrate our marketing, investment and business support activity – and establish a single point of access for all those wanting to invest or do business in our City Region.  Work is already under way to make that a reality.
But we also need to tackle issues of deprivation and low skill levels in the region, which can deprive people of opportunities.  I have pledged to ensure that no borough is left behind and no individual's talents are wasted.  As well as working to boost prosperity through economic growth, I will also be launching a skills strategy in the New Year, detailing how we equip people with the skills they need for the modern, knowledge-based economy.
We also need to ensure that growth is inclusive and benefits all of our communities, which is why I have set up the Fairness and Social Justice Advisory Board, to ensure that everyone profits from what we do to ensure increasing prosperity across the city region.
LVL: What are your plans for the city and region and how do you see the future?
Steve: I believe we stand on the verge of transformational change for the whole city region, not just the city or city centre. We have been at the forefront of great developments in the past and we can be again. We are already delivering improvements for the wider region, through our single investment fund, which between 2016 and 2021 will invest half a billion pounds across the city region to create jobs and drive forward economic growth.
To give just one example, we recently agreed £12m of funding to unlock the £1bn Paddington Village develop in the city's Knowledge Quarter. That funding alone will create nearly 900 new jobs. And we also have existing extraordinary resources here that can put us at the forefront of the fourth Industrial Revolution.
In Southport, the GTT transatlantic cable provides ultra-fast broadband connectivity between the UK and North America. At the Hartree Centre in Daresbury we have one of the most sophisticated super computers dedicated to research and development in the world, as well as IBM's Watson cognitive computing platform. These two "Big Ticket" projects, together, would be transformational for the whole city region. We are also working to harness the power of the River Mersey to create predictable, plentiful, sustainable energy with a deliverable tidal project.
My vision is to link these incredible resources together to connect every business, school, university, hospital and home in our area, with the best connectivity speeds in the whole country. Working together and maximising these resources, we will create an entrepreneurial environment that will modernise our economy, and drive innovation in areas like health and social care, to build a healthy and prosperous future for the 1.5 million people in our area.
LVL: What is your key message to the people of Liverpool?
Steve: Bringing powers back here from Whitehall and Westminster gives us a once-in-a-generation opportunity to make the most of our advantages and transform our city and the wider region.  This is a chance to shape our own destination.  Devolution is a journey and we are at the very beginning.  However, our destination is to ensure that what we once were, we can become again.  We need to seize that opportunity with both hands.

For more info about Steve Rotherham CLICK HERE