For those into clubbing, Cream will always be recognised as an iconic name in dance music. In fact, those not into clubbing will probably have heard of Cream too. From humble underground beginnings to the huge international brand it evolved into, Cream has been filling dance floors and putting on massive events for over 25 years now.
What started as an early 90s club night in Liverpool soon became a household name — putting on festivals and sell-out events in Ibiza and all over the world. Many of the titans of electronic music have played at a Cream event, such as Paul Oakenfold, Pete Tong, Carl Cox, Fatboy Slim, The Chemical Brothers and many more.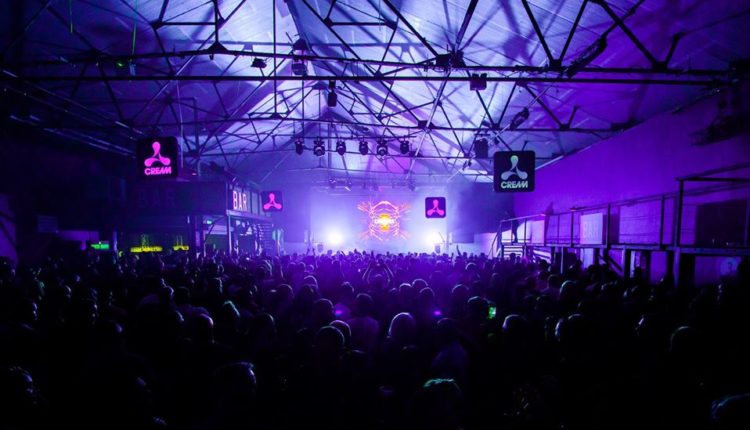 From the very first event at Nation in October 1992, one man has been a resident Cream DJ throughout its 25 year history. Paul Bleasdale has seen it all and has witnessed the Cream night transform into a global superpower. He is still heavily involved today, organising reunions and sell-out events — such is his passion for what Cream was and has become.
In this La Vida Liverpool exclusive, Paul takes some time out to share his memories with us and take our readers on a journey through the history of Cream — with some classic footage from the various eras.
The Early Years
"Cream was founded in 1992 by James Barton, Andy Carroll and Darren Hughes and I was one of the resident DJs from the first night. There were big nights all over the country such as Nottingham and The Hacienda so we wanted to do something that put Liverpool on the map and brought people to the city. Good music and good clubbers.
On the first night we had Fabi Paris as guest DJ and to be honest he didn't go down too well. On the second night there was hardly anyone there and we wondered if it was going to take off. Darren was a real driving force though, with the promo and the posters etc.
After Christmas it really took off and it seemed to capture the imagination of people and became a proper culture. After a few massive shows it grew and grew and we could see it was going to be something massive. Soon there were thousands of people coming from all over the UK every week."
The Superstar DJ Era
"The Cream nights at Nation had become massive and we had to open up the main room, with thousands coming every week. With that though came bigger bookings and the industry was changing too. It wasn't underground anymore. It became about the DJ and Cream was a key player in building the image of these huge superstar DJs.
We had everyone coming to play for us. Pete Tong, Paul Oakenfold and all these big names were turning up to play at our night and in some ways it became about the DJ rather than the scene. There was so much more money involved too. Cream was expanding as well, with nights getting put on all over the world, so times had definitely changed."
A Changing Scene And Creamfields
"Cream nights had slowed down a bit and I don't know if it was the clubbers getting bored of the same DJs too often or what. James Barton had helped the brand evolve though and when Creamfields started it became THE dance festival to go to in the UK and really changed the direction of what we were doing.
The first Creamfields was at Winchester Bowl in Hampshire and had a huge line up including Run DMC. At first, I wondered if it would do anything else but they brought it up here and it just grew every year. I went last year and I'm still blown away by the production and logistics of it. When you think it all started in the small annex room of Nation and then look at such a large scale three day festival — amazing, and James and Scott Barton have done a great job."
Cream Ibiza And Cream As A Global Brand
"As I've mentioned, Cream had become massive and became a global brand, and as well as setting up the Creamfields festivals it started club nights at Amnesia in Ibiza. Cream is one of the longest running UK club nights on the island and one of the best. It got to the stage where everyone knew Cream — it's a well known brand like a Mercedes of the clubbing world.
I think what's kept Cream so popular is the level of production and organisation. You can always guarantee a big show from Cream and I think it became more about quality rather than quantity. Cream had always strived to be the best since the early days and when it became such a huge brand, it became more about high standards and big shows occasionally rather than trying to do it every week."
The Demolition Of Nation And Cream Today
"It's sad that the original home of Cream got knocked down but we've got to remember it's just bricks and mortar. It was about the people and the memories. I guess it's the end of an era but it was the end of an era a long time ago. Cream isn't just a Liverpool based thing anymore. We've still got the amazing memories but you've got to move forward.
Cream is still a very active brand. In 2017, I've been involved in a lot of the Cream events including an event with over 4000 people at Butlins. You've got the Cream Classics nights that are always popular, the Cathedral gigs and of course Creamfields continues to bring in thousands every year. I still love Cream. Personally, I've been involved in FACE (Friends Against Cancer Events) too and we've raised tens of thousands for charity."
From what started as a small club night in Liverpool to becoming one of the biggest dance music brands in the world, Cream is something that Liverpool can be proud of. Cream well and truly put Liverpool on the clubbing map and it still has a huge influence today.
Keep up to date with Cream events on FACEBOOK
Find out more about Friends Against Cancer Events Paul's involved in on FACEBOOK
Images courtesy of Paul Bleasdale and Tony Clarke