Liverpool based guitarist, Neil Campbell, has just released the latest album of his 'Flood Trilogy'. The new release entitled 'Last Year's News' is the third album in a trilogy that portrays music following a huge natural disaster and once again delivers subtle, intricate and masterful guitar work.
Check out the new album on BANDCAMP!
With a great deal of improvisation, the new album is free flowing yet essentially has two halves to it. The first half of the album has a more chirpy upbeat feel with a Spanish folk sound to some tracks, whereas the second half has more poignant and edgy characteristics. This album is a fine example of Neil's diversity and ability as a musician.
Check out the new album on BANDCAMP!
The latest release comes following some rave reviews of Neil's music. Tom Robinson of BBC 6 Music described Neil's music as 'music of serious quality and distinction' and Classical Guitar Magazine labelled him as 'an outstanding guitarist whose originality of thought makes him far more than just another gifted purveyor of finger acrobatics'. There's no doubt that Neil is a huge talent and this latest release is testament to that.
Check out the new album on BANDCAMP!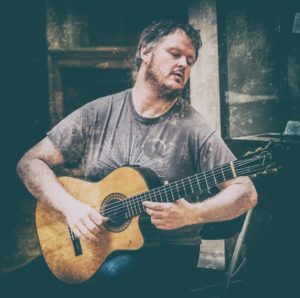 Neil's previous work has seen him collaborate with the likes of DJ Yousef, Jon Anderson and many other musicians. He has performed and recorded critically acclaimed albums with The Neil Campbell Collective, Bulbs, The Perri and Neil Quartet (with vocalist Perri Alleyne-Hughes) and others. Over the last fifteen years he has performed support slots for artists as diverse as Thea Gilmore, Jan Ackerman (Focus), Vini Reilly (Durutti Column), bassist Victor Wooten, folk guitar legend Davey Graham and saxophonist Courtney Pine.
Check out the new album on BANDCAMP!
In addition to all this he premiered his composition Frankenstein at St George's Hall Concert Room. This was a 60 minute long piece for rock band, choir (Sense of Sound Singers) and multimedia visual projections based on Mary Shelley's classic novel. This performance was later reprised at BBC Radio Merseyside in a live recorded broadcast featuring actor Gary Mavers as narrator in May 2010.
Check out the new album on BANDCAMP!
'Last Year's News' takes us on a floaty futuristic folk journey, ideal for listening to indoors on a rainy day whilst working or outdoors on a fine summer day. The album's dream like flow is easy to listen to and leaves the listener in a state of awe at Neil's graceful and delicate command of the guitar strings. Another work of art from one of the region's finest guitarists.
Check out the new album on BANDCAMP!
Check out Neil's WEBSITE!
Check out Neil on SOUNDCLOUD!