We recently attended a very special event in the basement of Slater Street's record store and ticket vendor, 3B Records. The party was thrown by electronic music record label, Selador, as a thank you for recent support given to head honcho, Steve Parry. Liverpool's legendary DJ was subject to a deplorable theft of his DJ equipment, but due to crowdfunding and support from some great people, was able to replace his equipment and continue his music career.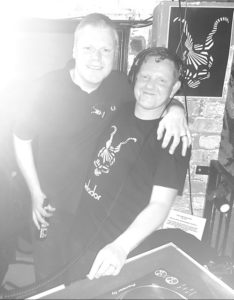 The night reflected such camaraderie and spirit, as there were many good people in attendance and a great 'old school' atmosphere — no idiots, just friends having fun and dancing to exceptional house and techno. The party started in the main record store upstairs, as Nick Gartland graced us with his fun loving grooves, before moving downstairs to 'The Spot' for a Steve Parry masterclass.
'The Spot' is usually an underground jazz club — situated underneath 3B Records and one of Liverpool's best kept secrets, playing host to some of the region's finest jazz acts. On Thursday 18th April, for one night only, it became a venue for house and techno of the highest order. After Nick Gartland's set got us all up for the Easter weekend very nicely upstairs, Steve Parry smashed it down in the club below — clearly happy to be playing again with his new equipment!
For those who aren't aware, Steve Parry is one of the real nice guys of the Liverpool electronic music scene — with no ego, just years of experience of creating boss music. A hugely respected figure in the industry, he has managed 3 Beat Records, had a 3 year residency at Cream in Liverpool and a host of headlining gigs across the globe, presented two successful radio shows on Juice FM and Bliss Radio, promoted top events such as Luna and Alderaan, and of course created the Selador record label.
A top night indeed and great to see a collaboration between one of Liverpool's great record labels and independent record stores. If you haven't yet checked out 3B Records on Slater Street, it's a real gem for music aficionados and some truly wonderful jazz takes place in their underground venue — 'The Spot'. It was great to see Nick Gartland and Steve Parry play, as ever, and here's to everyone coming together for replacing Steve's stolen equipment! Cheers for having us guys!
Check out the Selador WEBSITE!
Check out the 3B Records WEBSITE!
Check out The Spot WEBSITE!