With so many dining and drinking options in the city, it's tough to know where to start, but if you're looking for something truly unique with stunning views of the city then check out The Floating Grace! In this feature we explore the various experiences on offer with Liverpool's unique attraction.
What's The Floating Grace about?
Since launching in 2016, The Floating Grace has become an iconic Liverpool attraction and offers unrivalled views of the city during its cruise route through Liverpool's 8 docks. Available for cruising, afternoon tea, dining and private functions, it's a truly unique option when looking for somewhere to eat and drink in the city. At the time of writing, it sits Rank 13 out of 1,413 restaurants in Liverpool on Trip Advisor and is the Number 1 restaurant with a view!
What does it offer?
Mid Morning Cruise: Enjoy a mid morning 1 hour historical guided cruise with tea and biscuits every weekday from Monday to Friday. Boarding is at 10am, returning to the dock at 11.30am, and costs just £12 for adults and £4 for children (under 12 years). This option is particularly popular with large groups such as coach trips.
To book a cruise CLICK HERE!
Afternoon Tea Cruise: Enjoy a mid afternoon 1 hour historical guided cruise on board The Floating Grace whilst enjoying tea, cakes and sandwiches. Board the boat at 1:00pm depart 1:30pm and we return back to berth at 3:00pm and costs £20 per person. Another popular one for groups such as coach trips.
To book a cruise CLICK HERE!
Evening Dinner Cruise: One of the most unique ways to enjoy dinner in the city, the Evening Dinner Cruise offers a very special dining experience — a glass of bubbly on arrival, enjoy a delicious 3 course dinner, plus an on board bar with 2 hours of cruising through Liverpool's historic docks. with background music. Available from Wednesday to Saturday evenings from 7pm, this amazing experience is £35 per person.
To book a cruise CLICK HERE!
Sunday Lunch Cruise:Every Sunday at 1pm this 2 hour lunch cruise offers a glass of bubbly on arrival, a 2 course lunch and an on board bar. As with the Evening Dinner Cruises, expect a quality traditional 2 course Sunday Roast cruise prepared and cooked by our on board our chefs.
To book a cruise CLICK HERE!
Private Hire….
Fancy something a bit different for your event or special occasion? The Floating Grace is a fantastic choice for a birthday party, wedding reception, christening, general party or business function. The boat holds 50 people and can be decorated to your liking. It has wifi and you can hire your own entertainment or choose one of their resident acts. Catering is of course available via their hugely talented team and you can be sure of a spectacular event whatever you're looking for. Prices for private hire start at £25 per person. For more info CLICK HERE!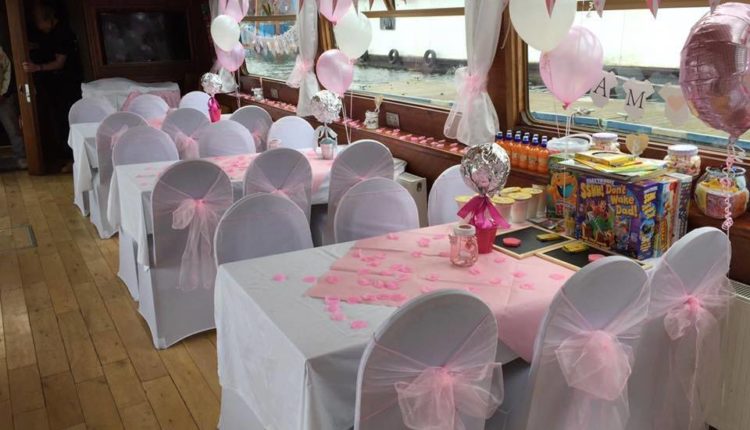 Why we love The Floating Grace….
An iconic attraction with an unrivalled perspective of the city, we love The Floating Grace and the unique experience it offers. Whether you're a group looking for an alternative city tour, a group of friends wanting afternoon tea with a difference, a couple seeking a romantic dining experience with a view or if you're wanting to host an event that will get everyone talking — The Floating Grace has something for everyone. We love The Floating Grace and everything it offers — if it's not on your bucket list of things to do in Liverpool then it certainly should be!
Check out The Floating Grace WEBSITE
Check Out The Floating Grace on FACEBOOK