Since opening last year as part of Rockpoint Leisure's Victoria Quarter regeneration project, Habibi has been a big hit in New Brighton. The Middle Eastern style restaurant and bar has received rave reviews for its quality cuisine and cool environment and here we bring you exciting news of their mouth watering new menu….
Check out the Habibi WEBSITE!
What's Habibi about?
Situated in the heart of New Brighton's Victoria Quarter and open 7 days a week, Habibi is a stylish concept that offers informal dining and a refined choice of creative dishes. Its 'Eastern Eats and Western Beats' philosophy fuses flavoursome Middle Eastern inspired food with laid back hip hop beats in an intimate environment.
Check out Habibi on FACEBOOK!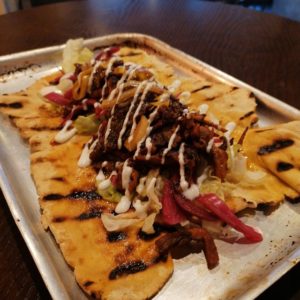 What's on the new menu?
The freshly formatted menu has a fascinating range of options and offers more choice for diners. Divided into sections, you start by selecting a choice of home-made grillbread, which includes gluten free and vegan options, then depending on how peckish you are you can choose from a variety of Mezze options.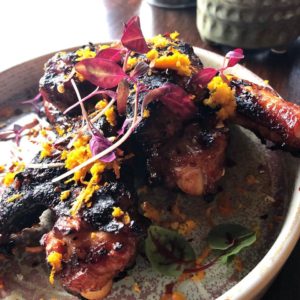 There's a seafood and meat Mezze section featuring dishes such as Kofta Scotch Egg, Anchovies with Black Olives and Prawns in Garlic, Lime and Chilli Oil. The new menu has a fantastic vegan and veggie offering too.
The Vegan and Veggie Mezze section features dishes such as Vegan Cauli Hot Wings and Popcorn Falafel, whereas the larger mains include their best selling Chicken Shawarma using a Vegan substitute and also a Cauli Shawarma with pomegranate and dill dressing — both served with vegan grillbreads.
Check out the new menu on the WEBSITE!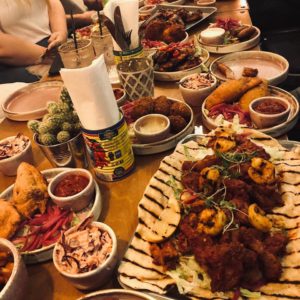 Our visit….
We visited on a Saturday night (booking is recommended) to sample a few of the new dishes and a couple of their cocktails. Having an office across the road is ideal and we'd grown to love the old menu, but let us tell you — this new menu is packed full of mouth watering masterpieces and the dishes we tried were bursting with flavour!
We first enjoyed three of the Mezze plates — Crispy Lamb Bites (with garlic mayo), Blackened Gnarly Steak Strips and their best selling Vegan Cauli Hot Wings. We then shared one of the 'Biggies Off The Grill' — the Habibi Surf & Turf, consisting of super tender marinaded brisket and juicy prawns on a large grillbread.
All dishes were alive with colour and flavour and highly recommended and we can't wait to try some others next time such as Chilli Orange Wings and the Oyster Mushroom Kebab. We concluded with a house cocktail each — a Pomegranate Mojito and a Turkish Espresso Martini, both of which were expertly mixed and very tasty indeed.
Check out Habibi on FACEBOOK!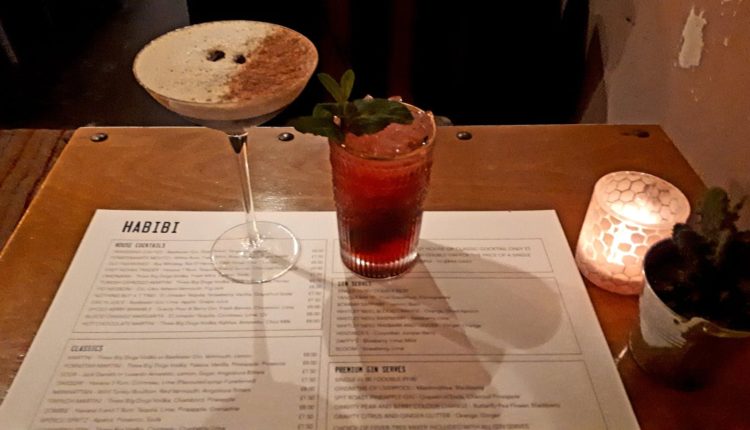 Why we love Habibi….
Judging by how busy it gets at the weekend, Habibi has been a welcome addition to New Brighton and they also offer great lunch time deals and pre-theatre offers throughout the week. We love the atmosphere and fantastic food. If you haven't yet been to Habibi you need to — it'll tantalise your taste buds!
Habibi / 3 Grosvenor Road, New Brighton, CH45 2LW / 0151 639 0115
Check out the Habibi WEBSITE!
Check out Habibi on FACEBOOK!
Check out Habibi on INSTAGRAM!