A new hot spot has opened on Hanover Street in the heart of Liverpool and in true journalistic fashion, La Vida Liverpool is straight on the case to check it out! In this feature we introduce you to Lounge 69 — the swanky new restaurant and bar adjacent to the Epstein Theatre — and tell you what it's all about!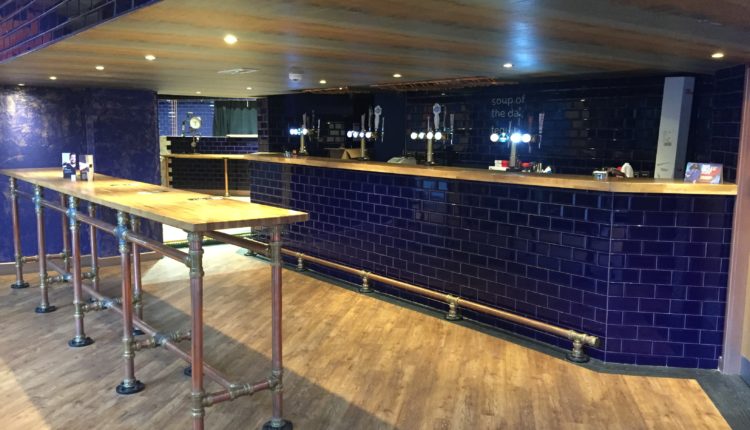 So, what's Lounge 69 about?
Opened in December 2018 and located within the architectural masterpiece, the Bling Bling building, Lounge 69 is a stylish and modern restaurant and bar with something for everyone. It has a plush interior with a copper and brass theme running through it and subtle lighting to create a fine ambience, with cosy tables and booths for relaxing and people watching — a safe haven from the hustle and bustle of the city centre. There's a winding staircase leading to an upstairs area that's ideal for hosting a free private party — the upstairs is free to hire.
Lounge 69 is open 7 days a week and is ideal for breakfast, lunch, dinner or a few drinks. Breakfast is served from 9.30am until 12.30pm and the main menu is served between 12pm and 9pm and you can be assured of good music and a great atmosphere at any time of day. Whether you're looking for somewhere to go for breakfast to start the day on a great note, somewhere classy to have lunch, somewhere to dine or somewhere to have a great night out, Lounge 69 has it all.
What's on and what's on the menu?
The breakfast menu offers quality options from a Full English breakfast to Smoked Bacon on Ciabatta to various 'Eggs' options such as Eggs Benedict and Avocado, Poached Egg and Rocket. The main menu offers sandwiches, small plates and sides as well as sharing boards, salad bowls, big bowls and Ramen noodles. You'll find quality dishes such as Crispy Duck Salad, Spicy Chicken Ramen, their Charcuterie Board and plenty of vegan and vegetarian options — as well as a tempting selection of desserts.
The bar is extensive with over 20 gins on offer, classic cocktails, plenty of fizz, craft ales and beers and smooth coffee. There's a happy hour between 5pm and 7pm with offers such as a bottle of prosecco for £15. Every Friday and Saturday there's a DJ on from 8.30pm until late so it's a great place to visit whilst on a night out in the city. Lounge 69 has some great events planned for 2019 too so follow them on Facebook to keep an eye on what they're doing!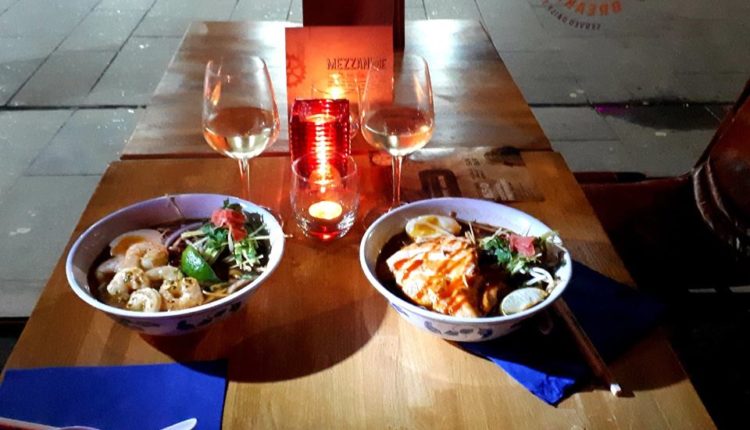 Our visit….
We attended their big launch night on Thursday 6th December and it was a lavish affair with prosecco, wine, canapes, great music and samba dancers! We returned two weeks later to sample their food and drink on offer. On a Thursday night we sampled their gorgeous Ramen noodles — with my partner opting for garlic chilli prawn noodles and spicy chicken noodles for me. Both our noodle bowls were aromatic, flavoursome and the type of dishes you'd expect in a high end Japanese restaurant. We shared a bottle of pinot grigio and enjoyed profiteroles for dessert as we watched the chaos of Christmas shopping pass us by outside.
During our second visit we had the chance to chat to owner, Peter Lee, about what Lounge 69 is about and he told us: "As you may know, I used to have The Metro on Victoria Street and pride myself on creating a safe environment with a great atmosphere and great music. I'm delighted to be at the helm of this new project and everything from the decor to the food and drink is all about contemporary, class and quality. We have something for everyone so pop in morning, afternoon or evening."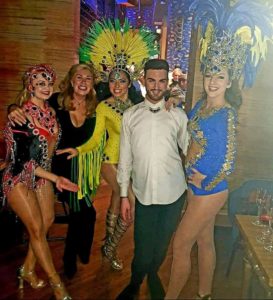 Why we love Lounge 69….
We love this new hot spot for a few reasons. We love that it's situated within a super cool building in the city centre yet offers a great place to escape to and people watch. We love its classy interior with the cool copper and brass theme running through it and the atmospheric lighting. We love the drinks and food menu with quality dishes available throughout the day. We love that there's something for everyone whether you fancy breakfast, lunch, dinner or drinks. There's such a diverse offering in the city centre and this plush restaurant and bar is a great new addition!
Lounge 69 / 69 Hanover Street / Liverpool / L1 3DY / 0151 706 0266
Check out Lounge 69 on FACEBOOK