Have you been to Liverpool's legendary Red Brick Market yet? In this feature we explore the quirky indoor market situated at Cains Brewery in the Baltic Triangle. We chat with the owner, Chris Day, and learn about the great things it does to support independent traders….
Check out Red Brick Market on FACEBOOK!
What's Red Brick Market about?
Located at the rear of Cains Brewery by the Peaky Blinders bar, Red Brick Market is a 14,000 square foot Aladdin's cave of hidden treasures — with just under 60 independent traders. Open 7 days a week (10 — 6 on Mon — Sat, 10 — 5 on Sun), it offers an abundance of market stalls — with something for everyone.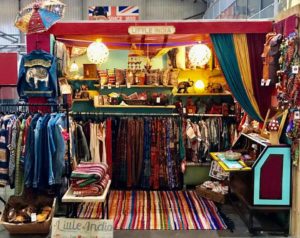 Red Brick Market was one of the first businesses at the Cains Brewery when it opened in 2016 and during the last four years it has done great things to support and develop local independent traders. There's a big emphasis on charity too, with an NHS charity stall, an artist who sells his work for charity and charity events such as fashion shows.
Check out Red Brick Market on FACEBOOK!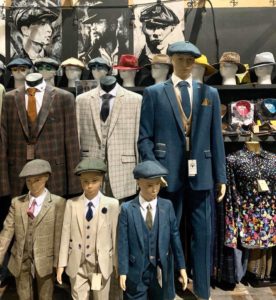 What traders are there?
It's more a case of what isn't there at Red Brick Market. The huge indoor warehouse is home to all sorts of unique independents, from vintage and chic to modern and trendy. There are clothing stalls, jewellery, furniture, collectibles, holistic stalls, two record stores, art, a barber's, a tattoo parlour, a new café opening in August and much more! Remember Quiggins? Some of the original Quiggins traders are based there too!
Check out Red Brick Market on FACEBOOK!
Opportunities for independents….
Red Brick Market has been doing great things to nurture and develop new, independent traders. An ideal place for a business to establish itself and grow, Red Brick Market offers affordable options for traders — flexible and from as little as £50 per month! There's a great sense of community at Red Brick Market and some of the businesses who started there have grown into successful empires!
Check out Red Brick Market on FACEBOOK!
A chat with the owner….
We explored this absolute gem of a place and had a chat with owner, Chris Day, who told us: "Red Brick is all about community and supporting local independents. We're one big family here and we look after each other — I'm really proud of what this place has done to develop independents during the last few years. Even if you're just after a browse whilst you're in the Cains Brewery, everyone is welcome and we're dog friendly too."
Check out Red Brick Market on FACEBOOK!
Why we love Red Brick Market….
Here at La Vida Liverpool, we're passionate about local independents, and we love what Red Brick Market does to nurture them. We love the Red Brick community and family and the abundance of cool and quirky stalls on offer. We love everything about this amazing place and if you haven't been yet you simply must — but beware as with so much on display, you can end up lost in there for hours!
Red Brick Market / Cains Brewery Village, Stanhope Street, Liverpool, L8 5RE / 07900265475
Check out the Red Brick Market WEBSITE!
Check out Red Brick Market on FACEBOOK!
Check out Red Brick Market on INSTAGRAM!