When was the last time you visited Lark Lane? Whilst there have been great things happening at The Baltic Market and in Liverpool city centre, it's important to remember the abundance of options for dining and drinking on Lark Lane — most of which are independents.
The iconic bohemian street on the edge of Sefton Park has such diversity and quality available and in this feature we remind you about some of the fantastic bars, bistros and restaurants on offer. Which one is your favourite and which ones would you like to try? Here's our guide to some of the fantastic places to eat and drink on 'The Lane'….
Belly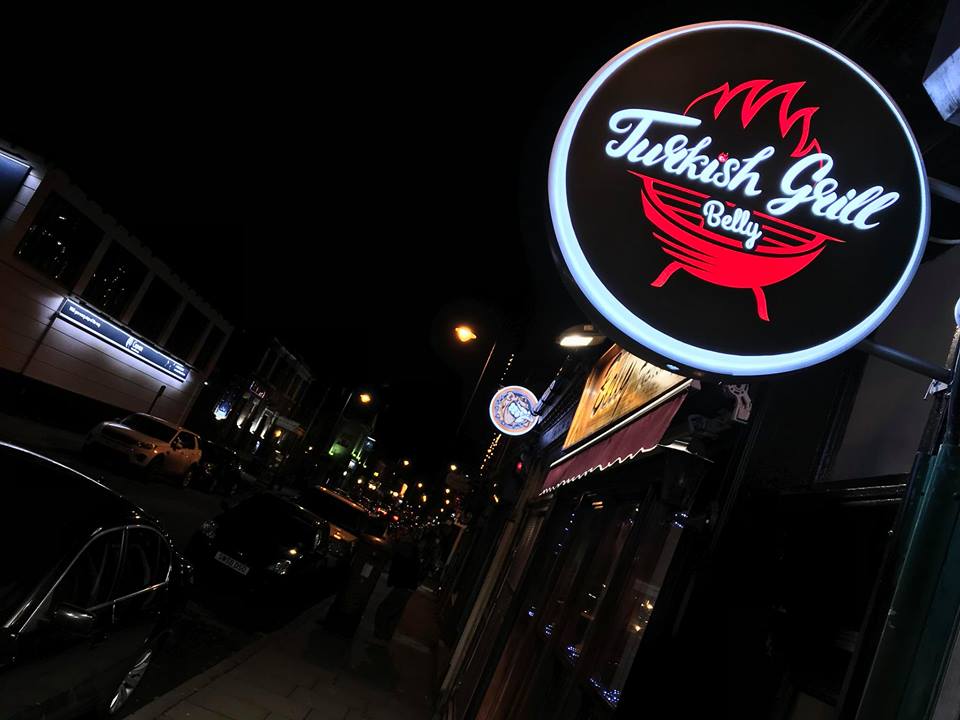 About: This traditional Turkish barbecue restaurant has a mouthwatering menu and the family run business offers the true taste of Turkey with some Greek influence in a cosy, relaxed and friendly environment. Expect big, juicy meat plates, kebabs and specialist Turkish dishes as well as vegetarian dishes.
Offers: Belly is reasonably priced and has a special offer of 2 courses for £11.95 Sunday to Wednesday all day and Thursday to Saturday until 4pm.
Info: Check Belly out on FACEBOOK! Tel: 0151 345 6945!
Bistro Noir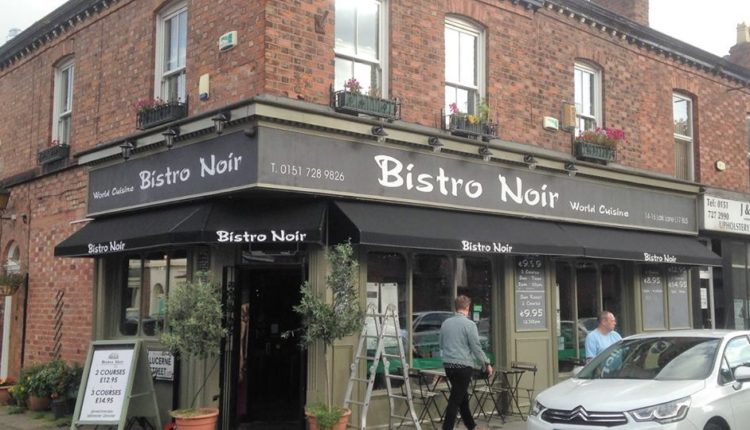 About: This little gem on the corner of Lucerne Street serves favourite dishes from around the world using the best fresh produce possible. Whether you're after Jamaican spicy goat, Sri Lankan chicken, Thai beef, Spanish paella or home made lasagne, this quirky bistro with a relaxed vibe serves quality world cuisine to please any palate and has a diverse menu.
Offers: There are loads of great offers here. Between Sunday and Tuesday you can enjoy 3 courses for just £9.99! Between Wednesday and Saturday you can enjoy 2 courses for £12.95 or 3 courses for £14.95! During lunch time, between 12pm and 4pm it's 2 courses for just £8.95 and their Sunday roasts are £9.95 for 2 courses.
Info: Check out the Bistro Noir website HERE! Tel: 0151 728 9826!
Brasserie Rouge
About: This new restaurant has been opened by the people behind the highly successful Bistro Noir, so you can expect quality fresh cuisine. Brasserie Rouge has a warm, relaxed and family friendly feel with a light, modern interior. As with Bistro Noir, they have a varied menu with international favourites from Jamaican to Thai to Sri Lankan to Spanish to house specials. Something for everyone with the focus on quality fresh produce.
Offers: Open Tuesday to Sunday from 4pm, you can enjoy 2 courses for £12.95 and 3 courses for £14.95 any time!
Info: Check out Brasserie Rouge on FACEBOOK! Tel: 0151 728 7799!
Chilli Banana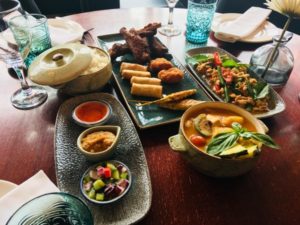 About: With a sumptuous interior and authentic Thai cuisine, the award winning Chilli Banana has a great reputation. The Head Chef at Lark Lane is the nephew of May — the woman who created the concept from traditional family recipes. With 5 other restaurants in the North West and a 25 year history, Chilli Banana is renowned for top quality Thai food made from Thai ingredients and excellent service. Open from 5pm Tuesday to Friday, from 12pm on Saturday and from 4pm on Sunday.
Offers: With plenty of options, choose from the lunch menu, street food menu, sharing menu, specials menu, a la carte menu, kids menu or takeaway menu. Chilli Banana have a loyalty scheme for takeaway ordering — through their app or website earn 1 point for every pound you spend and receive a £5 voucher every 100 points. For dining in, a loyalty card offers a free starter after 3 meals and a free main after 6 meals. During lunch on Saturday you can enjoy 2 courses for £9.95.
Info: Check out the website HERE! Check Chilli Banana out on FACEBOOK! Tel: 0151 726 8641!
Gelato
About: I scream, you scream, we all scream for ice cream! The wonderful restaurants of Lark Lane serve fantastic desserts but Gelato are the dessert specialists! These guys have been artisan ice cream masters since 2012 and are famous for their sweet creations — so much so, they supply the likes of Mowgli. Gelato are Liverpool's first BubblePOP, waffle and shake bar and as from early April a range of vegan ice cream flavours will be available which will also be handmade on the premises like the existing ice cream. So, Lark Lane's very own artisan vegan ice cream coming soon! How could one resist one of their delights whilst strolling down Lark Lane towards Sefton Park?
Offers: Who needs offers for ice cream and sweet desserts?
Info: Check Gelato out on FACEBOOK! Tel: 0151 727 6223!
Hafla Hafla
About: This super cool and ultra modern Arabic street food brand has been making waves in The Baltic Market and further afield nationally. Its simple yet highly effective style is loved by many and you can be sure of a relaxed yet classy dining experience with a refined menu. Enjoy their hugely popular halloumi fries and pittas in their fun (Hafla Hafla means 'Party Party' in Arabic) and light restaurant owned by Tim Haggis, nephew of Keith (of Keith's fame) who was brought up in Lark Lane.
Offers: Enjoy small plates or mains consisting of fresh, local ingredients at a reasonable price — no offers required.
Info: Check out their website HERE! Check out their menu HERE! Check Hafla Hafla out on FACEBOOK! Tel: 0151 309 1244!
Keith's Wine Bar
About: Lark Lane's legendary and longest standing bar, Keith's, continues to revel in its iconic status. The laid back wine bar and restaurant has been a favourite of many since the 1970s and is steeped in bohemian nostalgia. Enjoy fine wine or coffee with a friend, afternoon tea or their lunch or dinner specials. Keith's is still a popular venue for jazz fanatics too — with live jazz every Wednesday.
Offers: Ask at the bar, but Keith's basks in its own long standing reputation and keeps things simple so no offers necessary.
Info: Check out Keith's on FACEBOOK! Tel: 0151 727 4350!
Love & Rockets
About: This funky and fun bar, kitchen and garden offers no less than 16 ales, lagers, IPAs and ciders on drafts and serves stone baked pizzas, nachos, wings and hot dogs whilst being a hub of live music (jazz, blues and acoustic), live sport, quizzes and bingo. With loads on, top music acts, a colourful interior and a beer garden, this place is a relaxed and casual venue and a really cool place to hang out!
Offers: With all dishes £10 or less, reasonable priced alcohol and an abundance of entertainment there's no offers necessary.
Info: Check out their website HERE! Check out their menu HERE! Check Love & Rockets out on FACEBOOK! Tel: 0151 728 2616!
Maranto's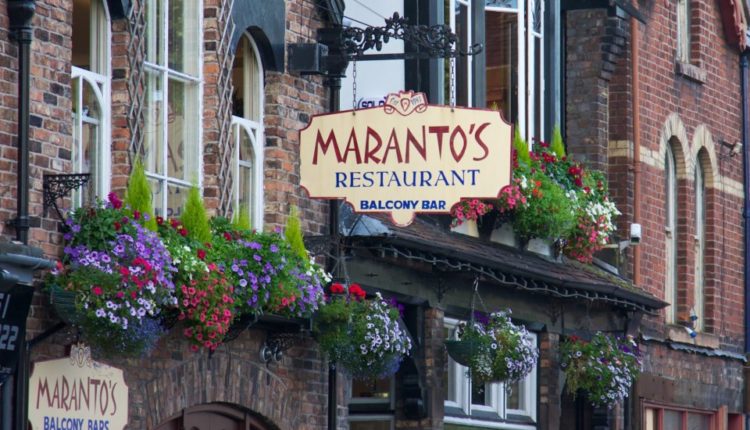 About: Established in 1983, this family run American/Italian restaurant and bar has been doing great things for 36 years now. The family friendly spacious restaurant offers traditional Italian cuisine as well as hearty contemporary classics cooked with passion, whilst having a diverse range of drinks. The building and interior is rich in character and charm, whilst boasting an upstairs balcony bar — popular for live sport and private functions. To thrive over four decades, they must be doing something right!
Offers: Maranto's serve a mean Sunday roast and at 3 courses for £11.95 you'll struggle to find a better Sunday deal anywhere else!
Info: Check out their website HERE! Check out their menu HERE! Check Maranto's out on FACEBOOK! Tel: 0151 727 7200!
Nonno's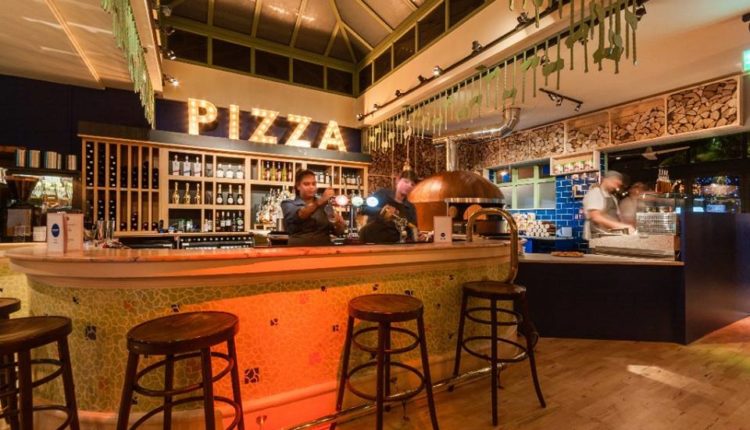 About: This Italian restaurant is the new creation of the family behind the successful Maranto's restaurant across the road. Boasting a monster pizza oven and a beautiful outside terrace, Nonno's is ideal for small plates, large dishes and of course — gorgeous pizzas! With something for everyone, this cool contemporary eatery has the same ethos as Maranto's — quality cuisine made with passion and flair. Great for parties too!
Offers: Nonno's have an amazing Prosecco Party offer of a selection of small plates, a pizza and a bottle of prosecco to share for £22 per person!
Info: Check out their website HERE! Check out their menu HERE! Check Nonno's out on FACEBOOK! Tel: 0151 727 6056!
On The Pallet
About: This family run bistro in the centre of Lark Lane is open for breakfast, lunch, dinner or coffee and homemade cake 6 days a week (Tues-Sun). Cosy and simple with beautiful wood furnishing, On The Pallet is another fantastic Lark Lane independent with a great reputation. Famous for its quality coffee and hearty breakfasts, you can easily find yourself lost in conversation watching the world go by outside.
Offers: None necessary, just great value in a great cafe environment.
Info: Check On The Pallet out on FACEBOOK! Check out On The Pallet on INSTAGRAM! Tel: 0151 727 3820!
Pippin's Corner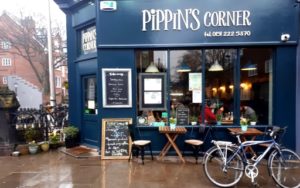 About: This cute little cafe on the corner of Pelham Grove and Lark Lane is all about quality, fresh home made breakfast, lunch, mains and specials — all made with care and love. If you're a vegan or veggie you'll love this place and if you're partial to tea, coffee or hot chocolate with cake it's also a must! Their coffee has been described as tasting like 'magic' and they've recently been ranked No.1 on Trip Advisor for their breakfasts. A relaxed meeting place with a quaint little side terrace for basking in the sun.
Offers: None required — its quirky exterior draws people in anyway!
Info: Check Pippin's Corner out on FACEBOOK! Tel: 0151 222 5370!
Polidor 68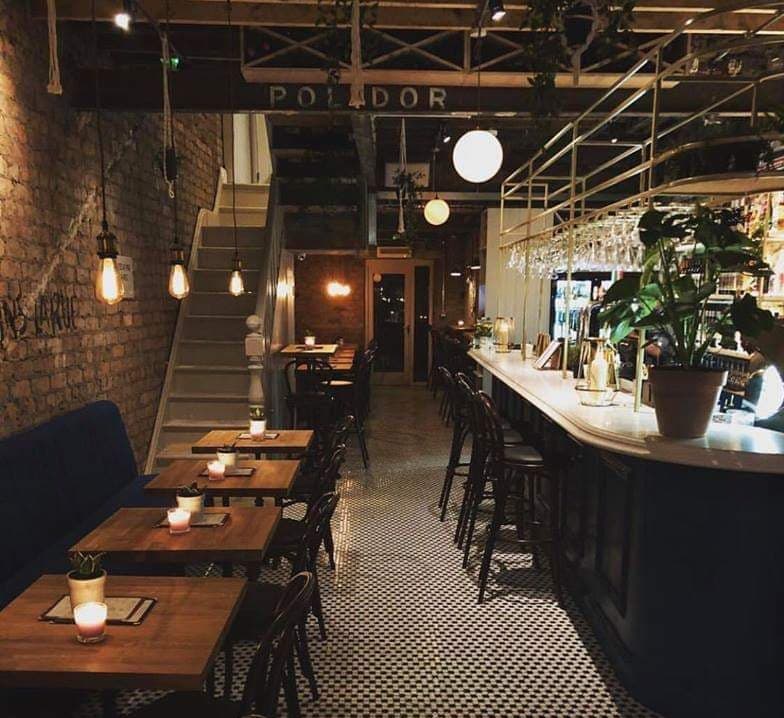 About! This trendy, modern and stylish new wine and cocktail bistro/bar serves breakfast, lunch, dinner, coffee and quality wine and cocktails 7 days a week from 9.30am until late. The interior is all about simplicity with cool decor, brick walls and atmospheric lighting, whereas there's a secret garden terrace with hanging baskets to the rear. Either dine from their carefully selected and refined breakfast, brunch, lunch and dinner menu or simply enjoy drinks from their extensive wine, cocktails, spirits and beer menu.
Offers: Ask at the bar, but as it's proving to be a popular venue already they don't need offers!
Info: Check out their website HERE! Check out their menu HERE! Check Polidor 68 out on FACEBOOK! Tel: 0151 727 7598!
Que Pasa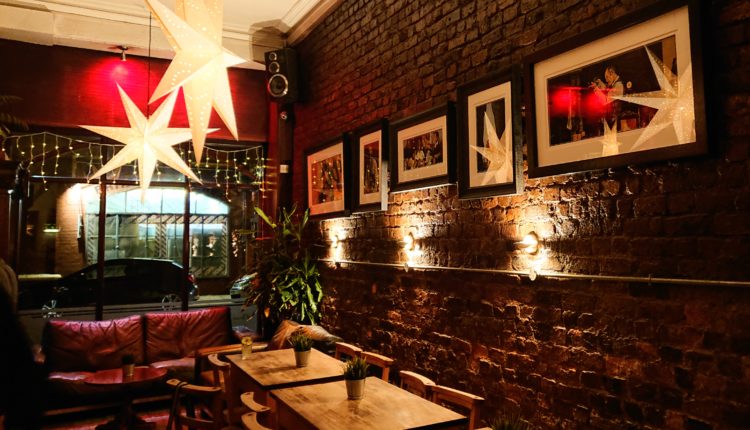 About: This laid-back bar has a warm, relaxing feel and is a popular meeting place for locals. A great place all year round, with an open fire to sit around in the winter months and a beautiful outside patio for the summer. Known for their extensive drinks menu, including plenty of wine, cocktails and tequila, they're also featured in the Good Beer Guide for their 2 rotating cask lines. Located right by the park entrance, it's perfect for a drink after a walk in the park.
Offers: 3 tequilas for £10 all day every day and 2 for £12 on selected cocktails!
Info: Check Que Pasa Cantina out on FACEBOOK! Tel: 0151 727 0006!
The Albert Hotel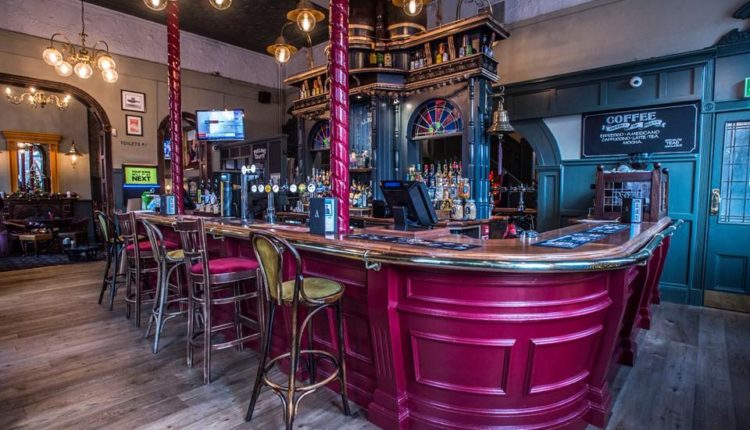 About: A grand building on the outside and a cool, quirky and modern pub on the inside, The Albert is a cracking party venue and a hub of entertainment. There's live music with top acts at weekends and a popular open mic every Sunday and it screens all the live sports. A traditional pub with a fantastic variety of craft ales, beers, wines and spirits (particularly gin), you'll make plenty of friends here! The popular venue has recently been taken over by Mick and Poppy who have exciting plans to make it even better and you can be sure of a friendly welcome!
Offers: There's no need — their drinks are very reasonably priced!
Info: Check out their website HERE! Check The Albert out on FACEBOOK! Tel: 0151 726 9119!
The Lark Bistro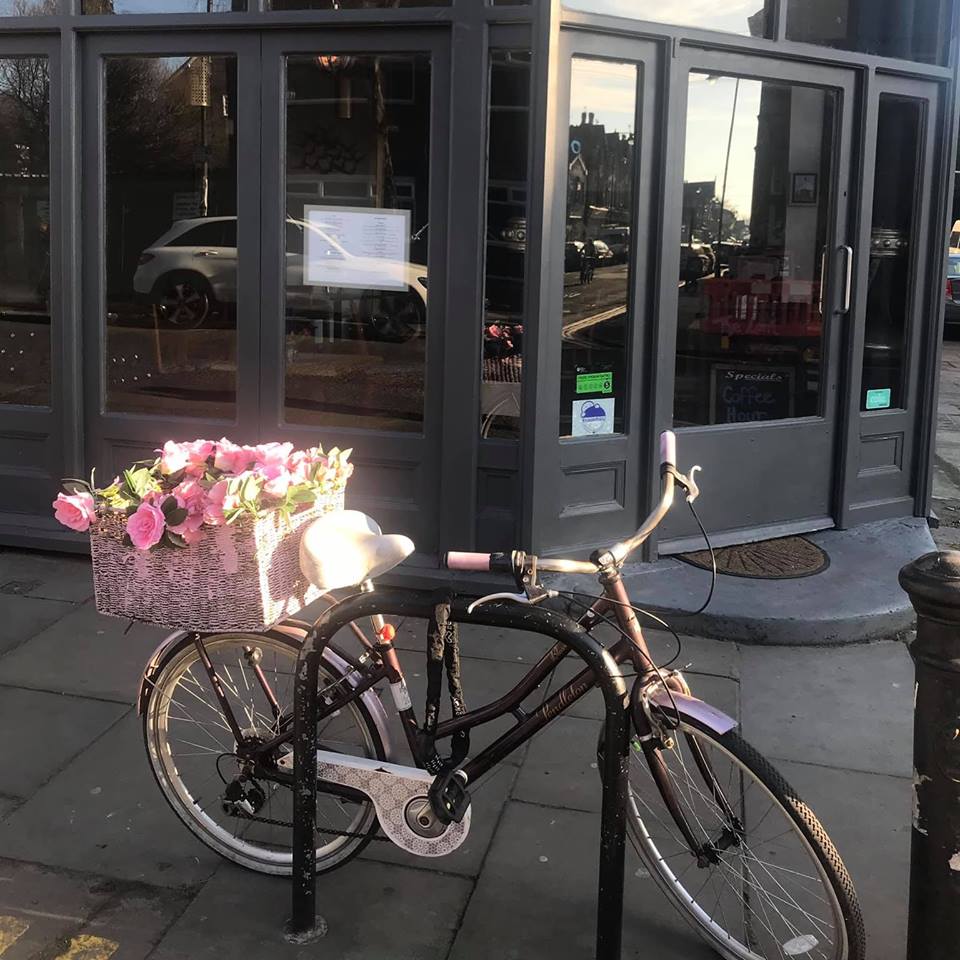 About: Opened in February 2018, The Lark Bistro is another cracking independent on 'The Lane' and is conveniently located right by the entrance to Sefton Park. A popular addition to the bohemian street, it offers traditional and fusion small plates, mains and cracking breakfasts as well as a wide variety of drinks and cakes, with plenty of vegetarian and vegan options. The Lark Bistro is all about fresh food cooked to order. They also have popular open mic nights.
Offers: Proving a popular bistro already and in a great location so no offers required!
Info: Check out their website HERE! Check out their menu HERE! Check The Lark Bistro out on FACEBOOK! Tel 0151 378 9145!
The Lodge
About: A fun and lively neighbourhood hangout, there's always something going on at The Lodge. You'll find quality music here and top live acts every Sunday from 6.30pm, live jazz every Monday from 8pm, a quiz every Wednesday from 9.30pm and you can watch all the live sports. They also boast one of the best beer gardens around. Enjoy local beers and craft ales and a no nonsense traditional British food menu using fresh local produce. Great for breakfast, lunch, dinner, a drink or for live entertainment.
Offers: On Mondays enjoy 2 steaks, 2 sides and 2 sauces for £20. On Tuesdays they have a free pint with every pie offer. On Wednesdays they offer 20% off your food bill between 5pm and 9pm. All day Monday to Friday they offer a free bottle of beer with every burger.
Info: Check out their website HERE! Check out their menu HERE! Check The Lodge out on FACEBOOK! Tel: 0151 727 6636!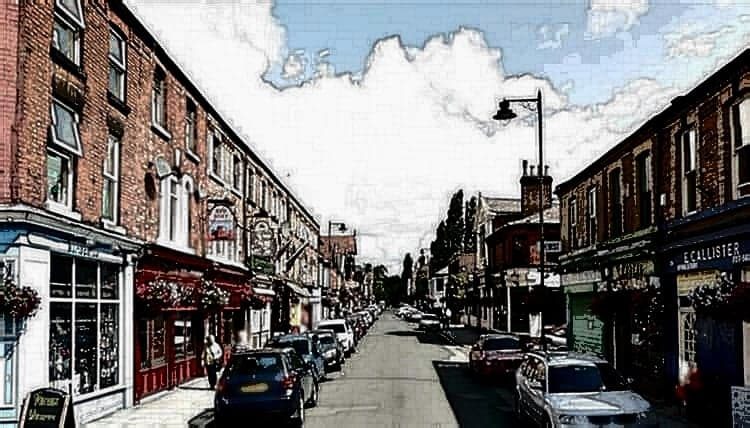 So, as you can see there's such a diverse variety of places for dining and drinking on Lark Lane and here we bring you some of the fantastic places to choose from. How many of these have you been to? Which is your favourite? Which ones would you love to try? Whilst many people are flocking to The Baltic Market and the city centre is more vibrant than ever, it's important not to forget the beautiful, bohemian Lark Lane.
Please note: all offers are current at the time of publishing and subject to the terms of each business.