We've recently been showcasing the fantastic range of shows on at Liverpool's International Arts venue, The Capstone Theatre. From theatre to dance to storytelling to some of the best jazz acts in the world, you can be assured of quality and diversity at The Capstone Theatre. Here we bring you what's on in November….
For a full list of what's on CLICK HERE!
Fri 8th Nov: Machado Ithursarry duo
Info: An emotional poetic journey for piano and accordion. Jean-Marie Machado has collaborated with Andy Sheppard, Dave Liebman, Paolo Fresu and Naná Vasconcelos and has established himself at the first rank of the European jazz sphere.
Didier Ithursarry has worked in collaboration with singers, on projects in theatre and in jazz, and also as a studio session musician. In 1998 he was invited by French jazz guitarist Claude Barthélémy to join his quintet Sereine. Later that year he joined the National Jazz Orchestra (ONJ) from 2002 to 2005. In 2006 he created a duo Bilika with singer and percussionist Kristof Hiriart.
For tickets and more info CLICK HERE!
Sat 9th Nov: Interactions
Info: This concert will include two performances of choral music informed by the artistic sensibilities of free improvised music and features The Feral Choir, led by Phil Minton and Juxtavoices.
The Feral Choir is the name for a group of singers formed for a particular performance, so for this particular performance, the choir is formed in Liverpool. Leading the Feral Choir is internationally acclaimed vocalist Phil Minton.
As well as pursuing his own performing career as a vocalist, Minton has a wealth of experience as a choral director, leading others to find new areas of expression. This performance will be an example of such a collaborative exploration.
For tickets and more info CLICK HERE!
Thurs 14th Nov: Natacha Atlas
Info: Heralded as one of the world's most distinctive voices, Natacha Atlas has carved a path synthesising western and middle eastern vocal traditions with mind-blowing dexterity. Her latest work sees her push vocal and musical boundaries even further by effortlessly weaving jazz traditions into her already unique blend.
Atlas has worked with Peter Gabriel, Nitin Sawhney, Nigel Kennedy, Indigo Girls, Jean-Michel Jarre, and Ibrahim Maalouf, to name a few, and in this concert she will be performing tracks from her new CD Strange Days to be released in September 2019 as well as material from Myriad Road and previous albums.
For tickets and more info CLICK HERE!
Fri 15th Nov: Reis Demuth Wiltgen
Info: Since the release of their first album, the band has toured extensively throughout the world and has appeared at major international jazz festivals in Europe and Asia. With their European style of melodic composition, set to an almost American sounding rhythm section that is exciting and dynamic, yet grounding and settled, Reis-Demuth-Wiltgen share the diversity of current jazz and a laid-back Europe.
For tickets and more info CLICK HERE!
Tues 19th — Thurs 21st Nov: Shakespeare Schools Festival
Info: The Capstone Theatre is proud to be part of the Shakespeare Schools Festival, in partnership with Shakespeare Schools Foundation. Join us from 19th November – 21st November for an exhilarating evening, featuring a series of unique abridged Shakespeare productions by local schools.
See Shakespeare's timeless stories brought to life like you've never experienced before, and support young people from your local community as they take to the stage.
For tickets and more info CLICK HERE!
Tues 19th Nov: Gordon Vernick & Liverpool Hope University Students Concert
Info: Students from the Music Department of Liverpool Hope University will present work covered during an afternoon masterclass and jazz workshop session with eminent USA jazz trumpeter, Gordon Vernick. This informal concert will feature students and Gordon playing together to display new skills learnt and share the repertoire with other students and the wider community.
Gordon Vernick is a Professor of Music and Coordinator of Jazz Studies at Georgia State University. He holds a Bachelor of Music from Ithaca College, Ithaca, NY; a Master of Music from the University of Miami, and a Doctor of Arts from the University of Northern Colorado, Greeley.
FREE TO ATTEND!
Fri 22nd Nov: Marius Neset
Info: In April 2011, Norwegian born/Copenhagen based saxophonist Marius Neset released his debut album Golden Xplosion which led to the saxophonist and composer becoming one of the most talked about newcomers on the European jazz scene. His subsequent releases – Birds (2013), Lion (2014) and Pinball (2015) – have proved that Neset is "on his way to being one of the biggest new draws on the circuit".
On tour, his group will be featuring music from Marius's newest album Circle of Chimes release on ACT Music in September 2017, taking the listener on a journey and bringing together his world of influences with remarkable energy, creativity and most of all, his highly original sound.
For tickets and more info CLICK HERE!
Sun 24th Nov: Piano Forte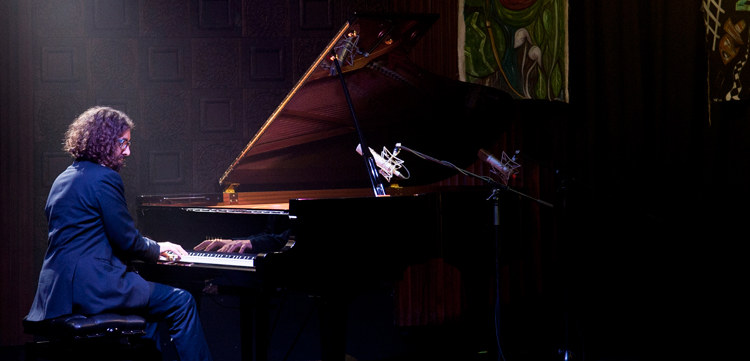 Info: Jacques Malchance & The Capstone Theatre present PIANO FORTE, a celebration of the piano as a solo instrument, featuring five Liverpool based pianists and composers (Giacomo Fazi, Nina Windsor-Roe, Jez Wing, Karen Wynne and Nick Smith) performing all original material composed exclusively for this event.
For tickets and more info CLICK HERE!
Tues 26th Nov: The Frog Princess Punked
Info: A punk fairytale for adults with story, music, and live projections. What happens when Ivan marries a frog? Big sounds, a wicked racket! Urban meets forest. Patriarchy meets feminism. Baba Yaga meets Koschey the Deathless! The Frog Princess Punked is funny, feminist, dark, and definitely for adults only!
Pioneering storyteller Sally-Pomme Clayton and girl punk band, The Swamp Girls, create a hybrid hullabaloo of spoken word, distorted guitars, scorching drums, riotous songs, set in a shifting collage of surreal projections v-jayed live! The raw power of punk explodes a Russian fairytale, exploring the dangers of annexing the wild and the wisdom of liberating the female.
For tickets and more info CLICK HERE!
Fri 29th Nov: Belle Chen
Info: .Handpicked by Brian Eno as the one to watch, pianist Belle Chen has distinguished herself with her unique live performances and recorded works that are unbound by tradition- often mixing classical music language across multiple genres through improvisation, electronics, extended technique, and sound design.  

Belle's creativity as a performer has seen her grace the stages of major UK festivals and international venues ranging from BBC Radio 3 70th Anniversary at Southbank Centre, Latitude Festival, The Roundhouse to Melbourne Recital Centre. Her work was selected by BBC Radio 3 as one of top 4 best new music by BBC Introducing Classical Artist in the year of 2016.
For tickets and more info CLICK HERE!
If you're after top quality entertainment from across the world, The Capstone Theatre is the place to be — with a diverse programme of music and theatre to suit all tastes. Some of the best local and international performers grace The Capstone Theatre and November is no exception, with some fantastic events on offer!
The Capstone Theatre / Hope University Creative Campus, 17 Shaw Street, Liverpool, L6 1HP / 0151 291 3578
For a full list of what's on CLICK HERE!
Check out The Capstone Theatre on FACEBOOK!