The Wirral seaside town of Hoylake has always had a strong sense of community and this is certainly the case with Hoylake Community Centre — with loads going on there! Well, now the promenade's community hub has a gorgeous new coffee shop that's taking the town by storm and here we find out why it's already so popular….
Check out Popsy's on FACEBOOK!
What's Popsy's about?
Located within Hoylake's vibrant community centre on the promenade, Popsy's is a light and airy new coffee shop with a floral theme and a beautiful back story. With hanging flowers, fairy lights and delightful décor, it's a beautiful place to relax and enjoy a catch up with a partner, friends or family.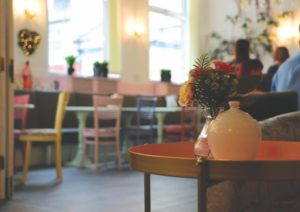 Open Mon-Sat 9am–5pm and 1pm–5pm on Sundays, Popsy's is the only place on Hoylake promenade you can get a drink and a light bite to eat. With a fully licenced bar, they'll soon be open evenings too! They have a dog friendly garden affording panoramic views across the sea, so it's perfect for stopping off for a drink whilst walking.
The heart warming concept comes courtesy of Terri and John Beckett. Terri already worked at Hoylake Community Centre and the couple decided to open a coffee shop within the centre in memory of her father, 'Popsy'. His art can be found on the walls and Terri's late mother's china can also be found on display.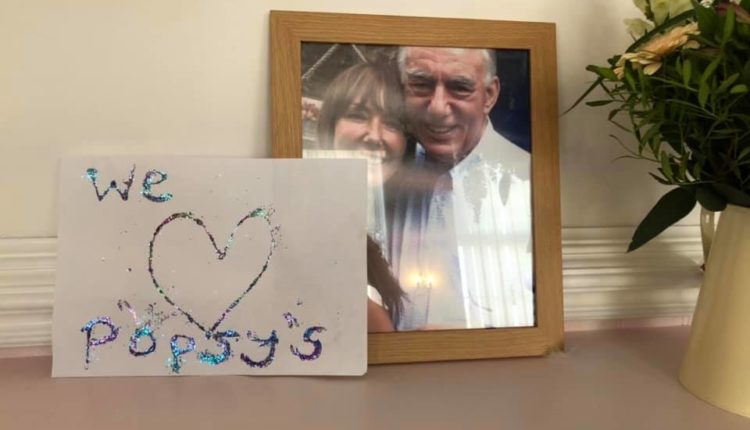 Much more meaningful than a corporate coffee shop 'brand', this independent is founded on love and conceived following a loss. There'll soon be a wall for people to put pictures up of their loved ones and Popsy's is very much a community coffee shop — with charity tea mornings already arranged and a commitment to The Hive's 'Never Bee Hungry' charity. Popsy's is also available to hire for special occasions.
Check out Popsy's on FACEBOOK!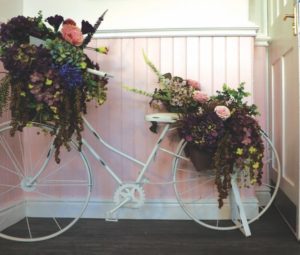 What's on the menu?
With a big focus on local and fresh, Popsy's offers delicious quiches, pork pies, sausage rolls, sandwiches and other delights from artisan bakers, Boysenberry. They've already secured their 5 star hygiene rating. They have a fantastic selection of tea, soft drinks and alcoholic beverages, but they're crazy about coffee! Supplied by the local Adams & Russell, they're the only coffee shop in Wirral to offer Peninsula Espresso and boy is it smooth!
Check out Popsy's on FACEBOOK!
Our visit….
Since opening, Popsy's has been extremely busy! We managed to catch up with Terri and John one evening after closing and enjoyed one of their silky and smooth coffees. Terri told us: "It's been crazy since we opened last week! I knew it was going to be popular but I didn't expect it to explode the way it has!"
Terri explained: "My Dad was such a great man and we wanted to create a place for families and friends to come and be together, just like Popsy loved. We love Hoylake and we are all about the local community so it's very fitting that we've opened in Hoylake Community Centre. We have a great space in here and the outside garden is gorgeous."
Check out Popsy's on FACEBOOK!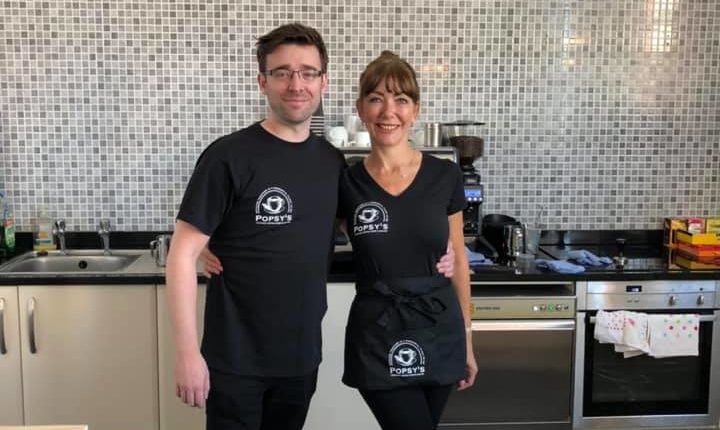 Why we love Popsy's….
It's truly inspiring to see cracking little independents opening — ones with a story, a meaning and substance to them. In the modern world of coffee shop culture there are many big chains taking over our small towns, but it's places like Popsy's that provide that human element — that personal touch that is very special indeed.
We love Popsy's not just for the delightful décor, comfy furniture and top quality coffee, cakes and other drinks. We love Popsy's for how it came about and why. How beautiful and uplifting it is to open a coffee shop in memory of a loved one and create a special place for the community. Here's to you, Popsy!
Popsy's / Hoylake Community Centre, 31 Hoyle Road, Hoylake, Wirral, CH47 3AG
Check out Popsy's on FACEBOOK!