New Brighton's regeneration, and notably the emerging street art, has been well documented during the last 6 months or so. In addition to new restaurants and bars in Victoria Road, expertly created giant murals have been popping up with themes such as Martin Luther King, Peter Pan and The Beatles being large centre pieces in the new 'Victoria Quarter'. In this feature we bring you the latest masterpiece and the man behind it….
The latest work of art is situated above Studio 13 tattoo parlour and next to the big bear mural above Oaklands. Impossible to miss, it's a vibrant piece with a very industrial skate park feel to it — loud and full of attitude. Victoria Road is looking more and more colourful and this latest addition is without doubt the brightest in the Quarter.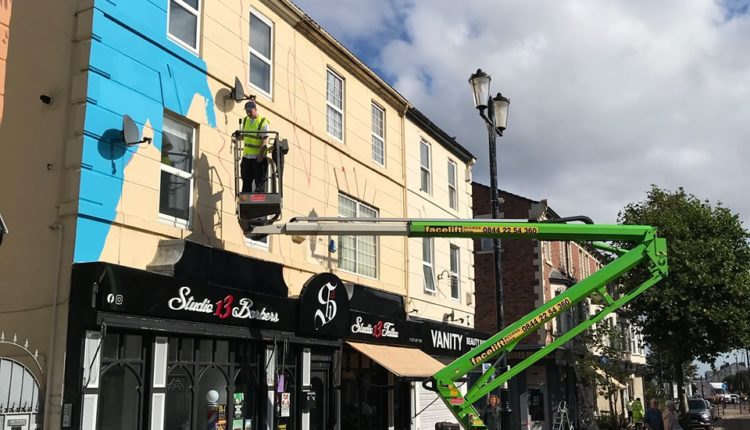 This latest masterpiece is the work of Mr. Penfold — a well respected street artist based in Bristol, the spiritual home of street art in the UK. Over the last 8 years, Mr Penfold has developed a very distinctive way of working and a range of imagery that is unmistakable. His influences range from skateboard graphics to classical and formal abstraction.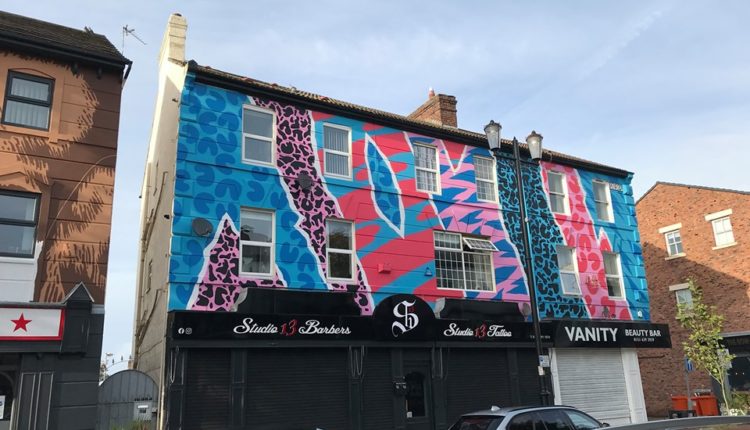 Mr. Penfold has worked for record companies designing album sleeves and brand identities. He has also produced designs for clothing labels and has worked on marketing campaigns with the likes of Smirnoff and Microsoft. To have an international street artist such as Mr. Penfold create this for us in New Brighton is indeed a real honour!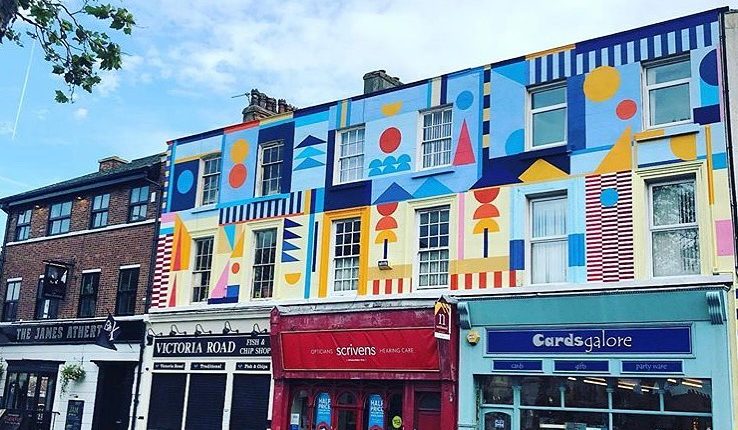 In addition to this latest piece, there have been other exciting street art developments recently. Following on from the famous Beatles mural, there's been an abstract seaside feature above Victoria Road fish and chip shop and a mural of a giant boy painting one of the walls. Oh — and there has also been the mystery case of a giant Mickey Mouse that someone painted near Wetherspoons that went viral!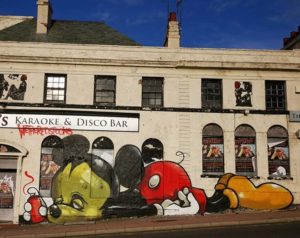 Times certainly are changing in New Brighton, particularly with the Victoria Quarter regeneration project, and here at La Vida Liverpool we're thrilled to be part of it. Rockpoint Leisure have injected new life into the area and with all the street art, it's becoming one of the most talked about places around. The next time you're in New Brighton, make sure you check out the abundance of beautiful street art! Which is your favourite feature?
Check out the Rockpoint Leisure WEBSITE!
Check out Rockpoint Leisure on FACEBOOK!
Check out Mr. Penfold on FACEBOOK!