If you're looking for quality food and live music in an idyllic countryside setting then look no further than Strawberry Moon! The rural eatery and live music venue situated on Station Road in Thurstaston has been doing great things since opening earlier this year and we checked it out to see why so many people love it….
Check out Strawberry Moon on FACEBOOK!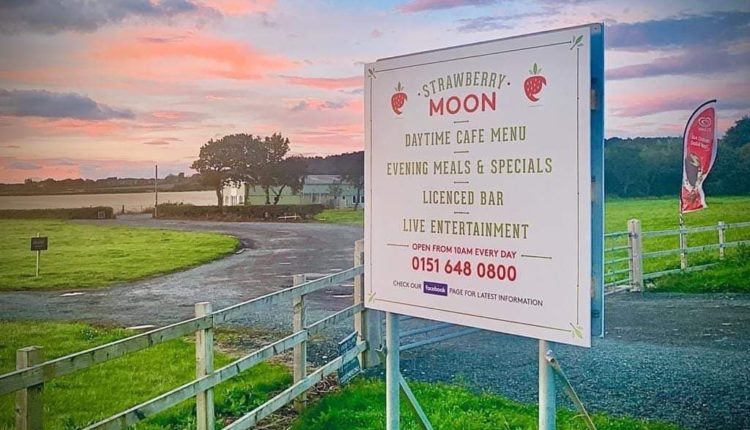 The Wirral country venue is open 7 days a week from 10am and offers a full cafe menu Mon — Sat and from 10am until 12pm on Sundays followed by Sunday roasts. Evening specials menus are available on Friday and Saturday nights with live music from the best music artists around.
Check out Strawberry Moon on FACEBOOK!
We visited on a Friday evening to enjoy a starter and a main from the Evening Specials Menu — two courses for £19.95 (£22.95 with steak), with a three course option also available for £26.95. My dining partner and I both opted for ribs to start followed by steak for a real Friday night meat feast! There are vegan and veggie options if meat's not your thing and there's a great selection of drinks including plenty of gin and wine.
Check out Strawberry Moon on FACEBOOK!
The atmosphere was buzzing on the night and it felt great to be enjoying quality food and live music in the countryside — a proper escape! We picked an ideal night to visit as we had the pleasure of seeing the legend of the local music scene, Gary Murphy.
Owners Simon and Jayne really know their music so you can guarantee the very best entertainment at Strawberry Moon and Gary Murphy is indeed a top booking. Gary delighted us with his guitar mastery and, if you read this article in time, he will be playing another delightful set on New Year's Eve afternoon — with a special menu to peruse whilst admiring his talent.
Check out Strawberry Moon on FACEBOOK!
It was fantastic to get out and enjoy some quality live music — something we've really missed — but to enjoy it in such a gorgeous setting with top notch food and drink was a real treat! Strawberry Moon may be a little out of the way but that's the beauty of it — on a starry night in the middle of nowhere you could be anywhere in the world.
Check out Strawberry Moon on FACEBOOK!
A big hit with dog walkers and people looking for a secluded retreat to escape the stress of day to day life, Strawberry Moon is a real hidden gem. If you're looking for somewhere different to try and fancy some quality food, drink and live music then seriously check this place out — you won't be disappointed!
Strawberry Moon / Station Road, Thurstaston, Wirral, CH61 0HL / 0151 648 0800
Check out Strawberry Moon on FACEBOOK!