A very special and unique music experience is coming to grace Liverpool on Sunday 14th October as The Capstone Theatre hosts Radio Amore! Inspired by late-night radio broadcasting, Radio Amore is an evocative and emotional masterpiece that takes the audience on an invigorating journey through the eras of classical music — from Baroque right up to contemtorary. Commissioned by Tŷ Cerdd and part concert part imaginary late night radio broadcast, Radio Amore (tickets here) is a wonderful medley celebrating the best of Italian and British composers.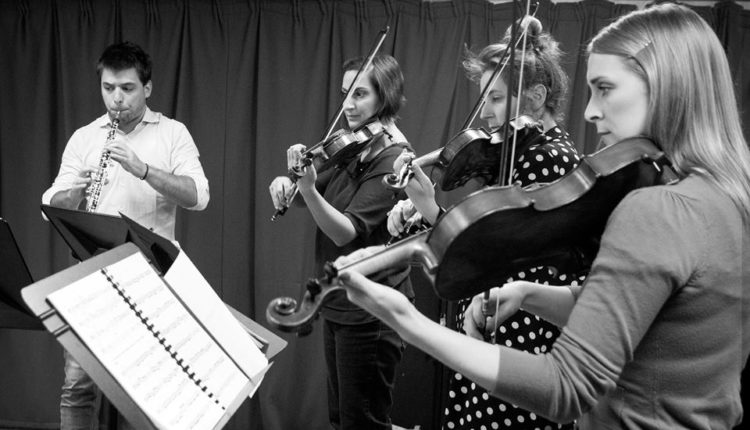 The mesmerising production finishes its 6 stop tour in Liverpool following 5 shows throughout Wales, so expect a well refined and masterful performance. Expect exciting new work from composer Charlie Barber alongside music by the likes of Vivaldi, Pergolesi, Purcell, Handel, Steve Martland and Michael Nyman, performed by Italian oboist Michele Batani alongside British musicians, The Mavron String Quartet and bassist Ashley-John Long. For connoisseurs of music and culture, this one is a real experience with so much going on!
Presented by Sound Affairs as part of their 30 year anniversary, Radio Amore fuses music, culture, history and beautiful performances — a wonderful British and Italian coming together and a celebration of various styles of classical music. The eclectic mix includes music from Pergolesi and Handel alongside extracts of oboe concerti by Vivaldi, Corelli and Handel as well as theatre music by Purcell, film music by Michael Nyman, transcriptions of Italian music by Sir John Barbirolli and radio-inspired works by Charlie Barber.
This amazing showcase is yet another great triumph for The Capstone Theatre as Liverpool's international arts venue, home of the Liverpool International Jazz Festival, continues to deliver a vibrant programme featuring concerts by some of the best international and local musicians, spoken word events, radio broadcasts, plays, dance performances and film screenings. This particular event is expected to sell out so it's advisable to get your tickets sooner rather than later!
For more info about the event CLICK HERE
For tickets CLICK HERE
For more at The Capstone Theatre CLICK HERE