We have a confession to make — we got it wrong! A few months ago, after thorough research, we published a Top 5 North Wales Hotels feature in which we came up with our top 5 hotels in neighbouring North Wales — ranking Palé Hall Hotel 4th best overall. Now, after the official announcement that the hotel has been awarded 5 red stars by the AA, the highest rated hotel in Wales, we decided to visit to find out why this is the case and why we were wrong in placing Palé Hall Hotel 4th in our list….
Our arrival
Once we had made our one and a half hour journey from Wirral through winding country roads, we arrived at the country house's 50 acre estate — situated in Llandderfel near Bala in the heart of North Wales. One thing you notice, other than the sheer grandeur of the impressive Victorian mansion, is the peace and quiet — if you're looking for a relaxing retreat to the country then this Relais & Chateaux destination is for you!
Upon entering the palatial building, we were taken aback by its character and the abundance of period features, whilst being captivated by the warm smell of oak and burning wood from the roaring log fire. We were greeted by Assistant Manager, Sam Turner, and shown to one of the lounges for fizz, where we admired the decor and furnishings and gazed out over the lush green grounds as rabbits danced playfully. After our relaxing introduction, Sam gave us a tour and a history lesson.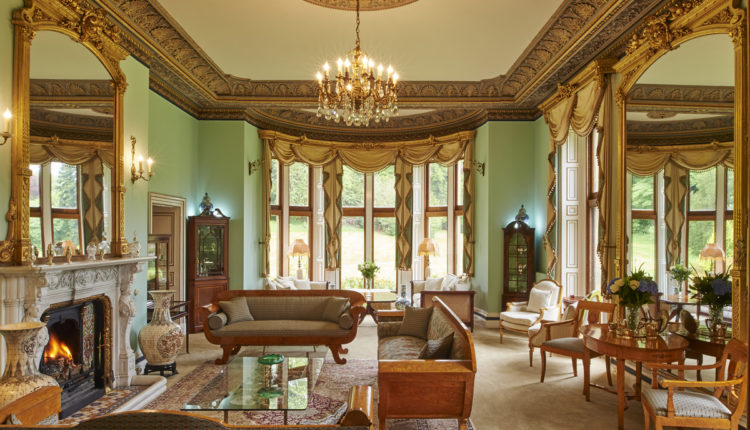 The History
Palé Hall has a colourful and interesting past. Sam explained that it was originally a manor house that burnt down before being rebuilt as a listed building in 1871 by industrialist, Henry Robertson. Since Robertson's death in 1888, the country house has been a favourite of Queen Victoria and has also hosted the likes of Winston Churchill.
In 1920, a hydro system was installed and to this day the entire electricity and heating system is run on hydro. Palé Hall became a military hospital in both World Wars and was also used as a evacuation centre for children during World War II. It has since been owned by the Duke Of Westminster and is now owned by Alan and Angela Harper, who have painstakingly and sympathetically restored it to its former glory since taking ownership in 2015.
Our room
Palé Hall Hotel boasts 18 individual rooms — all sumptuously decorated and with their own theme. After a tour of the hotel, Sam showed us to ours — Criccieth, with dashing blue decor, period features and breathtaking views of the nearby village and hills beyond. To maintain its period charm, rather than have a large television there's a television built into a mirror that acts as a dual feature for discretion.
We were provided with everything we needed and were made to feel at home. We found a personally hand written card from the General Manager, Harry, and soon came to realise that it's the many small gestures as well as the grand impressive things that give this hotel its 5 red star status.
Dinner
Palé Hall Hotel has a Visit Wales Gold Award and was also named on Condé Nast Traveler's 2018 Gold List of its favourite hotels in the world. It is also renowned for its outstanding reputation for fine dining and holds three AA rosettes. Led by Gareth Stevenson, its restaurant is located in a grand dining hall that oozes with character and the menu consists of exquisite food and the finest fresh local seasonal produce. Our dining experience was nothing short of first class, in terms of both the quality of food and drink but also the service.
Rather than choose 'The Six' or 'The Ten' menu options, we opted for the 'Classics' menu. My partner and I both had 'Half grilled lobster' to start — soft and delightful lobster with chilli, ginger and garlic butter and green salad. For our mains, she opted for 'Whole roasted lemon sole' with Café de Paris butter and new potatoes whereas I opted for 'Tornados Rossini' — Welsh black beef fillet, seared duck liver, truffle and madeira. To finish, we shared a 'Welsh and English cheese selection' and during we shared a bottle of Alsace Pinot Gris.
The following day
After an evening of fine dining and ultimate relaxation, we decided to explore the hotel further the next day. We enjoyed a 'Full Welsh Breakfast' and 'Salmon and Poached Egg' respectively in the grand dining room, where we were told that most of their food ingredients are sourced locally and the hotel does lots to support the surrounding communities. There are also fishing experiences available with local guides.
After breakfast we went for a walk around the vast grounds. We fed the Shetland pony and donkey (they have a mini sanctuary) before afternoon tea (a delight and very popular) in the library and a talk with Vicky and Jan, two of the lovely staff at Palé Hall Hotel. Speaking with Vicky and Jan taught us much more about the hotel, such as their lavish New Year's Eve celebrations where they host a jazz night and put on a spectacular fireworks display and other seasonal events. That conversation also cemented the fact that the staff at Palé Hall Hotel are such good people who provide exceptional levels of service.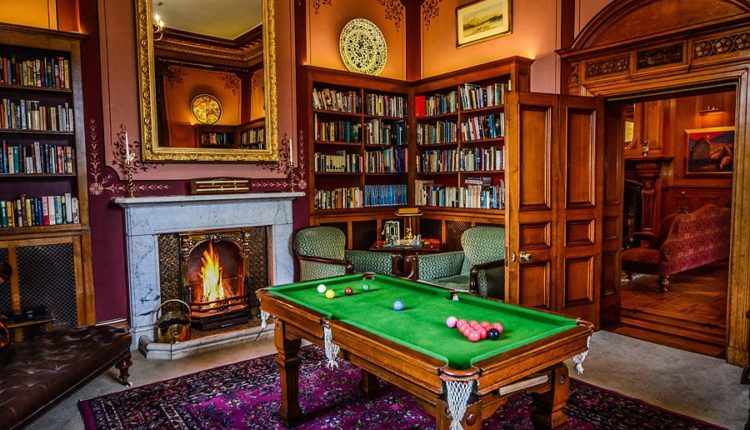 In Summary
We were curious to find out just why Palé Hall Hotel has been given the highest rating in Wales by the AA and why we were wrong with our Top 5 ranking. After a visit, we came to realise that there are so many reasons. The amazing grounds, the idyllic setting, the peace and quiet, the grand building, the history, the features, the sumptuous rooms, the first class service, the triple rosette quality of food — this hotel is a real gem in the heart of North Wales and a shining example of hospitality at its finest.
Check out Palé Hall Hotel ONLINE and on FACEBOOK
For afternoon tea at Palé Hall Hotel CLICK HERE