A top line up has been announced for an all day charity music festival in West Kirby! On Sunday 11th November, Remembrance Sunday, West Kirby Social Club will be raising money for Help For Heroes and Friends Of Grange Hill by hosting an event that will feature some of the best music acts around! The event is free to attend, with donations encouraged, and there will be food, drink and a raffle with some top prizes on offer.
On the day, expect a diverse range of acts from Wirral Ukulele Fanatics to energetic entertainers, The Smile Forecast, to acoustic sets from local artists such as Lucy Mayhew and Joe Daniel Bennett. No less than 20 top acts will be performing from 1pm until late including legendary Wirral rock band, Insanity Beach, and the talented Tone Junkies. At around 5pm, the Mayor and Mayoress of Wirral will be joining the event to show their support too. With fantastic live music, loads going on and money being raised for two great causes, this promises to be a very special Sunday indeed!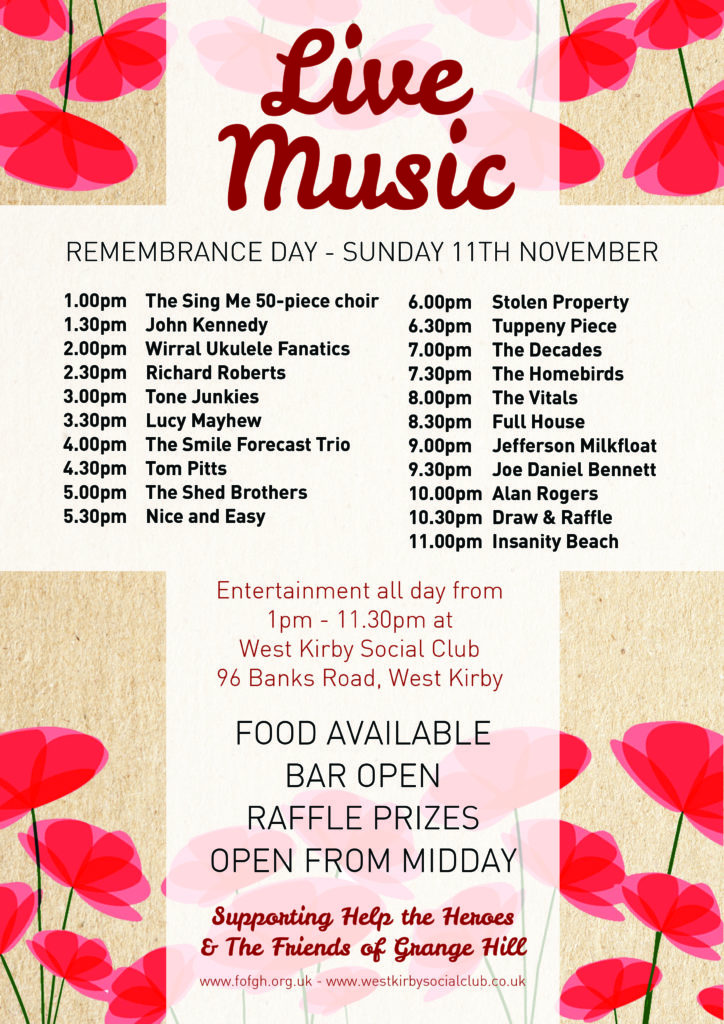 West Kirby Social Club is becoming more and more popular as a venue, respecting its history of being a meeting place with darts, pool, snooker, bingo and live sports, but also embracing the ever demanding modern world. Contrary to perceptions of old school exclusivity, the club is open to anyone with the right attitude looking for a great night out and its recent live music bookings are testament to that. Some immensely talented bands play there every weekend, they were heavily involved in the West Kirby Live festival and now they're hosting a charity festival of their own!
Club Manager, Laura, told LVL: "We've got a fab venue here and a big space with a stage and lighting. With all the live music going on recently and the great sense of community here it makes sense to put on our own mini festival for charity. It's great to see so many talented local musicians come together for two special causes and we're really excited to be putting this on! Big thanks to Jeff Mac for booking such a top line up! We've got so many amazing acts on (all playing for free), food, drink and a raffle with exciting prizes — it's going to be a great day of entertainment!"
Check out the event on FACEBOOK
Check out the West Kirby Social Club WEBSITE and FACEBOOK PAGE