We've all heard about Man v Food and here at La Vida Liverpool we love a challenge, so we decided to visit Liverpool's Red Dog Saloon for our own version — Man v Chicken! We visited Liverpool's American smokehouse, situated on the corner of Bold Street and Slater Street, on a Wednesday due to its fantastic new Wednesday offer — all you can eat Southern Fried Chicken served with fries, pit beans, coleslaw and pitchers of ice tea for just £14.95! Most would see this as just a great offer, but we saw it as a challenge and upgraded to bottomless alcoholic ice tea (vodka, lemon, sugar, ice tea) for an extra £9.99 — what could possibly go wrong?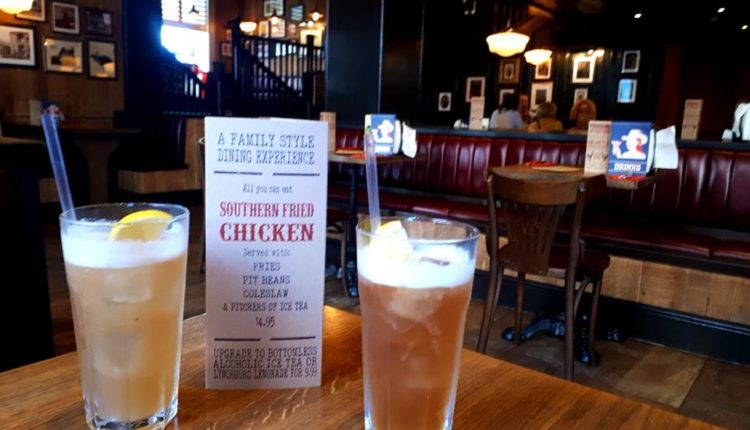 Red Dog Saloon is (was) one of the city's best kept secrets as regards offers and challenges. In addition to this amazing Wednesday all you can eat and drink deal, you can visit for brunch on Saturday and Sunday between 10am and 4pm and have bottomless prosecco, Bloody Marys or Mimosas for just £14.50! No — that was not a typo! On Sundays kids eat free with paying adults. They have a classic and house cocktail offer of 2 for £10 at their swish bar all day every day. If you're looking for somewhere to have a Christmas party, their Christmas set menus are fantastic value for money. If you're after a proper challenge, go in and ask for their 'Chicken Wing Challenge' — eat 6 wings smothered in ghost chilli sauce in less than 10 minutes (you have to sign a disclaimer and wear gloves) and you win a shirt and a place on their 'Wall Of Flame'.
Knowing we were going to be in it for the long haul, we arrived shortly after it opened at midday. I brought James as my eating and drinking partner — much taller than I and clearly the strong favourite to eat the most chicken! My fiance was nervous about my visit as I had been putting weight on recently and this was not the way to go about changing that! The first thing you'll notice when visiting Red Dog Saloon is the interior — opened in May 2017, it's a vast open plan space with high ceilings and gorgeous modern wood decor. There are various comfy booths, a large bar area and an upper floor that's ideal for private parties (at no extra cost). The American feel good music playing spurred us on and got us in the mood for a feast of epic proportion!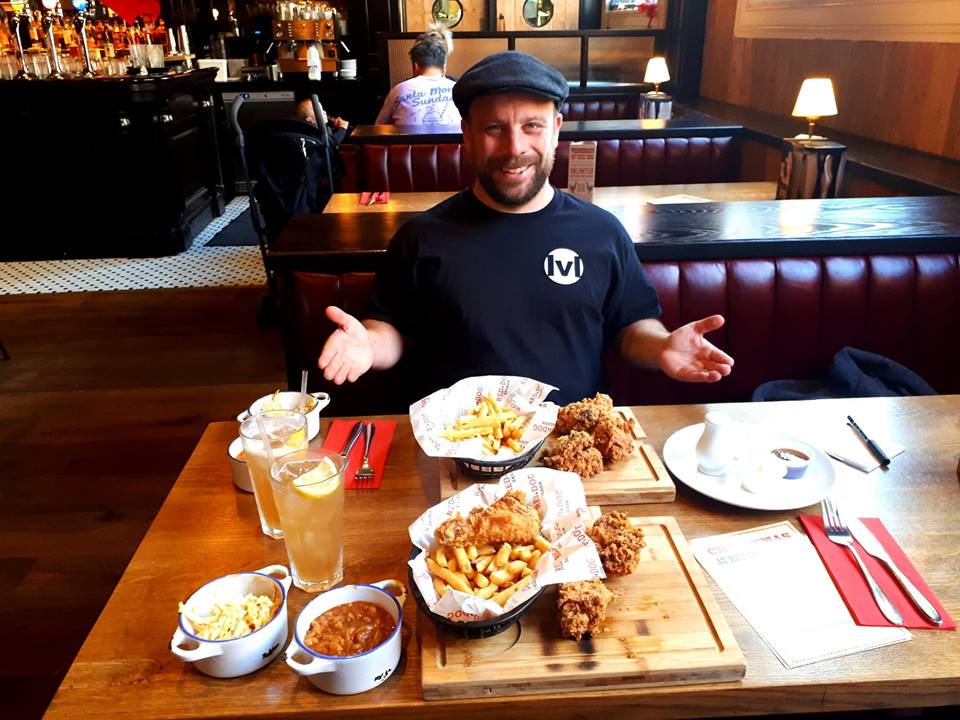 We were greeted by Assistant Manager, Bat, who showed us to our booth and gave us a pep talk before our almighty southern fried chicken challenge. Like two cowboys in a shootout, we eyed each other up and down attempting to intimidate each other and sipped on refreshing alcoholic ice tea to prepare our pallets for the onslaught of hickory smoked chicken. Then our first baskets arrived! Eyes widened and salivating like Pavlov's dog, we both drooled over the baskets in front of us — three huge pieces of hot, juicy and tender chicken with a crispy southern fried chicken coating accompanied by fries, spicy pit beans, coleslaw and barbecue dips! I knew I was going to be gravely obese following this but I didn't care — the chicken looked so good!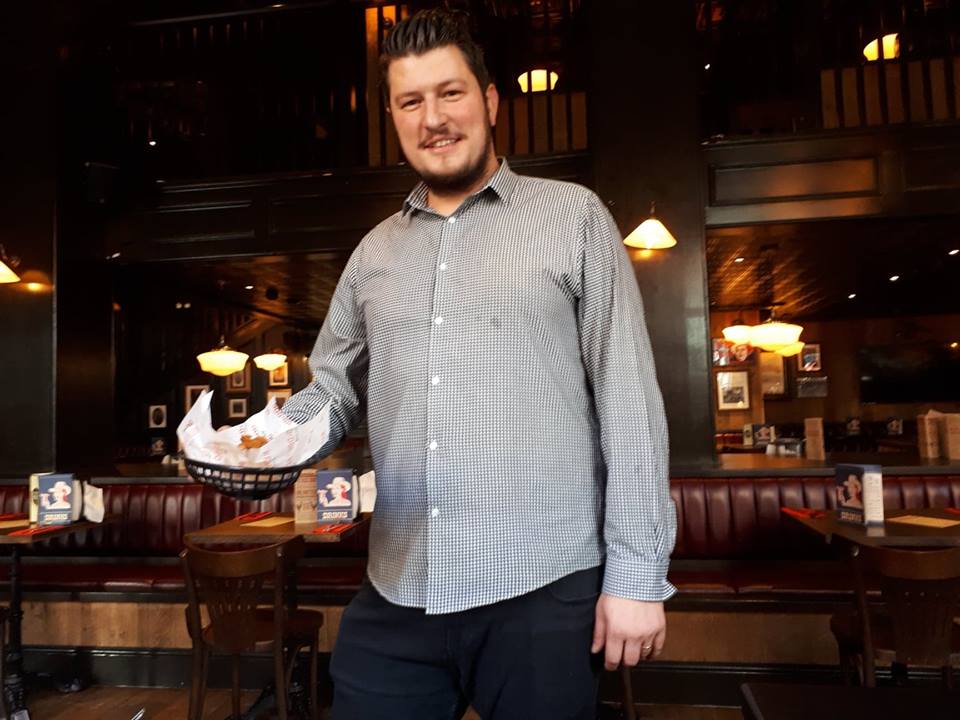 After our first basket and a refill of alcoholic ice tea, we soon realised that this task was not going to be an easy one. We came to realised that this was no race — the place is open all day. A break was in order and during our much needed time out I checked out their 'Wall Of Flame', a shrine to all who had passed their Chicken Wing Challenge, for inspiration. On to basket number 2 and as Bat suggested with his menacing smile, our 4th, 5th and 6th pieces of chicken were much more difficult to consume –.Red Dog Saloon pride themselves on size and they certainly don't do things by halves. The sweet, refreshing alcoholic ice teas helped us through it but we were beginning to struggle and I was starting to look bigger in width than height!
By the time we had finally ploughed through our second basket, like hardened gunfighters at the OK Coral, we noticed that many people had come and gone around us. There were a few families in that afternoon, such is its family friendly appeal, and some of the burgers we saw coming out were both mouthwatering and enormous in size! Red Dog Saloon has lots on offer, from muffins, pancakes and salads on the brunch menu to southern fried chicken, smoked wings and burgers on the main menu — and they offer takeaway and delivery if you don't fancy dining out. We were dining out though and boy were we dining out! I was beginning to imagine new nicknames for myself such as 'Napolean Bone Apart' and 'Danny Devit….oh look another piece of chicken!'
After 2 baskets — 6 giant pieces of chicken, fries and sides — my stomach was hurting and I was well and truly done! James, however, carried on as though his life depended on it. Even though he had me beat by his 7th piece, he continued and managed to get through an eye watering 3 baskets and 9 pieces of chicken whilst I was left groaning and nursing my swollen belly after 6! Even Bat was impressed by James' chicken devouring skills and much respect to him for putting up with us — we'd been there for over two and a half hours!
We weren't quite finished there though. Despite me being in a coma and having little to say, the relentless Bat insisted we try some of their special ghost chilli sauce used in the Chicken Wing Challenge. He showed us a video of someone struggling with the challenge and after just a small chip dipped in we could see why! Sweating, burning, panting, eyes watering, all the symptoms — I was begging for mercy and fully admit that Chicken and Red Dog Saloon both had me beat. As regards the Chicken Wing Challenge side of things, these guys seriously know how to do hot and if you think you can handle it Bat's message is this: "Not many people have finished the Chicken Wing Challenge, but if you think you're hard enough come in and try — we challenge you!"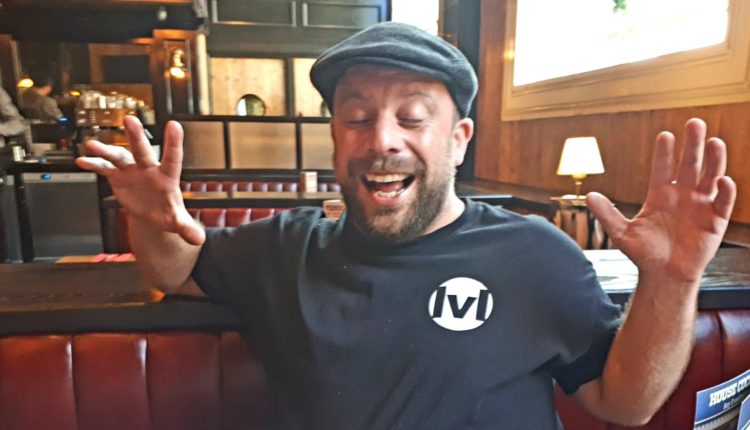 Even if you don't quite fancy their extremely daunting Chicken Wing Challenge, we strongly recommend Red Dog Saloon — particularly for their offers! The 'Bottomless Brunch' deal seems too good to be true and the kids eat free and cocktail offers are both fantastic value. It's an ideal place for parties and work doos, especially with their Christmas menu now out. The new all you can eat southern fried chicken and bottomless ice tea deal on a Wednesday is another super generous offering but don't eat too much like us — our train journey home was torturous and the rest of the day was spent in bed!
Red Dog Saloon / 66 Bold Street / Liverpool / L1 4EU / 0151 363 6792
Check out the Red Dog Saloon WEBSITE
Check out the Red Dog Saloon FACEBOOK PAGE
Check out the Red Dog Saloon Liverpool FACEBOOK PAGE