With the announcement that pubs and restaurants will be open for outside dining and drinking from 12th April, we thought we'd put together a feature showcasing some of the amazing beer gardens in our region opening soon. There's nothing better than basking in the rays in a beer garden so here are a few fantastic options to consider as soon as they open….
Cookhouse Liverpool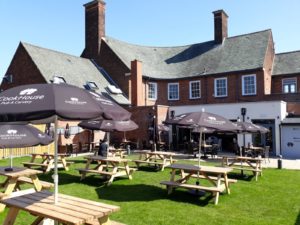 South Liverpool's family friendly pub and restaurant is opening on 29th April, with a massive beer garden to the rear, and it has something for everyone — serving food and drinks from 12pm to 10pm. Offering great value, it's very popular so be sure to book a table despite there being many as they're likely to be in high demand!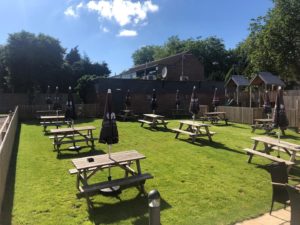 The vast open space features well maintained grass, lots of big tables and a play area for the kids. As ever, there'll be lots of fantastic value hearty pub food, offers and of course an extensive drinks menu with wine, gin, pints a plenty and more. Somewhere you can happily spend the day until the sun goes down, with live music and events coming soon.
Cookhouse Liverpool / 259 Mackets Lane, Halewood, L25 5NQ / 0333 234 8130
Check out Cookhouse Liverpool on FACEBOOK!
Molly's Chambers
One of the region's best live music venues, Molly's Chambers has a great outside offering — including a roof terrace. In preparation for live music being back on, the venue has already booked some incredible acts for the rest of the year, but in the meantime they'll be serving quality food and drink outside from 12th April — with a large additional outside space potentially announced soon.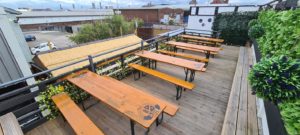 As well as being a cracking live music venue, Molly's Chambers has fantastic food and drink. The food menu includes relaxed dining options such as burgers and wings, with their famous 'Best Roast On The Coast' on Sundays, and they serve the very best premium beers such as German ABK! Keep your eyes open for offers such as.
Molly's Chambers / 167 Bridge Street, Birkenhead, CH41 1AY
Check out Molly's Chambers on FACEBOOK!
PINS Social Club
Duke Street's newest addition PINS Social Club is your adult playground! Think bowling lanes and table-games, live music, restaurant and multiple bars. PINS has gone down a storm in Liverpool since opening in February last year. In addition to it being the place to visit for a night out in the city, it also boasts one of the largest roof terraces around!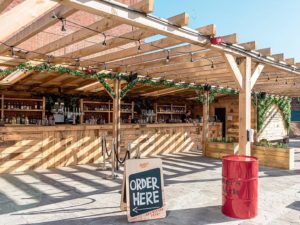 The Roof at PINS is re-opening on the 12th April on a walk-in basis. It will be open Monday – Friday: 2pm – 10pm and Saturday – Sunday: 12pm – 10pm. As well as serving their famous hand-stretched, stone-baked pizzas and a whole host of beers, spirits, wine and cocktails, PINS have two Shuffle Courts on The Roof! This means you can challenge your friends to a healthy dose of competitive socialising whilst sippin' on sangria. An incredible City Centre roof terrace to enjoy on a sunny day.
PINS Social Club / 45-61 Duke Street, Liverpool, L1 5AP /0151 370 0000
Check out the PINS Social Club WEBSITE!
Check out PINS Social on FACEBOOK!
Popsy's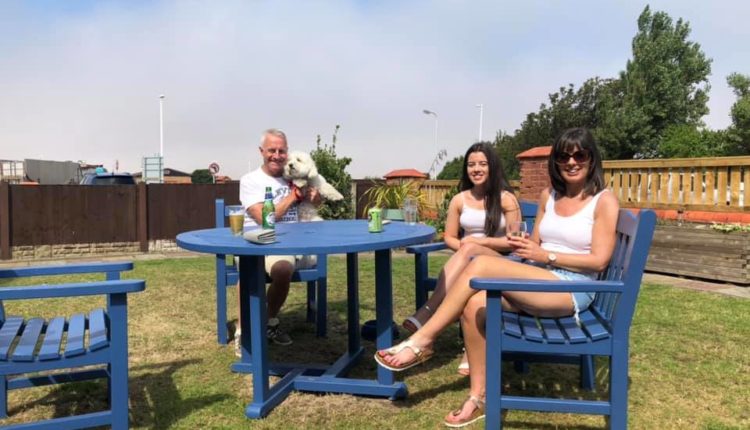 Located just off Hoylake promenade in the community centre, Popsy's bistro and coffee shop serves alcohol too and is ideally located — with incredible views of the beach and Irish Sea! Popsy's have improved their outside seating area, with new plants and flowers, and it's a perfect place to enjoy Prosecco, Pims or Iced Tea by the sea.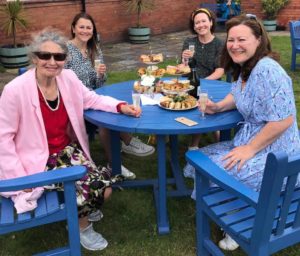 Popsy's has developed a fantastic reputation since opening in 2019 — serving gorgeous coffee, light bites, homemade cakes, afternoon tea and more — but they also have a great range of beers, gins and spirits. With a quaint outside area and views out to sea, there aren't many better located places to enjoy a drink.
Popsy's / Hoylake Community Centre, 31 Hoyle Road, Hoylake, Wirral, CH47 3AG
Check out Popsy's on FACEBOOK!
The Aigburth Arms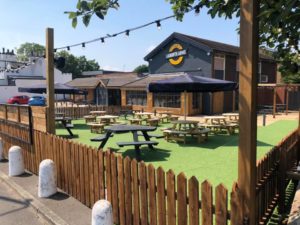 Aigburth's family friendly community pub has a great sized sun trap and they can't wait to open in April! With proper pub food, great offers, plenty of drinks and real ale, there's something for everyone at this South Liverpool pub. The beer garden has plenty of round tables to soak up the sun all day and there'll be a large HD TV outside for Liverpool's Champion's League matches and other selected sports fixtures!
The popular pub is modern and spacious inside and will as ever offer live sport, live music, pool, darts and events when it re-opens fully, but in the meantime there aren't many better places in South Liverpool to sit outside. A vast open space with plenty of exposure to the sun to catch those rays!
The Aigburth Arms / 6 Victoria Road, Aigburth, South Liverpool, L17 0DL / 0151 363 2186
Check out The Aigburth Arms WEBSITE!
Check out The Aigburth Arms on FACEBOOK!
The Black Toad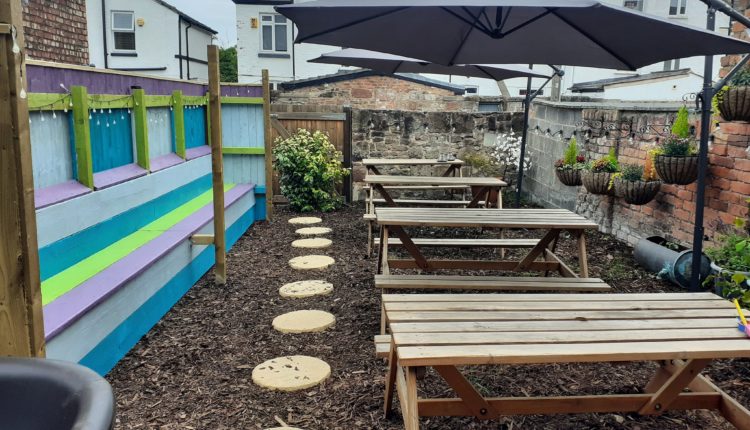 Another Hoylake gem, The Black Toad has one of the best secret beer gardens around. The micro pub on Market Street offers a fascinating range of quirky beers, craft ales and stouts, as well as ciders, wines and spirits, and the beer garden to the rear is cracking little sun spot to sample some of their interesting tipples.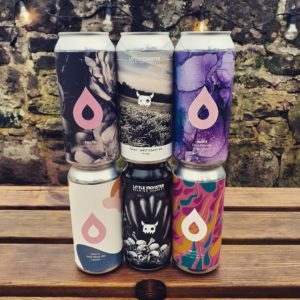 The Black Toad has become a big hit in the seaside town and they keep things interesting by constantly revolving their range of fascinating drinks. Whether you're after a chocolate stout, a pale ale or a mango cider, they have something different for everyone. In terms of the hidden gem of a beer garden, it's only small so get in there first!
The Black Toad / 32 Market Street, Hoylake, CH47 2AF
Check out The Black Toad on FACEBOOK!
The Bombed Out Church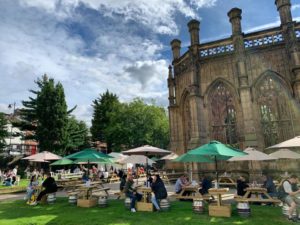 Liverpool's iconic city centre venue is officially opening again on 12th April — as is their incredible garden bar! A big hit last year, their grounds will again be converted into a lush open space for drinking and eating in the heart of the city. With draft and bottled lager, real ale, spirits, a cracking gin range and street food, it's the perfect open air option this spring and summer.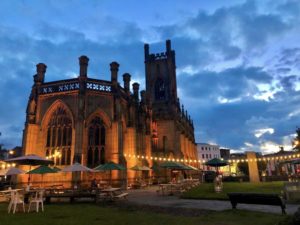 St Luke's Bombed Out Church Garden Bar and Cafe returns again this year and will be having a special opening day Monday 12th April 4pm – 10.30pm and then following that will be open every Thursday – Sunday.  Due to inevitable demand, they will be operating a booking system with a £5 booking fee to reserve a table for two hours, this will go towards the preservation of the church. Delicious hot street food will also be available. They have a summer packed of theatre, cinema, markets and events, check out their new website for details.
St. Luke's Bombed Out Church / Hardman Street, Liverpool City Centre / 07748820908
Check out The Bombed Out Church WEBSITE!
Check Out The Bombed Out Church on FACEBOOK!
The Pen Factory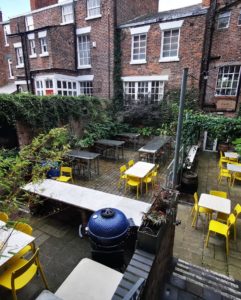 One of Liverpool's best secret beer gardens, the courtyard at the rear of The Pen Factory is a gorgeous little gem! Located next to The Everyman Theatre on Hope Street, the underground venue offers incredible small plates and a fantastic range of drinks including cask ales and fine wine — with a relaxed open plan environment and a newly refurbished 'Vault' connecting to the courtyard.
The Pen Factory is opening its doors once again on 19th May. It will soon be offering food and wine tasting events, BBQ Sundays, live jazz and more — with private functions available. If you're looking for a secret little sanctuary in the city, their courtyard is one of the best places around and their food and drink is exceptional.
The Pen Factory, 13 Hope Street, Liverpool, L1 9BQ / 0151 709 7887
Check out The Pen Factory on FACEBOOK!
The Red Fox
With one of the best outside dining and drinking grounds in the region, The Red Fox of Thornton Hough is an idyllic countryside destination — perfect for al fresco dining. Oozing with character, the 19th century restaurant and pub is in The Good Food Guide and Good Pub Guide again for 2021 — such is their quality and reputation.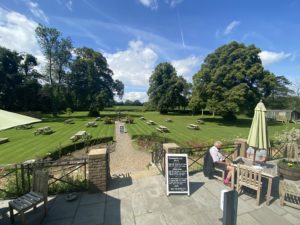 The multi award winning South Wirral retreat offers seasonal, fresh menus made up of a mixture of hearty British classics and lighter lunchtime bites and a variety of premium drinks including an extensive gin range. A simply magical destination in the heart of the South Wirral countryside and popular for special occasions and weddings, The Red Fox will no doubt be in high demand!
The Red Fox / Liverpool Road, Thornton Hough, South Wirral, CH64 7TL / 0151 353 2920
Check out The Red Fox's WEBSITE!
Check out The Red Fox on FACEBOOK!
The Ship Inn (& The Lake)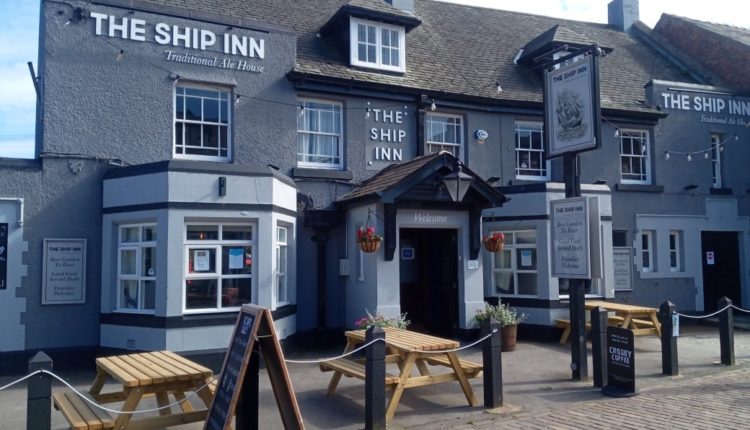 With another fantastic Hoylake beer garden here, you may be considering a beer garden crawl in the seaside town! The Ship has a gorgeous sun trap to the rear, with plenty of flowers and plants, and the Wirral pub will be opening soon to serve a wide range of alcohol and food from their mouth watering Grillzilla kitchen.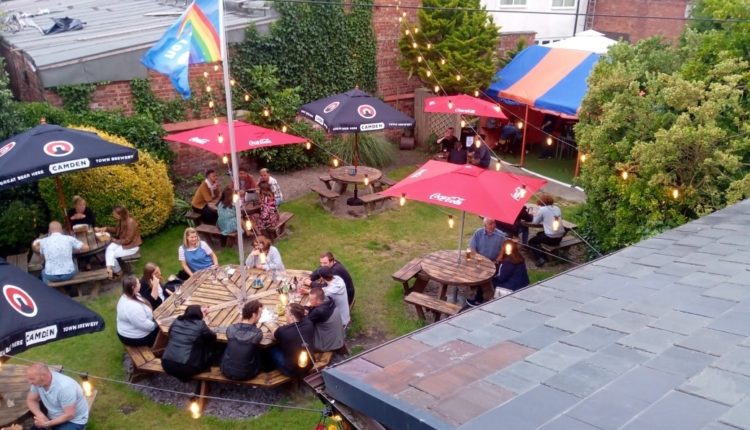 Owners Loz and Vic also own The Lake in Hoylake. After doing lots of community and outreach work during lockdown, they're looking forward to opening both pubs — both of which have outside space to enjoy drinks in the sun. The Ship beer garden to the rear is a little slice of heaven away from the traffic of the main road and The Lake has a seating at the front and also in the newly extended courtyard out back.
The Ship Inn / 80 Market Street, Hoylake, CH47 2DW
Check out The Ship Inn on FACEBOOK!
Bring on long days in the sun!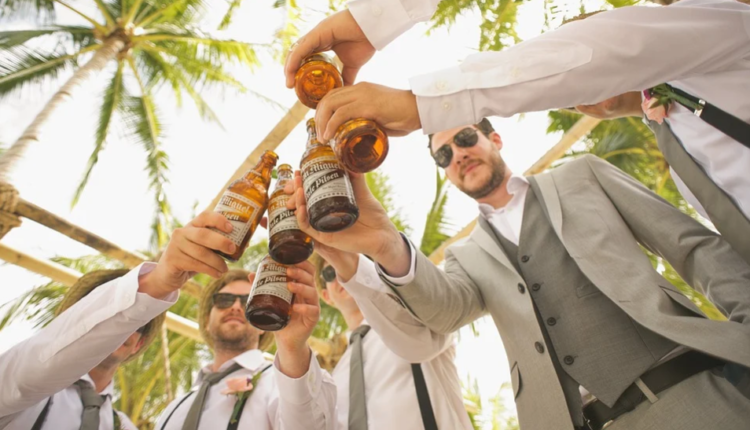 So there we have it — 10 amazing beer gardens opening soon for you to consider! There are some real belters in this list and never before has it been more attractive to eat and drink al fresco. All we need to do now is hope for the same kind of weather as last year and hope that the restrictions continue to be lifted so we can all enjoy fun and laughter over drinks once again.