The Ship, situated on Victoria Parade in New Brighton, has always been one of New Brighton's 'proper pubs' — with plenty of character and in a prime location just off the promenade. That said, since new landlord Mark has taken over it's had a big refub and some exciting changes and here we bring you the reasons it's become such a hot spot….
Check out The Ship on FACEBOOK!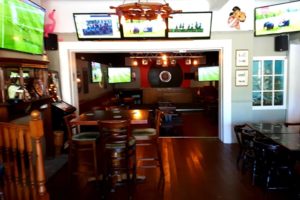 So what's changed at The Ship?
With it being a freehold pub, experienced landlord Mark has had the ability to make his stamp on the place and do things his way. As with when he ran The Railway pub up the road, he's transformed The Ship into a sports lover's paradise — with beer cheaper than anywhere around including Wetherspoons and an abundance of sport.
He's knocked through to an unused room and introduced a pool table and no less than 6 darts boards! There are now 15 high quality big screens and a projector, cameras that link to TVs to watch the darts matches happening in the pub and a booming sound and lighting system.
There are also now fruit machines, a free jukebox and loads of memorabilia to add to the existing ship themed features. The refurbishment, including new windows, has also included a state of the art beer line system that guarantees the quality and temperature of beer poured — always ensuring a great pint (at a fantastic price).
Check out The Ship on FACEBOOK!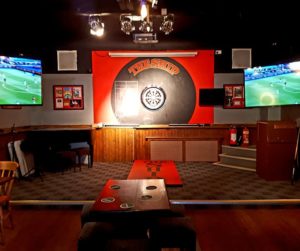 Live Sport….
The Ship is now widely regarded as THE place to be as regards live sport — showing everything from football to all the other sporting events including horse racing daily.
The setup is incredible with so many large screens in the spacious pub and at between £2.10 and £2.30 a pint typically, it attracts a great crowd and has a fantastic atmosphere. On football match days it's advisable to get there early to get a good seat!
Check out The Ship on FACEBOOK!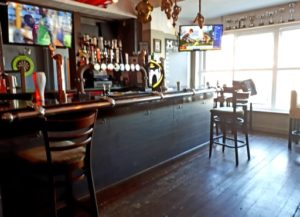 What's on at The Ship?
The Ship is all about live sport in a vibrant environment with the latest tech, sound and lighting, but there's also pool, darts and other things happening. They have 2 very successful pool teams that play on Tuesdays and 4 darts teams that play on Mondays, Tuesdays and Thursdays. On Saturdays they have a popular and hilarious karaoke night. The pub keeps it simple but what does it right and has a cracking atmosphere as a result!
Check out The Ship on FACEBOOK!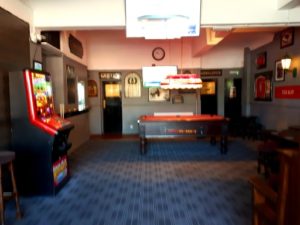 A pint with the landlord….
We visited one afternoon to have a pint with landlord Mark and discuss the pub and it's ethos. He told us: "This pub is all about having a great community spirit, a cracking atmosphere and plenty of fun and banter in a good environment where everyone is welcome."
Mark continued: "I've made lots of changes here and it's been a big refurb but the place is booming now — especially for the sporting events and match days. It's become a real hub of sports, both watching and playing, and I'm committed to keeping it a great play to enjoy yourself with better value drinks than anywhere around."
Check out The Ship on FACEBOOK!
Why we love The Ship….
New Brighton has something for everyone these days and The Ship is a cracking venue just off the promenade that's a sports lovers paradise. A no nonsense pub with a great atmosphere, we love that it's a great place to enjoy playing or watching sport with the latest high tech additions.
We love the amazing value alcohol and that freehold landlord Mark is keeping the prices down, despite having a state of the art beer line system that ensures quality. We love the refurbishment and what he's done to offer New Brighton an amazing venue for sports fans — great work mate!
The Ship / Victoria Parade, New Brighton, CH45 1NX
Check out The Ship on FACEBOOK!