In this La Vida Liverpool exclusive we team up with legendary local promoters, EVOL, to bring you an enlightening interview with She Drew The Gun's Louisa Roach! We sat down with the poetic powerhouse to discuss the forthcoming Liverpool gig on Fri 22nd October at Invisible Wind Factory and the incredible new album, Behave Myself.
She Drew The Gun's first proper live gig in Liverpool since 2019 is set to be a spinetingling extravaganza with attitude and an exciting opportunity to hear some of the new album's material. Behave Myself has been long anticipated and is already making waves — recently featuring as BBC 6 Music's Album Of The Day. Here's what Louisa had to say about it all….
For tickets to the Liverpool gig CLICK HERE!
LVL: Hey Louisa! Great to interview you again! The last time was in October 2019 prior to your Trouble Every Day gig in Liverpool — almost two years ago to the day. Was that your last Liverpool gig? It must feel great to be back?
LOUISA: Hey, wow so long ago! Yeh that was our last Liverpool show, we did manage a socially distanced one at Future Yard in Birkenhead about a year ago which was a little oasis in the gig desert of the last two years, it's exciting to be back in town doing a full show now though.
For tickets to the Liverpool gig CLICK HERE!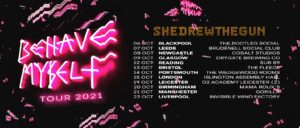 LVL: So….what on earth did you get up to during the big silence of lockdown and no gigs? How did you manage to stay creative and inspired?
LOUISA: There was definitely a bit of cabin fever and it took a while to get going but I eventually put my energy into writing and threw all of what I was absorbing from the world around me into songs. It felt like there was a bit of an abundance of time to do things which is a luxury when you're writing an album so that was a positive thing. We made demos of the tunes, and then when the studios were allowed to open again we made a few road trips to Sheffield to record it. I think reading and dog walks kept me sane and inspired.
For tickets to the Liverpool gig CLICK HERE!
LVL: You have the new album about to drop. How would you describe it? Is it different to the other two? Has Ross Orton had a big influence on its style?
LOUISA: I'd say its another leap from the last album, its bolder with more of a kick. When we did the demos there was a big dance element as well as the guitar based stuff so we wanted to work with someone who could help bring all that out. Ross has all that experience from Arctic Monkeys to Working Men's Club so we went up to do a tune with him and loved it and ended up doing the whole album. Ross brought his own magic to the recordings absolutely, the songs were there in the demos but it all came alive in the studio.
For tickets to the Liverpool gig CLICK HERE!
LVL: So….what can people expect from this Liverpool gig? Which tracks from the new album do you think will go down particularly well?
LOUISA: A drum kit, a bass, some synths and guitars, a few words about life all the joys and the scars. Well that's the basics haha, I'm most excited about it being a proper nice gathering of people, its undoubtedly feminist, socialist, working class music so its people having a good time to some songs about all that jazz.
For tickets to the Liverpool gig CLICK HERE!
LVL: Do you think it's easier or harder gigging again after lockdown?
LOUISA: There's a lot of factors that go into it and I think the landscape has probably become more difficult in general but so far its been really great this time, its great to be back out.
For tickets to the Liverpool gig CLICK HERE!
LVL: I asked you this question in 2019 about your plans for 2020, so hopefully this isn't so ominous this time haha! What are your plans following this album release and for 2022? What can we expect from She Drew The Gun next?
LOUISA: I suppose now the album is out, I can start thinking about what's next but at the moment its still a blank page, so who knows.
For tickets to the Liverpool gig CLICK HERE!
She Drew The Gun's new album, Behave Myself, is now on sale and the Liverpool show on Friday 22nd October is set to be one of the best local gigs of the year. Another amazing showcase from local promoters, EVOL, the gig comes on the back of some fantastic post lockdown EVOL events For anyone who's seen She Drew The Gun live before, you'll know what to expect, and after two years out you'd better be prepared!
She Drew The Gun / Fri 22nd October 2021, Invisible Wind Factory, Liverpool
For tickets to the Liverpool gig CLICK HERE!
To purchase the new album visit their WEBSITE!