Always keen to introduce you to the hottest new restaurants around, we've just discovered an amazing new place near Woolton! Situated on Woolton Road, a few doors down from The Halfway House, El Nido is the exciting new small plates restaurant and bar that's creating a storm amongst locals and here we bring you what it's all about….
Check out El Nido on FACEBOOK!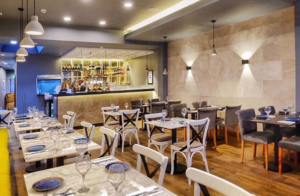 What's El Nido about?
Opened in November 2019, El Nido is the very special new place that many people are talking about in Woolton. Modern, contemporary and stylish yet relaxed, informal and unpretentious, El Nido is a cool new restaurant and bar with a big focus on quality over quantity.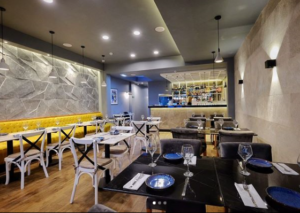 With a light and airy interior, marble features and a choice of tables or booths, El Nido offers a sophisticated dining experience with a great atmosphere and a real buzz about the place. Owner Turgut is charming, friendly and passionate about hospitality — and his staff are attentive and friendly too.
Check out El Nido on INSTAGRAM!
What's on the menu?
The talented team at the exciting new El Nido have carefully created a refined menu to tantalize the taste buds! Choose from a mouth watering selection of small bites, small plates, sides, a banquet, kids options and desserts. Not forgetting the quality drinks options including premium beers and both classic and house cocktails.
Check out El Nido on FACEBOOK!
Our visit….
We visited this new delight on a Saturday night, just 10 days after opening! It was busy and there was a great energy about the place, with exotic feel good music playing. We enjoyed a few Verdette beers, a selection of 'small bites' and finished with a couple of house cocktails — an Artisan Taste and an El Nido Delight.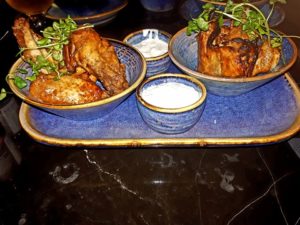 We enjoyed Baby Chorizo and both agreed that this was hands down the best chorizo we'd ever tasted — with a flavoursome honey, lemon and herb glaze that was irresistible! We both also devoured the Sweet & Spicy Chicken Wings — soft chicken that fell off the bone, served with yoghurt and mint dip.
The Honey Glazed Baked Figs, Goats Cheese & Pomegranate dish was delightful — soft and warm little bundles of joy with all sorts going on. We also had Shelled King Prawns that were beautifully presented and tasted so fresh. You can really taste and feel the quality at El Nido, but for us the Baby Chorizo was the dish of the evening — seriously the best chorizo ever!
Check out El Nido on INSTAGRAM!
Why we love El Nido….
We love discovering exciting new independents and in El Nido we've unearthed an absolute gem! We love the stylish contemporary interior — light and airy with beautiful decor — but also love the cool, relaxed atmosphere. We LOVE the Baby Chorizo and the quality food and drink on their refined menu. We love El Nido and we're sure you will too!
El Nido / 252 Woolton Road, Woolton, L16 8NE / 0151 722 7546
Check out El Nido on FACEBOOK!
Check out El Nido on INSTAGRAM!