An exciting new gin (and rum) brand has emerged from New Brighton and as ever, La Vida Liverpool is hot off the press to tell you what it's all about! The stellar range from new gin and rum making independent, Gravity Gin, is creating quite a storm locally and here's why….
To try Gravity Gin or Relativity Rum contact them on FACEBOOK!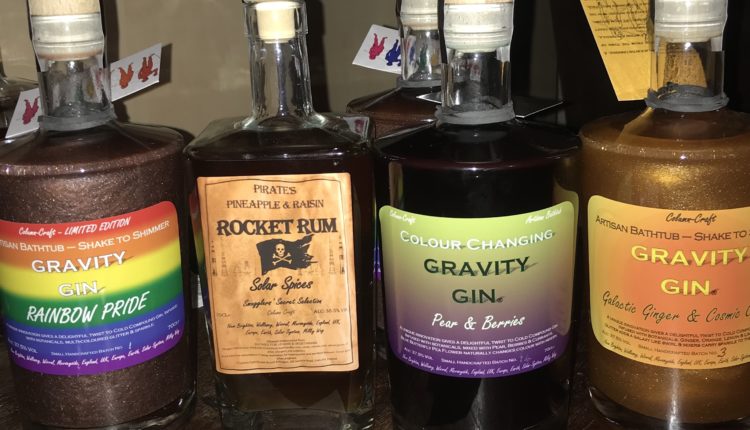 Who and what is Gravity Gin?
Launched in March 2019 by laboratory analyst  Ant Ryan, Gravity Gin consists of three carefully concocted creations. Legend has it that June Genever, an astronaut time traveller from a dystopian future, tried to come back and save the world — only to land in New Brighton and leave cosmic gin and rum recipes in a bottle!
Science extraordinaire Ant discovered said recipes and as a result has created three very special drinks indeed! The colour changing pear and berries gin has been described as out of this world, whereas the galactic ginger and cosmic citrus glittery gin has had a meteoric rise to fame!
In addition to the two gins they offer Relativity Rum, consisting of pirate's pineapple and raisin and solar spices. Despite being a relatively new and small independent, Gravity Gin has already supplied to more than 20 local businesses and has featured in local gin festivals. They offer a retail service too if you'd like a personal bottle!
Why Gravity Gin?
With many entrepreneurs jumping on the gin bandwagon it's difficult to know who to choose, but we've met Ant personally and it's not by chance that the Gravity Gin rocket fuel is selling out in many establishments across the region.
In only a few short months, Gravity Gin has supplied to the likes of The Scrap Yard, Habibi, The James Atherton, The Bow Legged Beagle, Cabovino, Blind Pig, The New Brighton Hotel, The Olive Tree, Elachi, New Brighton Cricket Club, Sheridan's, Stanley's Cask, The Caledonia, The Quadrant and The Red Fox!
To try Gravity Gin or Relativity Rum contact them on FACEBOOK!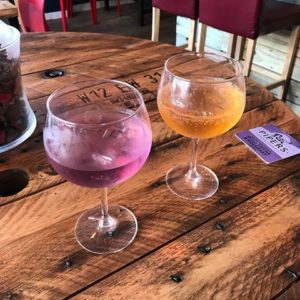 A chat with the gin maker….
We met with Ant at The Bow Legged Beagle for a chat about the exciting new brand and he told us: "I'm a real science fanatic and I love mixing ingredients and observing the reactions that happen. It took many hours of refining to create what we now have but the two gins and the rum are just right and they're doing really well."
Ant continued: "It's a bit of an out there space theme really and colour changing gin has been done before but our one is quite unique – starting green rather than blue and changing to different shades of pink/purple depending on the mixer. The glittery gin is a real showpiece and the rum is very different to anything out there. I'm vegan so we use vegan friendly products, mostly organic and we also offer a £1 refund on every bottle returned, and we'll aim to be as environmentally conscious as possible going forward."
To try Gravity Gin or Relativity Rum contact them on FACEBOOK!
Why we love Gravity Gin….
Here at La Vida Liverpool we love to see good people and small, local independents creating a storm and making waves. New Brighton based Gravity Gin is a quirky space themed concept created by someone who is passionate about chemistry, physics, space and all things reactive, and it's great to see its meteoric rise to success in such a short space of time.
We love the colour changing gin full of flavour with pear and berries. We love the galactic ginger and cosmic citrus glittery gin. We love the pineapple and raisin Relativity Rum. We love that Gravity Gin is taking over our towns so grab a bottle quick before it goes universal!
To try Gravity Gin or Relativity Rum contact them on FACEBOOK!
Check out Gravity Gin on INSTAGRAM!