'How does a very small girl hide a very large lion?' is the opening salvo of Helen Stephens' hugely popular children's book, 'How to Hide a Lion', which Pigtails Productions brought to life on Sunday 14th October at the Epstein Theatre in a relaxed, interactive show that was lovable and entertaining for children and adults alike.
Using a range of puppets and a beautiful set that unpacks as the story unfolds, the show begins in a hat shop as a very 'cool cool cat' arrives in town, much to the horror of the townsfolk, including the mayor, the butcher, the city sweep and our personal favourite, a semi-professional opera singer.  Realising the danger he is in, the lion scarpers, only to get stuck in the Wendy House of Iris, a curious little girl with a heart of gold, who sets out to hide the lion from her parents with hilarious results!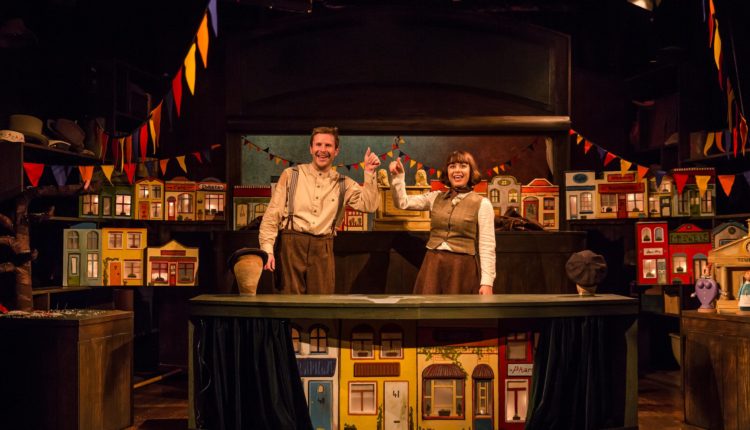 I took along my two erstwhile mini-reviewers to the show, who were utterly entranced throughout, days later still singing the very catchy tunes that were performed beautifully by Stephanie De Whalley and her co-star Gilbert Taylor.  Peter Glanville's reworking of this lovely children's story was a fun and friendly puppetry extravaganza, which got the balance right for a family entertainment show: not too long, with plenty of audience participation to hold the children's attention and just worldly enough to keep the grown-ups interested too.
The Epstein Theatre, occupying the historic Hanover Street Building that has been a city centre entertainment stalwart for over a hundred years, is a great venue for a family show.  Pigtails Productions specialises in bringing children's stories to life with amazing puppets and catchy musical theatre and is currently touring the UK. I'd be lion if I didn't say it was a fantastic production that keeps the kids on the edge of their seats and in a city known to be fond of their puppets, How to Hide a Lion was a roaring success!
Check out Pigtails Productions ONLINE
Check out more at the Epstein Theatre ONLINE
Images courtesy of Pigtail Productions