The Casa Theatre, one of Hope Street's newest fringe theatre venues, brings an extraordinary play to Liverpool on 26th October with Skitzoid Productions' Game Over: The Play.  An immersive comedy about the challenging subject of suicide, proceeds from the show will go to the Liverpool Mental Health Consortium, so get on down to the Casa Theatre and support this unique production that deals with a difficult theme in a surprising way.
Billed as a 'play which faces mental distress with humour, songs and tenderness', the show is about two men, Steve and Max, who come from very different walks of life.  However, they both take their own lives on the same night and find themselves in Limbo, where they are asked to compete in a game show compered by Death himself to see which of them is allowed to stay dead.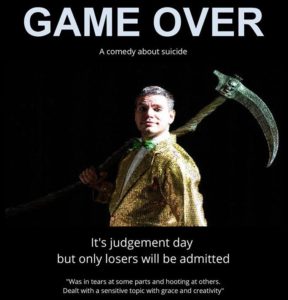 Skitzoid Productions is a London-based theatre company that specialises in producing theatre to support mental health causes and this is their first production of Game Over: The Play in Liverpool.  With the Three Judges of Fun, Love and Industry deciding who shall live and who shall die, Steve and Max must undertake a series of tasks to prove that they are indeed better off dead.
Unique, innovative, full of catchy tunes and with a heart of gold, Game Over: The Play describes itself as  'X-Factor meets judgement day' – with such an unusual combination, and all in aid of an important and worthwhile cause, who could resist this musical comedy?  Tickets are just £8 so get yours here.
Get Tickets for Game Over: The Play at the Casa Theatre ONLINE
Check out Game Over: The Play ONLINE
Images Courtesy of Skitzoid Productions and the Casa Theatre