On Saturday 11th December 2021 BBC1 Xtra star, K Koke, is coming to The Shankly Hotel for a very special roof terrace party! Set to be one of the events of the year, Rakeem Abiru Presents K Koke features one of the UK's best rap artists and some of the best urban artists in the region — with tickets from just £20!
For tickets and more info CLICK HERE!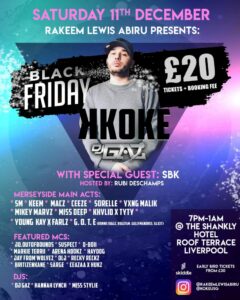 The event was due to have Wiley headlining in the new underground carpark venue but is now set to be even better — with the incredible K Koke heading an exciting line up — featuring special guest SBK and a whole host of super talented local artists from 7pm until late!
For tickets and more info CLICK HERE!
On the night, party-goers can live it up on one of Liverpool's most iconic roof terrace venues whilst enjoying the very best local talent and a big hitting headliner! K Koke is regarded as one of the best UK rappers and is famous for his 'Fire In The Booth' performance on Charlie Sloth's BBC 1 Extra show. His latest music video is set in Liverpool too!
For tickets and more info CLICK HERE!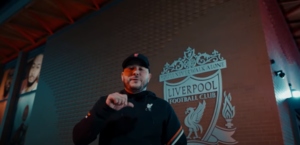 Event organiser Rakeem Abiru, one of Merseyside's most talented urban artists, said: "We're really excited to be hosting our first event at The Shankly Hotel's roof terrace! The Shankly is a renowned venue in the city so to be partnering with them is a real pleasure."
He continued: "Our region has so many talented urban artists so it's great to showcase them alongside a top headliner — it's a nice mix of local talent and a top headliner. K Koke is a proper superstar of the UK scene so to have him in Liverpool is fantastic. He's a big Liverpool fan too. The night is going to be amazing!"
For tickets and more info CLICK HERE!
Included in the line up is the multi-award winning duet, SORELLE — who have recently supported Kano. A collaboration between sisters Tabitha Jade (The Pop Princess Of Liverpool) and the super talented Eliza Mai, SORELLE (meaning Sister in Italian) have been lauded by the likes of BBC Introducing, Kiss FM, BBC1 Extra and Capital Radio.
SORELLE have established themselves as one of the most exciting prospects for MOBO in the City. Pre-covid, the sisters were both individually forging successful careers as soloists but during lock downs, they worked together for the first time creatively and out of that process SORELLE was born. With their love for RnB melodies and a groove, it's easy to see why their live shows are so revered.
For tickets and more info CLICK HERE!
The roof terrace event with K Koke is the first of many exciting events to be held at The Shankly Hotel by Rakeem Abiru. Going forward, expect big events featuring top artists and DJs — from house and techno to urban and hip hop — adding to the hotel's already vibrant offering of a restaurant, bar, roof terrace and events space.
For tickets and more info CLICK HERE!
Rakeem Lewis Abiru Presents K Koke is coming to the roof terrace of The Shankly Hotel on Saturday 11th December 2021 from 7pm until late — featuring the region's most talented urban artists and with K Koke and special guest SBK headlining. Tickets are from £20 and can be purchased via Skiddle.
Rakeem Lewis Abiru Presents K Koke / Underground, The Shankly Hotel, 60 Victoria Street, Liverpool, L1 6JD / Sat 11th Dec, 7pm — late
For tickets and more info CLICK HERE!
Check out the event on FACEBOOK!