It's been another great year of positive news here at La Vida Liverpool online magazine and another year of showcasing some of the fantastic independent businesses in our region. Covering restaurants is one of our favourite things (especially when we get to try them out) and we've featured some incredible eateries in 2022!
Here's our 10 best restaurants of 2022 (in alphabetical order)! Which is your favourite and which would you like to try?
21st Amendment Hoylake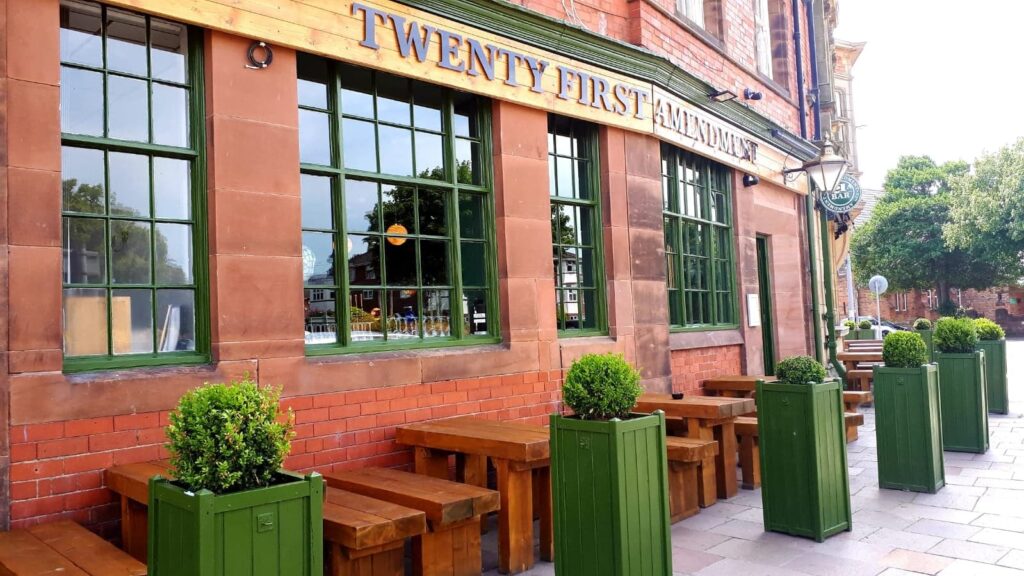 Ever since opening in Hoylake in the summer of 2022, this cool speakeasy-style restaurant and bar has taken the town by storm — with a great atmosphere, great service and live entertainment. One of the key factors for its popularity is the food!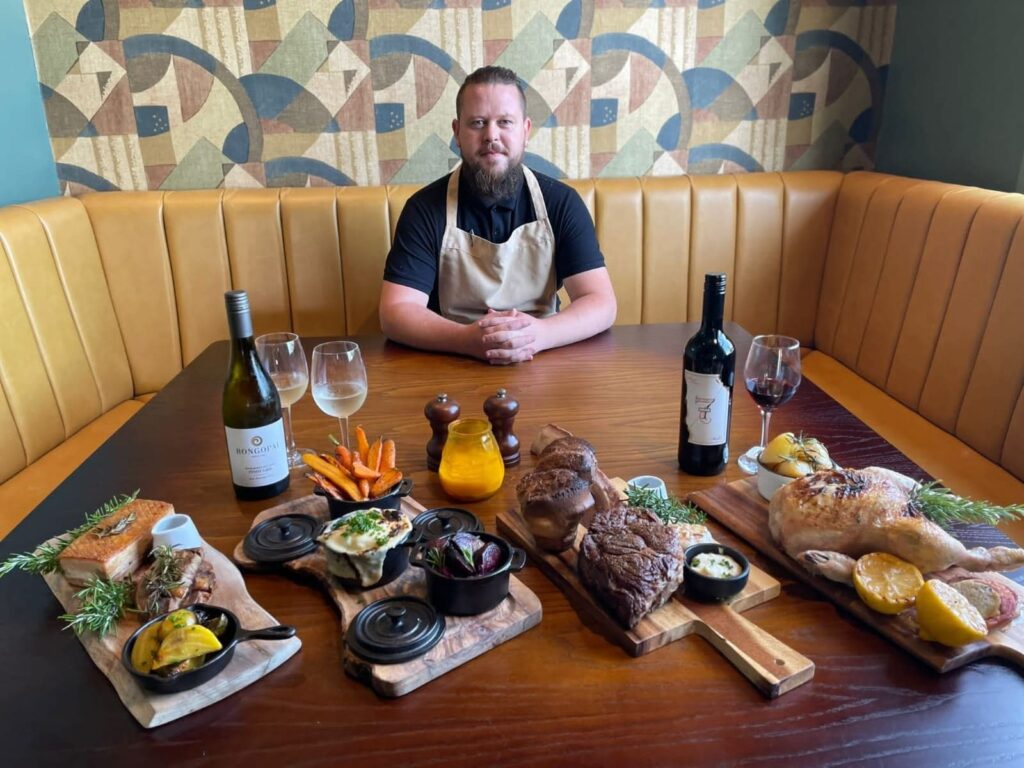 The kitchen team was put together by Michelin trained Sam Creedon and he recruited Darryn Jones as Head Chef. As a result, 21st Amendment offers seasonal small plates with a creative twist and 5 star Sunday roasts — the reviews speak for themselves!
21st Amendment Hoylake / The Quadrant, Hoylake, CH47 2EE
Check out 21st Amendment on FACEBOOK!
Check out 21st Amendment on INSTAGRAM!
Al Dente Restaurant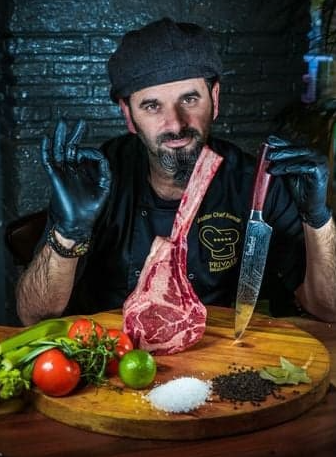 This exceptional Lark Lane restaurant, serving authentic Italian and Mediterranean cuisine, has consistently been in the Top 10 Liverpool restaurants on Trip Advisor and regularly at No.1. The multi-award winning independent is a big hit with footballers and celebrities and if you've been you'll understand why.
Offering steaks, burgers, pizza, pasta and more, their kitchen team is highly trained by Masterchef Kemal Coskuncay and his Private Delicacies company. The award winning 'new generation chef', famous for his Tomahawk steaks, has worked with the restaurant to create a diverse range of mouth watering dishes and the countless Trip Advisor reviews say it all.
Al Dente Restaurant / 1 Lark Lane, Liverpool, L19 8UN / 0151 727 2111
For the menu and more visit the WEBSITE!
Check out Masterchef Kemal Coskuncay's Private Delicacies website HERE!
Amalia
Liverpool's multi-award winning Italian, hidden away on Campbell Square just off Hanover Street, has just celebrated its 10th birthday with a gorgeous new makeover. With too many awards to mention, such as Best Pizza In England, Best Chef In England and Best Team In England, Amalia is one of the best Italian restaurants in the country.
Amalia offers heavenly pizzas and pasta in addition to some house specials and is a popular restaurant for celebrations and large bookings. There's a special lunch offer of a pizza or pasta dish plus a drink for just £10.95 Mon-Fri 12pm-5pm and their famous 'Calzone Challenge' is still a big hit amongst the braver diners.
Amalia / 2 Campbell Square, Liverpool, L1 5FB / 0151 709 0402
To book a table visit their WEBSITE or call 0151 709 0402!
Check out Amalia's MENU!
Check out Amalia on FACEBOOK!
Blundell Street
The Baltic Triangle's longest standing events venue, Blundell Street offers amazing entertainment alongside top quality food and drink. From wild drag nights to tribute nights to bottomless brunch extravaganzas, it's a very popular choice for parties — particularly during the festive season.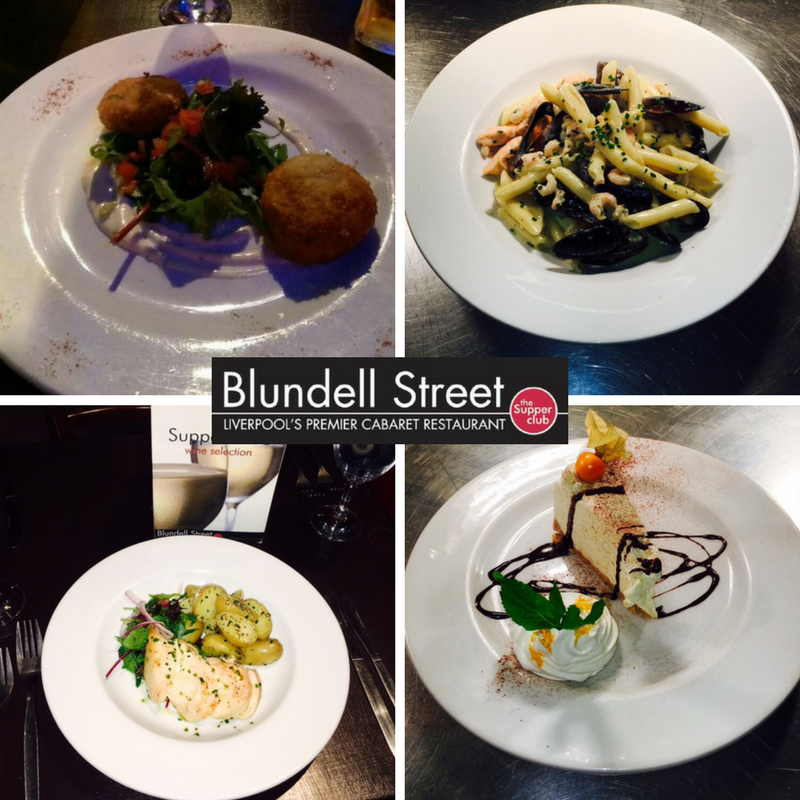 Blundell Street offers great deals alongside the entertainment, with a 3 course meal and a show for around £35pp and bottomless brunch (2 course brunch, unlimited drinks and show) for around £45pp. The food is top notch, featuring mains such as chicken breast, braised beef, plaice fillet and wild mushroom penne pasta.
Blundell Street, 63-65 Blundell Street, Liverpool, L1 0AJ
For what's on at Blundell Street including Christmas Parties CLICK HERE!
To book call 0151 709 5779 or email blundellstreetliverpool@hotmail.co.uk!
Check out Blundell Street on FACEBOOK!
Karma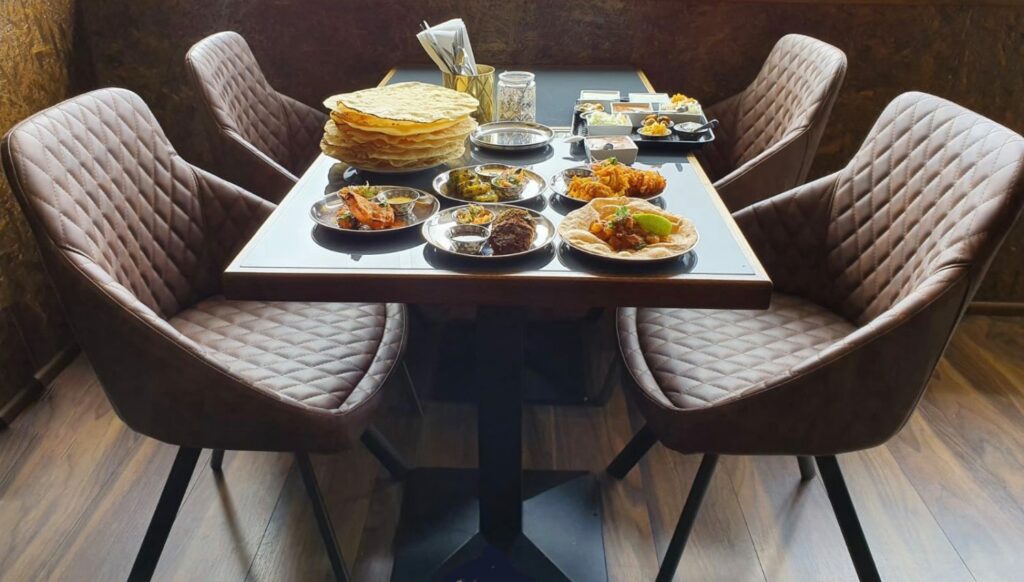 We've been huge fans of Karma Indian Food for some time now! The West Kirby family business has just celebrated its 20th birthday and strikes a perfect balance of fusing traditional family recipes with 21st Century dining. A stylish restaurant serving top quality Indian food that's very reasonably priced — we love it!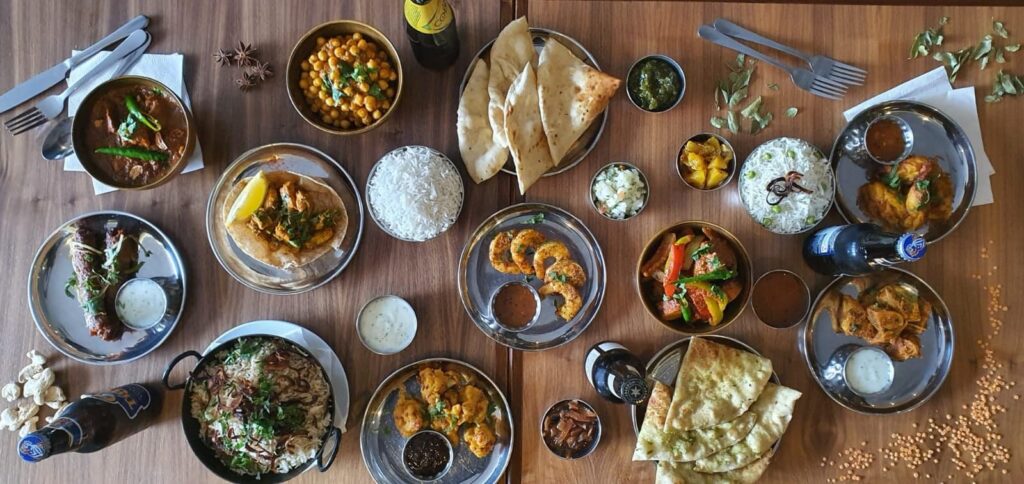 Karma has a refined menu of smaller starters (ideal for tapas style dining and sharing), classic dishes with a modern twist and some interesting signature dishes. There's an incredible selection of vegan and gluten free options, some delightful desserts and some fun cocktails, fine wine and gin balloons!
Karma / 9 Grange Road, West Kirby, Wirral CH48 4DY / 0151 625 5999
Contact them for up to 20% off the main menu with takeaways
Check out the menu on Karma's WEBSITE!
Check out Karma on FACEBOOK!
Pina Loca
Ever since opening in Bromborough in October 2021, Pina Loca has had a multitude of 5 star reviews — with people travelling from far and wide to visit this new gem! A cool Mexican street food and cocktail restaurant with great service and a top playlist, Pina Loca has everything on point!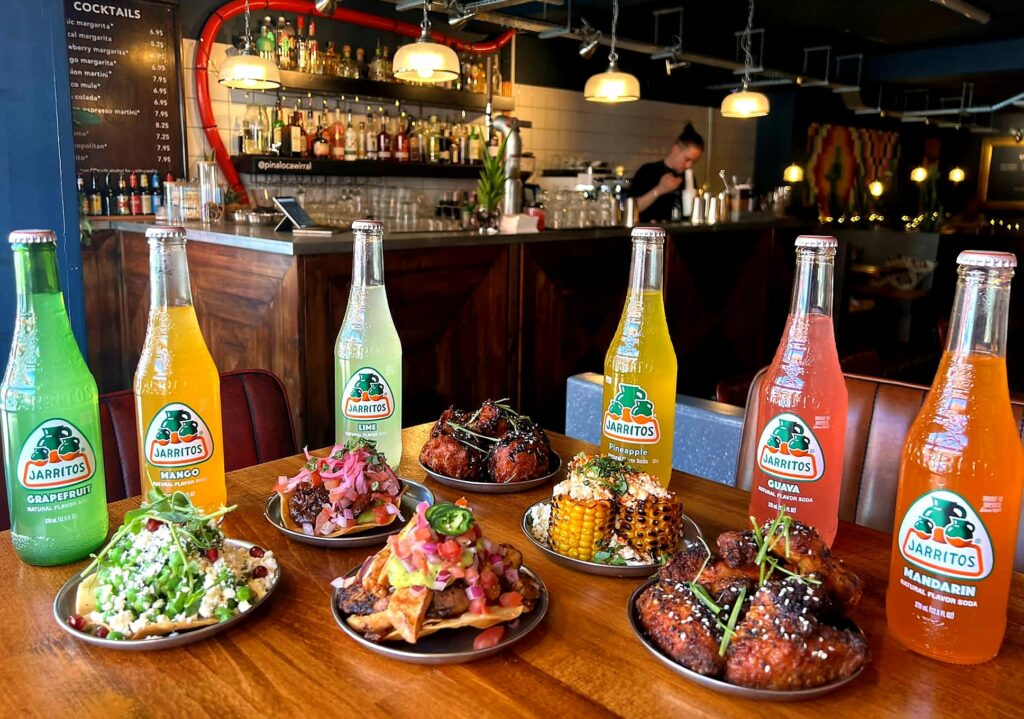 Pina Loca's small plates are colourful, creative and flavoursome, as are their tacos, burritos and bowls, and their tequila range and cocktails are incredible! Afternoons are a great time to visit with their fantastic offers — 3 small plates for £15 or one of their burritos or bowls with one of their quirky 'Jarritos' Mexican sodas for just £10.
Pina Loca / 24 Allport Lane, Bromborough, Wirral, CH62 7HP / 0151 245 3938
For the menu and to book visit Pina Loca's WEBSITE or call 0151 245 3938!
Check out Pina Loca on FACEBOOK!
Check out Pina Loca on INSTAGRAM!
Rokka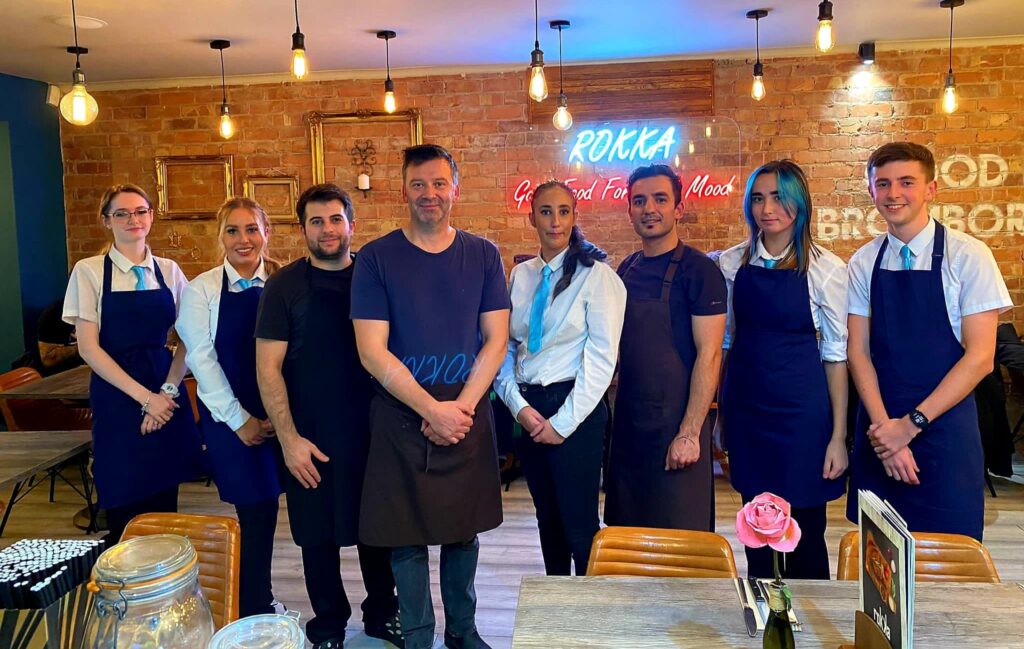 This amazing steakhouse in Bromborough was voted in the Top 7 Wirral Restaurants of 2022 by The Wirral Globe and we concur! Rokka has faced much adversity — opening just before lockdowns, the owner having a heart attack and a large group leaving without paying — but has bounced back every time!
Rokka is open 7 days a week and offers starters, mezzes, burgers, specials and of course the finest steaks including Tomahawks. Check out their offers of 20% off Mon-Weds and 2 cocktails for £8.95 on Thursday and Sundays or take on the Tomahawk Challenge for a chance to win a weekend break!
Rokka / 150 Allport Road, Bromborough, CH62 6BB / 0151 334 1904
To book call 0151 334 1904 or visit the WEBSITE!
Check out the menu HERE!
Check out Rokka on FACEBOOK and INSTAGRAM!
The Good Hood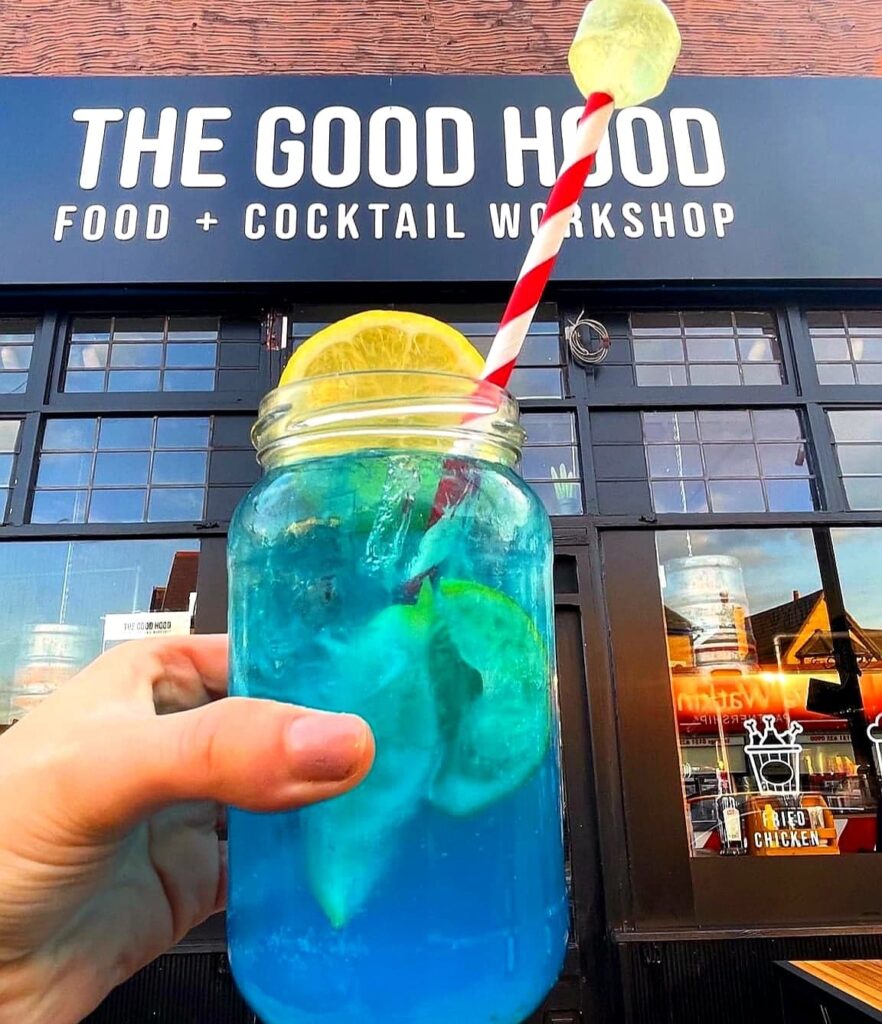 Without doubt one of the coolest joints in Wirral! West Kirby's New York style hangout is the place to be in the seaside town — with graffiti on the walls and a feel-good vibe. Owner Richard Fergie quit life as Director of a successful corporate chain in Scotland after finding love in Wirral and set up this gem of an independent that everyone's raving about!
The Good Hood offers juicy, messy comfort food of the highest order — from nachos to pizza, dogs to wings and the best burgers on the peninsula! Mouth-watering, fun food to die for and incredible cocktails to accompany — The Good Hood is very good indeed!
The Good Hood / 22 Banks Road, West Kirby, Wirral, CH48 0RD / 0151 245 4132
Check out The Good Hood WEBSITE!
Check out The Good Hood on FACEBOOK!
Check out The Good Hood on INSTAGRAM!
Wavertree Town Hall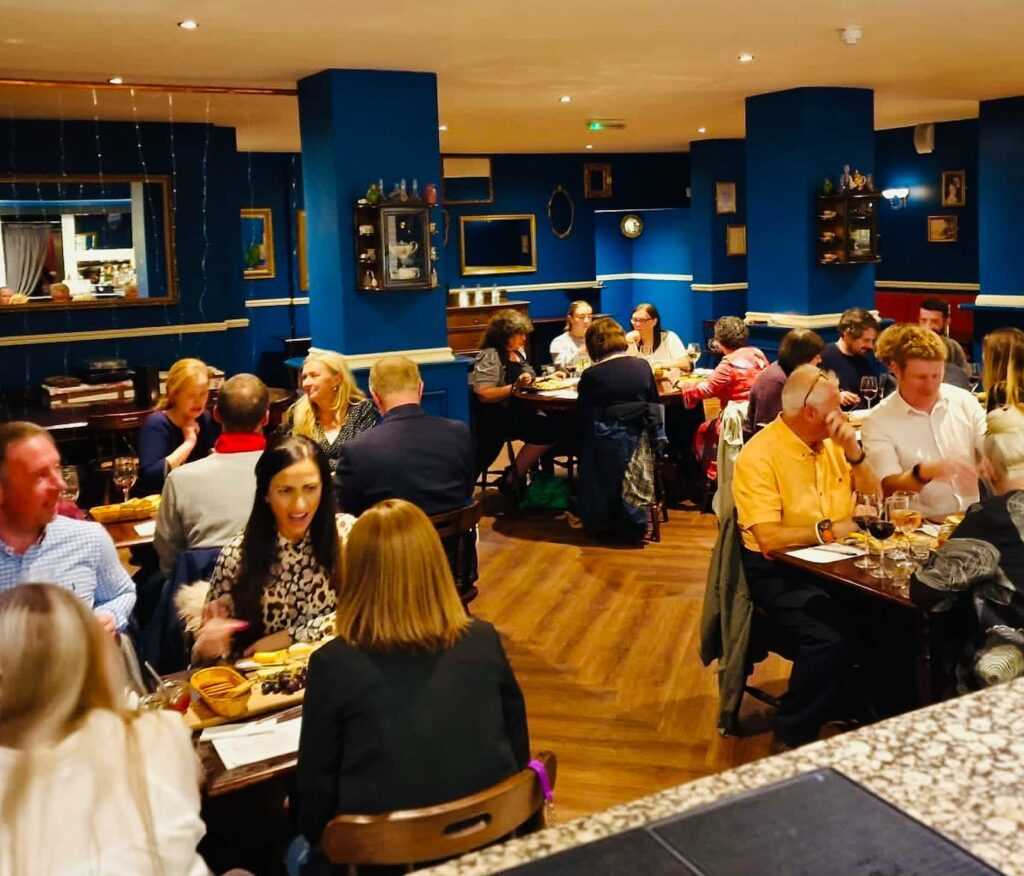 This stunning building has just celebrated its 150th birthday and 2 years of being a vibrant new restaurant, bar and events space. New owners Natalie and Lisa saved it from ruin and they have transformed it into gorgeous new venue!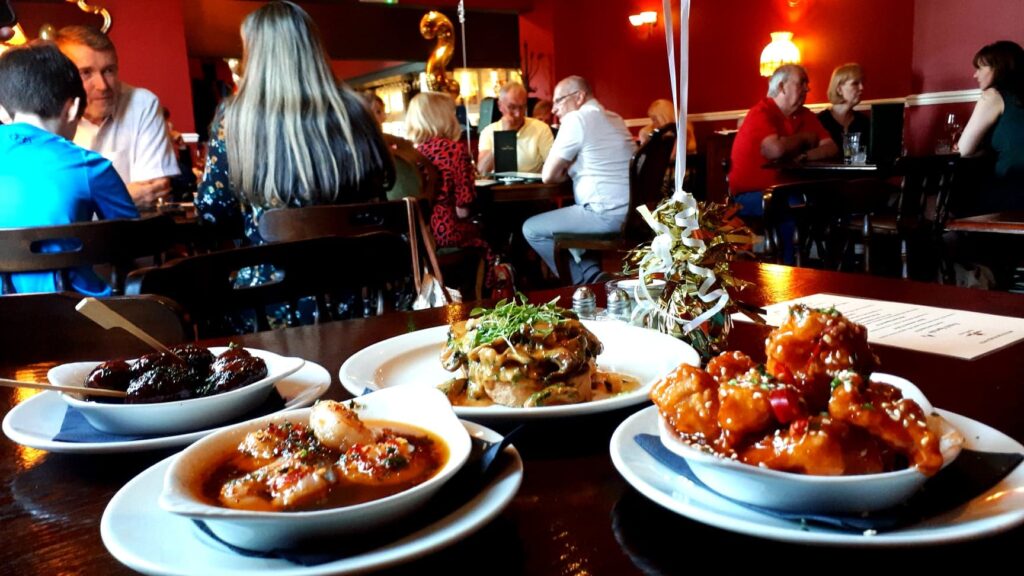 Award winning Head Chef Mick Navarro has been working wonders at Wavertree Town Hall, with seasonal small plates on a refined menu and international specials each month. The lunch offer of 3 small plates for £15 (Mon-Sat, 12-4pm) is particularly popular and the Sunday roasts fly out! Definitely one of the most stunning places to dine in the region!
Wavertree Town Hall / 89 High Street, Wavertree, L15 8HF / 0151 291 0184
For food, drink and more at Wavertree Town Hall visit their WEBSITE!
Check out Wavertree Town Hall on FACEBOOK!
Check out Wavertree Town Hall on INSTAGRAM!
Woodside Ferry Village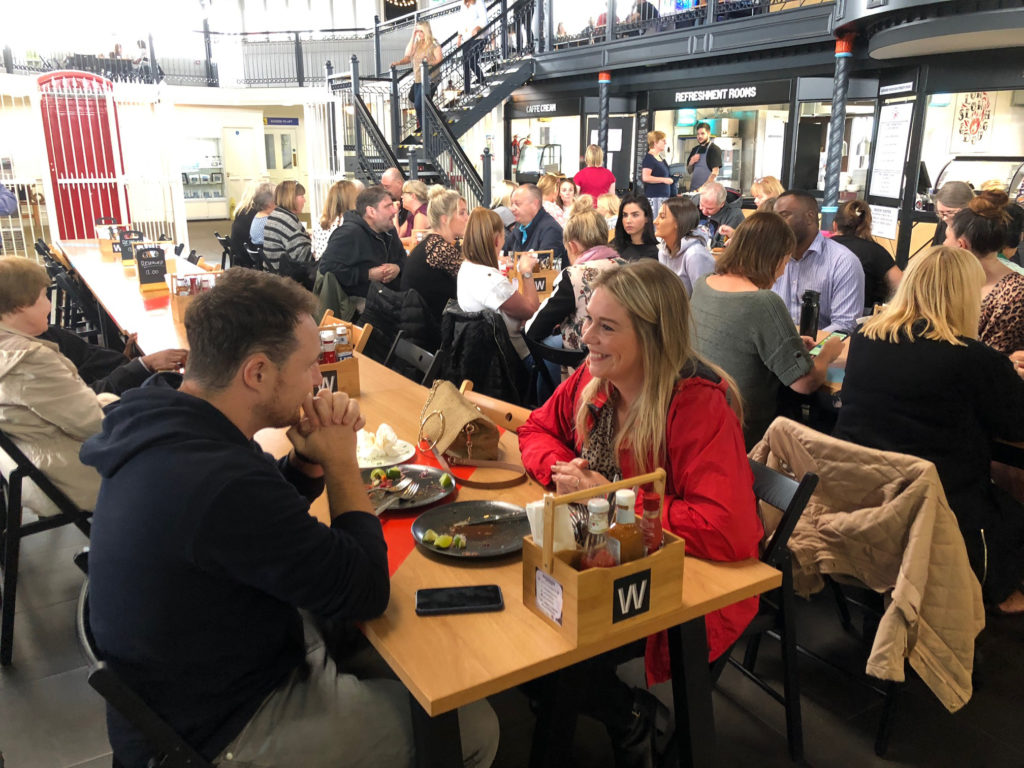 We've been raving about this amazing concept ever since it opened in 2019 and now it's been named in the Top 12 city-based food markets in the UK by Visit Britain. Woodside Ferry Terminal's popular food hall boasts incredible views over to Liverpool and a range of international food and drinks to enjoy — with regular markets outside at weekends.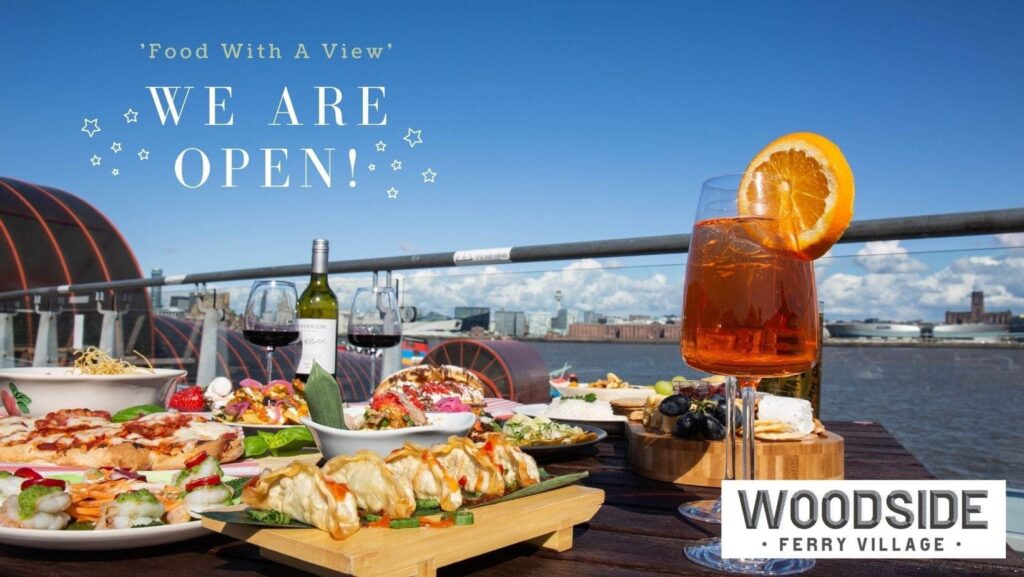 The food and drink vendors inside the venue consist of Scooby's (burgers, wings etc), Haku (Japanese fusion food), Paulo (Italian food), Caffe Cream (coffee, cake, ice cream), Alex's Pitta (Greek food), Ena Pa (Caribbean cuisine) and the Murphy's Gin and Pausha cocktail and wine bars. Something for everyone with stunning views!
Woodside Ferry Village / Woodside Ferry Terminal, Birkenhead, CH41 6DU / 0151 318 0944
Check out the Woodside Ferry Village WEBSITE!
Check out Woodside Ferry Village on FACEBOOK!
Check out Woodside Ferry Village on INSTAGRAM!
Support our local independents!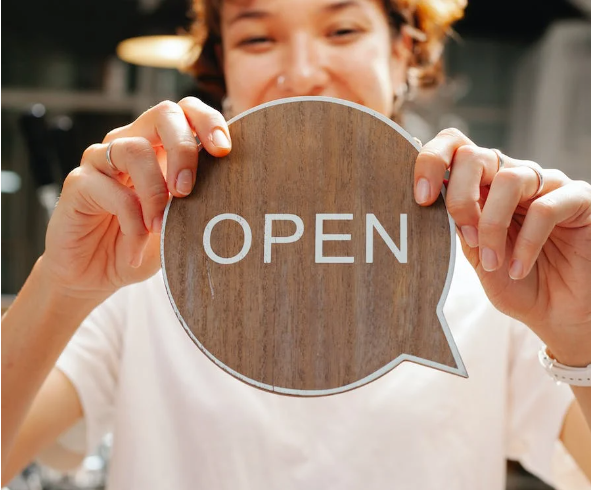 Our local independents have had it tough in recent years — with Covid, lockdowns, Brexit and energy prices all making it more and more difficult for them to survive. Here at La Vida Liverpool we love shining a light on these great businesses and showcasing them so if you're able to visit them and support them please go out and do so! Which one of these gems is your favourite and which would you like to visit?
Check out the full articles about these places in the FOOD & DRINK section of our website!